COVID-19 Update
Dear Alumni:
As the health and safety of all members of our community are our highest priorities, officials across the college have been closely monitoring the ongoing developments regarding the coronavirus (COVID-19) and planning for appropriate action. In an update to the campus community on April 3, it was deemed that it will not be possible to have a face-to-face Commencement and Reunion on May 16. Please note that no decision has been made yet in regards to when a rescheduled Reunion will take place. We will update you as plans emerge.
Thank you for your understanding.
Reunion Weekend: May 15–17, 2020
If your class year ends in a 5 or a 0, or you are a member of the class of 2018, then 2020 is your reunion year! We hope you'll join us for a wonderful weekend on campus reconnecting with old friends—and making some new ones! It's never too early to start making plans to return to Norton.
View photos from Reunion 2019 below.
Update Your Contact Information
Don't miss out on important communications about your reunion! To receive the latest news, please click here to update your contact information. The majority of reunion information is sent via email, so please make sure we have your email address correct.
To contact the office, please email alum@wheatoncollege.edu or call 508-286-8207
150th Anniversary of the Alumni Association
In the fall of 1869, the Class of 1870 met and created the Alumnae Association for the purpose of holding social reunions each year. In the 150 years since the association has grown and has become much more than just a social celebration during reunions.
This year, the Association is undertaking a number of initiatives that shine a light on our collective histories. The Oral History Project will capture alumni and faculty stories and preserve them in a printed book. The Alumni Recognition Committee is presenting a slate of award candidates who have demonstrated outstanding commitment to professional achievement, volunteerism and to Wheaton.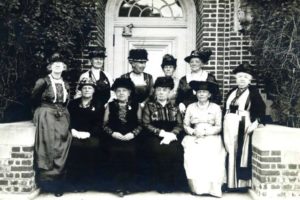 Did You Know? Series
This Fall, in honor of the Alumni Association's 150th Anniversary, the alumni association social media accounts kicked off the "Did You Know?" series, which has to-date featured over a dozen historical tidbits for account followers.
Be sure to tune in for the rest of the year to see what else you can learn!