2022-2023
Whose Normal?
What does it mean to have a "normally" functioning body and mind? Where do social constructs about normalcy come from? How can we imagine sane and able, not as bedrock realities, but as projections and ideals we might intersect with impermanently, if at all? Most of us, especially if we live into old age, will experience some form of physical and mental diminishment, impairment, pain, injury, or shift in our functioning. Variation from the norm is not, in other words, an exception, but rather basic to the human condition. How societies understand and respond to variations from what is perceived as normal is an issue of power, inequity, and the rights to bodily autonomy.
In conversations with scholars, advocates, historians, designers, educators, artists and activists, our programming will explore the social, political, and cultural conceptions of mental and physical health. We will exchange ideas with a variety of practitioners centering the experiences of the physically different, chronically ill, and neurodivergent as richly dimensional. We will share stories that move beyond stigma, and the medical pathology of the non-normative, to embrace physical and mental variation as an opportunity for creative expression, imagination, and compassionate community building.
Director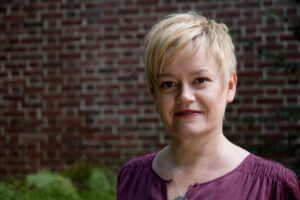 Ellen McBreen, Professor and Chair, History of Art
Ellen's teaching, research and curating focuses on 19th- and early 20th-century art, design, and visual culture in Europe. Her publications have explored interdisciplinary topics ranging from how African visual and material culture was creatively appropriated by actors based in Europe and the US, to how female collaborators have been erased from the story of modernism. Working closely with Wheaton students, Ellen recently organized several arts events about racism and inequity.
WIIH Fellows
Kyra Conover (Class of 2024) is a Chemistry major with a minor in Education. She is the president of the Wheaton Whims a cappella group, a member of both the Accessibility Board panel, and the Wheaton Chorale and Chamber Singers. Kyra also works as a tour guide for the Office of Admissions and a Teaching and Learning Assistant in the Chemistry department. Kyra hopes to use her studies in special education along with her experiences as a disabled student, to help others advocate for themselves.
Jolie Gagnon (Class of 2024) is an English major with minors in Women's & Gender Studies and Political Science. She is a co-president of Wheaton's cooking club, a Peer Writing Tutor, and the Chair of the Student Senate Accessibility Board. As a disabled student, Jolie brings both determination and compassion to her advocacy work for the accessibility rights of her peer community at Wheaton. A Maine native, she also loves art, cooking, music, and nature.
Katie Lanni (Class of 2025) is a Psychology Major with a minor in Design, and a student in History and Theory of Design (Spring 2023). She is a member of the Blend a capella group and was a First Year Orientation leader. She conducts psychology research studying consent education and sexual behaviors on college campuses in hopes of finding ways to target and prevent sexual assault. Outside of Wheaton, she volunteers at Winslow Farm Animal Sanctuary where she takes care of goats, horses, donkeys, cats, and many more. Katie has a passion for baking, photography, and music.
Marley Reedy (Class of 2024) is an Anthropology and Creative Writing major with a minor in Environmental Studies. She is the poetry editor and secretary of Smudge Magazine, and co-creator of CounterCanon, a game about contemporary anthropological theory. She currently works as a teaching assistant in the Anthropology Department. Marley is passionate about nature and the myriad interconnections between plants and people. She loves making art, especially collaging, and working with young children.
Paige Rosenthal (Class of 2023) is a History of Art major with a minor in English. Paige is the WIIH curricular liaison for History and Theory of Design. Along with her work as co-president of Alliance and a Peer Writing Tutor, Paige loves film, baking, and jazz music. In the future, Paige hopes to work in the library field, specifically as a youth librarian, to help children find a passion for reading and learning.