Wheaton College has decided to suspend campus events for the rest of the semester, which includes the 2020 Summit. If you are a speaker or participant in the summit, we will be in touch with you shortly regarding a new date and future participation.
Keynote Address/Wheaton Woman in STEM 2020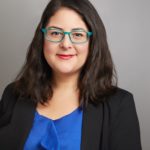 Dr. Giovanna Guerrero-Medina, Executive Director of Ciencia Puerto Rico and Director of the Yale Ciencia Initiative at Yale University
Dr. Giovanna Guerrero-Medina is Director of the Yale Ciencia Initiative in the Office of Diversity, Equity and Inclusion, and Executive Director of Ciencia Puerto Rico (CienciaPR), an award-winning international network of >12,000 scientists, students and educators committed to promoting scientific outreach, education and careers among Latinos. Through these positions, she uses community-based and empowerment approaches to increase the participation in science education and careers of people from underrepresented and underserved backgrounds. At Yale, she is Principal Investigator of the Yale Ciencia Academy, an NIH-funded program that has provided >190 underrepresented life science PhD students across the U.S. with mentoring, peer support, outreach leadership opportunities and skills to successfully navigate academic programs and professional careers. She also leads the National Science Foundation (NSF) funded Ciencia al Servicio program, to promote collaborations between scientists, teachers and students in the development of more relevant, engaging, and effective science curricula. Through her leadership, CienciaPR has become one of the largest networked communities of Hispanic scientists in the world. The organization's work has been recognized by the Union of Concerned Scientists (Science Defender 2018) and the White House (Bright Spot in Hispanic STEM Education in 2015). Dr. Guerrero-Medina has significant experience advancing diversity and scientific workforce programs through her work with various committees of the National Academies of Science, Engineering and Medicine (NASEM) and the NSF and previous positions at the NIH, the Van Andel Research Institute, and as a Christine Mirzayan Science and Technology Policy Fellow. She has a Ph.D. in Molecular and Cell Biology from the University of California, Berkeley and a B.S. in Biology from the University of Puerto Rico, Rio Piedras.
Plenary Speaker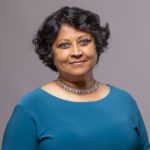 Nilanjana (Buju) Dasgupta, Professor of Psychology, Director of Faculty Equity and Inclusion, and the inaugural Director of the Institute of Diversity Sciences at the University of Massachusetts, Amherst.
Her research is on unconscious or implicit bias with emphasis on the plasticity of implicit bias—she studies the ways in which small changes in our environment produce corresponding changes in implicit biases and preferences without individuals' awareness. She is particularly interested in how implicit biases in the larger culture get internalized and influence girls, women, and underrepresented students' academic and career trajectories in science, technology, and engineering. And what types of social contexts change those trajectories.
Her research has been funded by the National Science Foundation, National Institutes of Health, and the American Psychological Foundation. Her work has been recognized through the Distinguished Academic Outreach Award in Research from UMass Amherst (2014) Chancellor's Award for Outstanding Accomplishments in Research and Creative Activity (2016), Hidden Bias Research Prize awarded by the Level Playing Field Institute, a private foundation based in Silicon Valley (2012), and through distinguished faculty lectures at the National Science Foundation (2016) and at UMass Amherst (2016).
A good bit of her time is spent translating scientific research to inform social problems such as educational disparities in science, engineering, and mathematics, and the underrepresentation of women and ethnic minorities in professional leadership roles. She has presented this work to K-12 audiences, university leaders and faculty, tech leaders, venture capitalists, lawyers, judges, and legal scholars, policymakers on Capitol Hill, and at a White House roundtable organized by the Office of Science and Technology Policy and Office of Public Engagement during the Obama administration.
Dasgupta's research findings have been featured in the New York Times, Boston Globe, The Atlantic, International Herald Tribune, London Times, National Public Radio, PBS, ABC News, Scientific American Mind, Slate.com, and many other popular news outlets.
Panelists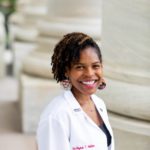 LaShyra "Lash" Nolen, Medical Student and Student Council Chair, Harvard Medical Center
LaShyra "Lash" Nolen is a Los Angeles native deeply passionate about the concerns of underserved and marginalized communities. She graduated with honors from Loyola Marymount University in 2017 with a B.S. in Health and Human Sciences. At LMU she served as the university's elected student body President and spearheaded voter registration initiatives and advocated to create a pipeline for traditionally underrepresented students to enter student government. In addition to her work as president, Lash created a diabetes prevention program for women at Good Shepherd domestic violence shelter through a grant from the Clinton Global Initiative. Following her graduation Lash traveled to Spain as a Fulbright Scholar where she taught U.S. culture to Spanish youth and researched the perception and understanding of obesity and diabetes in La Coruña, Spain.
After her year in Spain, she then spent a year as an AmeriCorps health coach at the Heartland Innovation Center at Albany Park (ICAP) in Chicago, where she supported patients in improving their health via health education and motivational interviewing. During her time at Heartland, she spearheaded initiatives to increase clinic accessibility for uninsured patients and the improvement of the self-management goal-setting process across all Heartland Health Center locations.
Currently, she is a first-year student at Harvard Medical School where she is serving as the school's student council president, the first documented black woman to hold this role. In her role Lash has led numerous initiatives for community advocacy within HMS and beyond. She is a published author and fervent advocate for social justice who hopes to use her talents to pursue an MD/MPP dual-degree to then advocate for humane healthcare reform on both local and national scales.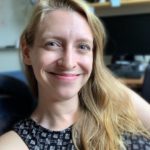 Gabriela Serrato Marks, PhD candidate in Marine Geology and Geophysics in the MIT-WHOI Joint Program, freelance science writer, and patient advocate.
Gabi is a PhD candidate in Marine Geology and Geophysics in the MIT-WHOI Joint Program in Oceanography, a freelance science writer, and a patient advocate. Before grad school, she earned her BA in Earth and Oceanographic Science at Bowdoin College. You can find her on Twitter and Instagram as @gserratomarks.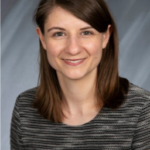 Stephanie Altrui, Engineer at Sensata Technologies.
Stephanie Altrui earned both her BS in Mechanical and Aerospace Engineering and her ME in Mechanical Engineering at Cornell University. She has worked as an engineer at Sensata Technologies in Attleboro, MA for the last five years. She designs sensors to make the world a safer, more efficient, and more environmentally friendly place, and she co-leads the Women's Initiative to develop a culture that values and leverages the diversity and strength of women. Stephanie also develops and leads monthly STEM mentoring for middle-schoolers, where hands-on sessions build students' skill sets and confidence.
Other Participants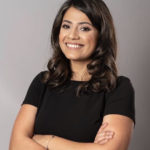 Prasha Sarwate Dutra, Founder, Host of Her STEM Story; Quality Manager, Prysmian Group
Prasha Sarwate Dutra received her B.Tech in Chemical Engineering from University of Pune and her M.Sc in Mechanical Engg from UT ARLINGTON, Texas. She moved to the US in 2012 from India and has been working in manufacturing since 2014.
Prasha is Brave, Creative and Authentic! She believes that Women in STEM can and will change the world. She's passionate about creating a positive change that can inspire the next generation of women engineers. She founded HER STEM STORY, a podcast, community and a platform to bridge the voice gap in STEM fields. The show is an interview format where Prasha interviews women from around the world and shares their struggles, victories, and their love for STEM. In just 12 months, she has interviewed over 50 women and released 38 episodes. She has 5000plus community on social media and has been featured in books like the Super Cool Scientists and many other SciComm platforms.
She also serves as the Project Manager at STEM Advocacy Institute, A Boston Based Non-Profit that's working to support SciComm and diversity work in STEM fields.
She's currently the Quality Manager at the Prysmian Group's RI plant, the company is the world's largest wire and cable manufacturer. She's passionate about finding creative ways to solve problems.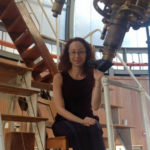 Dr. Stella Kafka, Executive Director of American Association of Variable Star Observers
Dr. Stella Kafka, is the Executive Director and CEO of the AAVSO* (American Association of Variable Star Observers), an international organization focusing on engaging professional and amateur astronomers in science. Within the auspices of the AAVSO, Dr. Kafka is working towards enabling individuals from all backgrounds to actively participate in research projects, building a community of science-savvy citizens who work collectively to understand some of the most dynamic phenomena in the universe.
Dr. Kafka acquired her BSc in Physics from the University of Athens (Greece) and her MA/PhD in Astronomy from Indiana University (USA). Before her tenure at the AAVSO, Dr Kafka held positions at CTIO, Spitzer Science Center/Caltech, Carnegie Institution of Washington/DTM and AIP Publishing. Dr. Kafka is also an avid advocate for diversity in STEM fields, promoting the inclusion of women and minorities in science. Part of her activities include active participation in the AAS's Committee of the Status of Women in Astronomy, and the IAU's Executive Committee in Astronomy for Equity and Inclusion.
*The AAVSO is an international non-profit organization of variable star observers whose mission is to enable anyone, anywhere, to participate in scientific discovery through variable star astronomy.