Below you will find information about the Guest Speakers at our 2018 Event held on March 24, 2018.  Check back for information about our next Summit to be held on April 6, 2019.
---
Keynote Speaker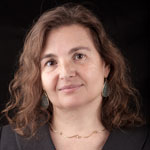 Dr. Daniela Rus, Director of the Computer Science and Artificial Intelligence Laboratory (CSAIL) at MIT
Presentation of Wheaton's Woman in STEM Award/Keynote Address
Daniela Rus is the Andrew (1956) and Erna Viterbi Professor of Electrical Engineering and Computer Science and Director of the Computer Science and Artificial Intelligence Laboratory (CSAIL) at MIT. Rus' research interests are in robotics, artificial intelligence, and data science. The focus of her work is developing the science and engineering of autonomy, toward the long-term objective of enabling a future with machines pervasively integrated into the fabric of life, supporting people with physical tasks. Her research addresses some of the gaps between where robots are today and the promise of pervasive robots: increasing the ability of machines to reason, learn, and adapt to complex tasks in human-centered environments, developing intuitive interfaces between robots and people, and creating the tools for designing and fabricating new robots quickly and efficiently. The applications of this work are broad and include transportation, manufacturing, agriculture, construction, monitoring the environment, underwater exploration, smart cities, medicine, and in-home tasks such as cooking. Rus serves as the Director of the Toyota-CSAIL Joint Research Center, whose focus is the advancement of AI research and its applications to intelligent vehicles. She is a member of the Toyota Research Institute advisory board. Rus is a Class of 2002 MacArthur Fellow, a fellow of ACM, AAAI and IEEE, and a member of the National Academy of Engineering and the American Academy of Arts and Sciences. She is the recipient of the 2017 Engelberger Robotics Award from the Robotics Industries Association. She earned her PhD in Computer Science from Cornell University.
Additional Speakers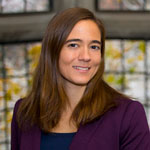 Kathy Aidala, PhD, Chair and Professor, Physics Mt. Holyoke
Panel Discussion: Imposter Syndrome – Panelist

Katherine Aidala is a Professor of Physics, Chair of the Physics Department and Engineering Committee, and Director of the Makerspace at Mount Holyoke College, a liberal arts college in western Massachusetts. She completed her undergraduate degree with a double major in applied physics and psychology at Yale University, and received her PhD in applied physics from Harvard University in 2006 in experimental condensed matter physics. She received the Presidential Early Career Award for Scientists and Engineers (PECASE), as well as the NSF CAREER award in 2010, and was named a Cottrell Scholar of 2009 by the Research Corporation for Scientific Advancement. Her research uses scanning probe microscopy to study fundamental properties of a range of material systems. She teaches a seminar course on Gender in Science, and is the founder and host of SciTech Café, holding monthly events that bring scientists into an informal setting to discuss their work with the general public.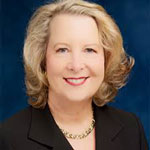 Kymberlee Dwinell, '76, Northrop Grumman
Panel Discussion: Imposter Syndrome – Moderator
Kymberlee Dwinell is the corporate director for Diversity and Inclusion for Northrop Grumman. She is responsible for the strategic direction, implementation, and alignment of the company's integrated diversity and inclusion initiatives around the world. Ms. Dwinell manages initiatives designed to foster inclusive workplace behaviors, create educational vehicles for expanding diversity knowledge, and develop employee networks and strategic communications plans for diversity.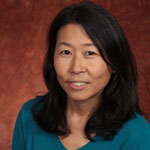 Eriko Hironaka, PhD, Senior Editor, Book Program, American Mathematical Society
Maryam Mirzakhani Tribute
Eriko Hironaka got her PhD from Brown University in 1990 and was on the faculty of the Florida State University Mathematics Department from 1997 until her retirement in 2016. While at FSU she became increasingly involved in mathematics outreach in addition to teaching and research. She currently works as a Senior Editor at the American Mathematical Society Book Program, where part of her job is to think of new ways to help spread mathematics through books geared toward a variety of levels and audiences.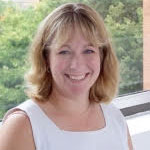 Kathleen Hoffman (Bio & Math, UMBC)
Presentation: Using Your Courage
Prof. Hoffman is a Professor of Mathematics and Statistics at the University of Maryland, Baltimore County (UMBC). She also holds affiliate positions in the Department of Biological Sciences at UMBC and the Department of Neuroanatomy and Physiology at the University of Maryland, School of Medicine. Her research interests include differential equation models of biological systems. Dr. Hoffman has published in diverse application areas of biology including, DNA models, epidemiology, ecology, cell signaling and vertebrate vision, and neuro-mechanical locomotion. She received her Ph.D. from University of Maryland, College Park, in 1997 under the supervisiton of Prof. John Maddocks, and spent two years (1997-1999) as a postdoctoral fellow at the IMA before joining the faculty at UMBC. Prof. Hoffman is an active participant in the Women in Science and Engineering (WISE) group on campus and participates in several mentoring activities for both undergraduate and graduate students.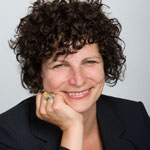 Suzanne Koven, MD, Mass General Hospital/Harvard
Panel Discussion: Imposter Syndrome – Panelist
Suzanne Koven is a primary care physician and writer in residence in the division of general internal medicine at MGH. She is on the faculty of Harvard Medical School. Her writing has appeared in
The Boston Globe
,
The New England Journal of Medicine
,
New Yorker.com
and many other publications. Suzanne Koven was born and raised in New York City. She received her B.A. in English literature from Yale and her M.D. from Johns Hopkins. She also holds an M.F.A. in nonfiction from the Bennington Writing Seminars. After her residency training at Johns Hopkins Hospital she joined the faculty of Harvard Medical School and has practiced primary care internal medicine at Massachusetts General Hospital in Boston for over 25 years. In 2015 she was appointed Writer in Residence for the Division of General Internal Medicine at Mass General. Her essays, articles, blogs, and reviews have appeared in
The Boston Globe
,
The New England Journal of Medicine
,
The New Yorker.com
,
Psychology Today
,
The L.A. Review of Books
,
The Virginia Quarterly
,
STAT
, and other publications. Her monthly column "In Practice" appeared in the Boston Globe and won the Will Solimene Award for Excellence in Medical Writing from the American Medical Writers Association in 2012. Her interview column, "The Big Idea," appears at The Rumpus. Suzanne conducts workshops, moderates panel discussions, and speaks to a variety of audiences about literature and medicine, narrative and storytelling in medicine, women's health, mental healthcare, and primary care.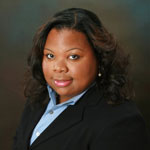 Shamika Rucker, Chem Eng/MBA, Draper
Panel Discussion: Imposter Syndrome – Panelist
Shamika Rucker moved to Boston from Augusta, Georgia almost 14 years ago. She studied chemical engineering, physics, and business at Tuskegee University and Northeastern University, respectively, then proceeded to work in the aerospace and defense industry. While designing radar systems fed her passion for science, applying program management skills around the world in support of the warfighter gave her solace. Today, Shamika spends her working-hours at a not-for-profit exploring her deeper passion for helping others by coaching owners and c-level executives of start-up and mid-sized businesses in both the Boston and Canadian markets. She spends her personal time leading by example in mentoring and employing skills that have been the most transformative both within her community and professional life. Vulnerability, while some consider it weakness, Shamika believes it can be used as a tool to help us find healthier perceptions of ourselves and peace as a more complete and whole person.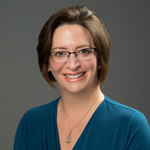 Tricia Serio, Dean of the College of Natural Sciences, UMass Amherst
Presentation: Imposter Syndrome
Professor Serio received her B.S. in Molecular Biology from Lehigh University in 1991 with highest and departmental honors and completed her graduate work in Molecular Biochemistry and Biophysics as a fellow of the Howard Hughes Medical Institute at Yale University (M.Phil 1995, Ph.D. 1997). From 1997 through 2002, she was a post-doctoral fellow of the Damon Runyon-Walter Winchell Cancer Research Fund at the University of Chicago and a recipient of the Howard Temin Award from the National Cancer Institute at Yale University. She joined the faculty at Brown University as an assistant professor in 2002 where she was named a Pew Scholar in the Biomedical Sciences (2003-2007). In 2008, she was promoted to Associate Professor with tenure. In 2012, she moved to the University of Arizona as Professor and Department Head in Molecular and Cellular Biology and joined the University of Massachusetts Amherst as Dean of the College of Natural Sciences and Professor in Biochemistry and Molecular Biology in 2017. Her research focuses on self-perpetuating protein conformations in the yeast
Saccharomyces cerevisiae
as a model for severe neurodegenerative diseases in mammals.