On this page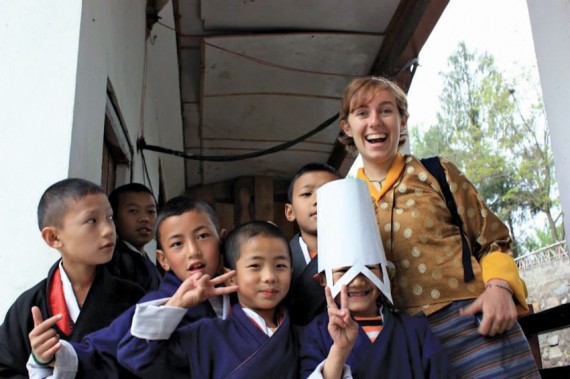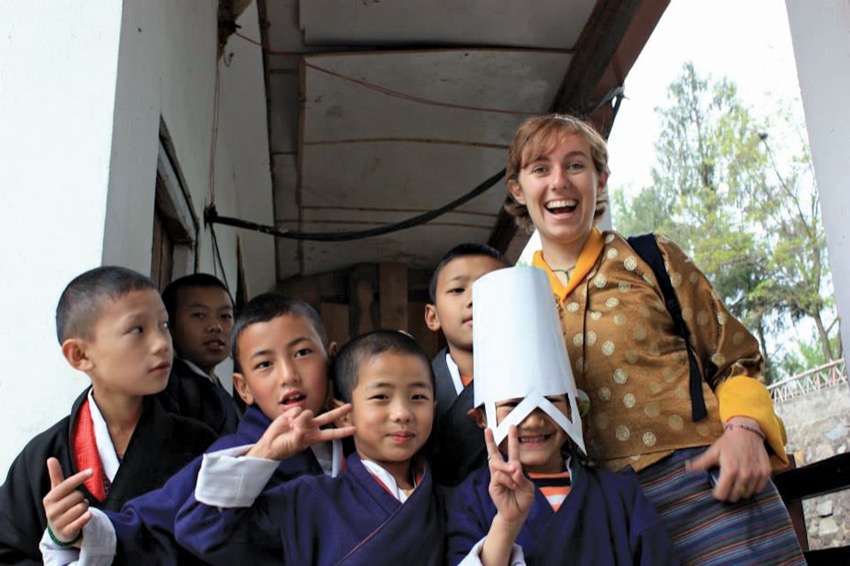 ---
Profile
Bhutan, a small Buddhist country nestled in the Himalayas, is known for its pristine beauty, its commitment to environmental preservation and its unique approach to development that measures its success in terms of Gross National Happiness. This is a very exciting time to visit Bhutan. Having recently entered the global community after years of isolation and ratified its first constitution, Bhutan is experiencing rapid social change while striving to preserve its extraordinary traditions. Wheaton College is proud to have entered into a unique partnership with Royal Thimphu College, the first private college in Bhutan. Together with a Wheaton faculty member, students will spend a fall semester in the world's only remaining Buddhist Himalayan Kingdom. The Wheaton/RTC program is designed to provide students the means with which to gain deep insight into a unique country undergoing dramatic transition.
Program Overview
Wheaton's Semester in Bhutan offers students a rare opportunity to immerse themselves in a culture rich with history and vibrant traditions. As visiting students at Royal Thimphu College (RTC), students in the Wheaton program have the opportunity to engage on a very personal level with their hosts. Students live in RTC dorms with Bhutanese students, earn credit for four academic courses, engage in a practicum placement in a community organization or governmental agency, and travel to different parts of the country. The program offers numerous opportunities for students to interact directly with ordinary Bhutanese citizens and with key leaders who are deeply involved in shaping Bhutan of the future while preserving its precious traditions and environment. The Wheaton in Bhutan blog from Bhutan IV offers detailed insight into this amazing experience. Students will take four courses throughout their semester. Three of those courses (Contemporary Bhutanese Society, Practicum in Bhutan, and Bhutanese Language and Culture) are coordinated by a Wheaton faculty member, and students select one course from those offered by RTC that offer particular insight into Bhutan. Students are awarded one Wheaton credit (the equivalent of three credits at many colleges) for each successfully completed course. Instruction is in English, one of the two official languages of multilingual Bhutan. The Wheaton semester in Bhutan is particularly beneficial for students interested in Environmental Studies, Sociology, Psychology, Anthropology, Asian Studies, Political Science, International Relations, Economics, Religion, Women's Studies, Cross-cultural Education, Music, and Art; however, students in any major will benefit from the program.
RTC Facilities/Housing/Meals
The RTC campus, covering an area of 25 acres in Ngabiphu, offers a secluded and peaceful natural environment for study. (Take a virtual tour of the campus, courtesy of google maps!) At the same time, it is only a 15–20 minute drive from the capital city, Thimphu, which offers sports, leisure and cultural attractions as well as  many potential sites for student practicums and field trips. RTC has modern residence halls with double occupancy rooms, laundry, and lounge facilities. The program includes three meals a day in the student dining hall.  There is also a canteen where students can purchase meals and other sundries. Students at RTC wear the traditional dress, kira for women and gho for men.  Students in the Wheaton Program will be provided with funds to purchase their own kira and gho during their orientation. RTC has Internet access, a computer lab, library, bookstore, auditorium, theater and an infirmary.  There are sports teams and a variety of clubs on campus.  Students in the Wheaton program are encouraged to become active participants in the RTC community.
Excursions and Field Trips
While the Wheaton/RTC program is based at the RTC campus on the outskirts of the capital city of Thimphu, Bhutan is a country rich in cultural diversity and environmental splendor. There are four multi-day excursions to other parts of the country during the semester in order to provide students with additional opportunities to experience Bhutan's natural beauty and the richness of its cultural heritage. Some of the excursions may involve trekking. These excursions are free for students in the Wheaton/RTC program.  One of the excursions allows students to participate in volunteer project in a rural village or town.  In addition to the excursions, there are field trips to Buddhist monasteries and monastic schools, governmental offices, historical sites, as well as local artisan and handcraft centers.
Health and Safety
In addition to ensuring that students have a successful academic experience, students' health and safety is our primary concern. We have been strongly advised by physicians that due to the high altitude (8,000–10,000 feet) students with certain health conditions should be advised not to participate in this program. In order to provide the best educational experience for all students, applicants for this program must complete the Health Waiver Form to be signed by a travel health doctor or family physician.
Tentative Program Schedule
Fall Semester: Students depart U.S.: late July; Orientation: early August (typically first week); Classes begin: early August (typically second week); students depart Bhutan: first week in December. Program schedule and logistics subject to change.
Application for the Wheaton Program in Bhutan
We welcome applications from both Wheaton and non-Wheaton students.
Applications will be reviewed based on depth of student interest, willingness to engage with the local community as project partners, and academic standing. As with all study abroad experiences, cultural sensitivity and a willingness to expand one's comfort zone are essential. In addition to the written application, Wheaton finalists will be asked to come in for a brief interview (other arrangements will be made for speaking with non-Wheaton applicants). If you have any questions about the application process, please feel free to contact the Center for Global Education.
Applications for the Fall semester program are due March 1.
For Non-Wheaton Students
Non-Wheaton students may apply to participate in Wheaton in Bhutan just as any Wheaton student. For logistics specific to you, please consult Bhutan Program Fees for Non-Wheaton Info

Since you are not on campus and haven't been exposed to the buzz about this program, we encourage you to contact the Center for Global Education at globaled@wheatoncollege.edu or by phone at (508) 286-4950 to let us know of your interest and learn more about it.
Curriculum Overview and Course Descriptions
Contemporary Bhutanese Society
(INT 260, SOC 298, PSY 298)
This course serves as an overview of contemporary Bhutanese society for students participating the Wheaton/Royal Thimphu College semester abroad program. The course consists of lectures by eminent leaders and scholars in Bhutan, field trips, interactive assignments, papers, and seminar discussions.  The course will cover such topics as Buddhism in Bhutan, Economic Development, Gross National Happiness, Environmental Policy, Cultural Preservation, and Gender and Family Roles.
Practicum in Bhutan
(INT 360, SOC 298, PSY 334)
This is a service learning course that integrates meaningful community service with instruction and reflection to enrich the learning experience, teach civic responsibility, and strengthen communities. Students will spend six to eight hours per week in a supervised fieldwork practicum in a governmental, NGO, or human service agency that focuses on such topics as environmentalism, political change, community development, youth activities, media, and women's issues. A field supervisor, together with the instructor, will provide regular field supervision, feedback, and evaluation. In addition, students will meet weekly in seminar with the Wheaton faculty member to reflect on their experiences and to discuss the challenges of working in another culture.  Practicum placements can be developed to fit with students' interests. See Partial List of Placement Sites (Word document).
Bhutanese Language and Culture
(INT 250, ANTH 298)
This course is an introduction to the Dzongkha language (the other official language of Bhutan in addition to English) and to Bhutanese culture.  The course will consist of a number of different modules.  Each module will include language lessons, participatory exercises, cultural knowledge activities, assignments, and field visits. While fluency in this language of Bhutan is not a goal, the course is designed to provide an entry into Bhutanese society beyond what one would get by speaking only English. Through readings, discussions, field trips, and excursions, students will learn about distinctive features of Bhutanese culture, such as driglam namzha (the Bhutanese code of etiquette and behavior), tsechu (Buddhist dance festivals), zorig chusum, (the traditional arts and crafts), folklore, music, and Bhutan's efforts to preserve these traditions. Students will take many experiential learning field trips, visiting museums, festivals, markets, schools, and other places that are central to Bhutanese society and culture.   During these field trips students will practice their skills in Dzongkha as well as learn about Bhutanese culture.
One RTC Course
Students will take one course with RTC students and have the opportunity to immerse themselves in the environment in which their fellow Bhutanese students learn and live. They may take courses in disciplines such as Anthropology, Political Science, Economics, Environmental Studies, and Sociology. Some of the courses available to students include: Anthropology of the Himalayas, Introduction to the Environment, Developmental Economics, Eastern Political Thought, Demographics, Comparative Government and Politics, Sociology of Development, Social Psychology, Natural Resources, Public Health and the Environment, Research Methods, and Sustainable Development.