The Center for Global Education (CGE) serves not only as the "hub" for study abroad and international students, but also provides opportunities to support and learn through events on campus.
International Education Week — November 18-22, 2019
Click here to see this year's calendar of events!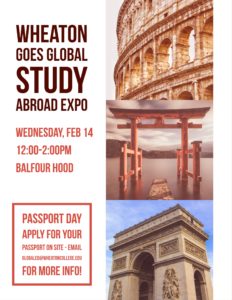 Wheaton Goes Global!
Wednesday, February 14th, 2018 — 12:00-2:00pm in the Balfour-Hood Campus Center
Study Abroad Expo—Balfour-Hood Campus Center Atrium
Organized by academic fields of study, talk to your peers who have studied abroad and earned credits for their Majors, Minors, and Foundation requirements. See what it's like to study Geology in New Zealand, Hispanic Studies in Latin America, the Classics in Greece—and so much more!
Passport Day—1960 Room
Get your US passport application submitted on campus in order to receive your passport in time to study abroad this summer or fall!
Financing Study Abroad—New Yellow Parlor
Meet with study abroad advisors and Peer Advisors to start applications, learn about new scholarships, and get all your questions answered!
International Cafe and Board Games
The Center for Global Education will be hosting an International Board Game Cafe (pdf) for students, faculty and staff. Come enjoy a cup of coffee, bring your lunch and speak, play boards games and watch videos in your 1st, 2nd, 3rd or 4th (non-English) languages.
Every Friday starting January 31st, 2020
12:30pm – 1:30pm, Emerson Dining Hall
For more information about the International Board Game Cafe, read this article about Playing with Language and it has impacted certain students and faculty/staff on campus.
International Bazaar
One of the newest traditions to come to Wheaton is the International Bazaar.
With nearly 200 international students (nearly 12% of the whole campus) here at Wheaton we are provided with the perfect opportunity to demonstrate cultural appreciation within our small community.
The multi-faceted event includes informational tables, food tasting, music and dance performances from students groups and ending with an international fashion show.
Everyone in the Wheaton and Norton area is invited to participate in the celebration through sharing samples of your home country's food, clothing, music, dance, language, arts and crafts and more. During the day people can simply stop by to learn and experience facets of other peoples' cultures and traditions.
The 4th annual International Bazaar will be happening on between the end of March – early April, 2020.
Check out the photos from the 2018 International Bazaar which happened on Friday, March 23rd, 2018.
Eye on the World Photo Contest
Every year, the Center for Global Education offers the Eye on the World Photo Contest! Photos can be taken abroad or in the US. Open to students, faculty, and staff. Prizes for best photos (for students only)!
Here are some photos from previous years.
Through these events, and more, we hope to continue to inspire and cultivate intercultural awareness and understanding throughout our campus and beyond.
WorldFest Funding
Did you know that Wheaton students, faculty and staff may request funding for global events on campus? Worldfest is a longstanding Wheaton tradition that helps to bring cultural events to the wider campus community and is an important means of achieving global learning goals through cross-cultural programming.