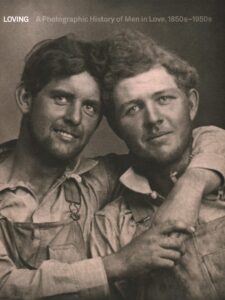 The Center for Social Justice and Community Impact, in partnership with Safe Zone at Wheaton, invites you to join Hugh Nini and Neal Treadwell, authors of the book "LOVING: A Photographic History of Men in Love, 1850s-1950s" in a discussion and Q&A-style program.
In-person seating is first come, first served. Register on Engage here. You can register for the live Zoom here!
"In the late 1990's Neal & Hugh started collecting photographs purely by accident. The first photograph came from an antique store in Dallas. The photograph was of two men in a loving embrace mixed within random photos of a Dallas neighborhood from the 1920s. [Their] collection of over 2800 vintage photos of romantic couples spanning the 100 years between the 1850s and 1950s is the basis for [their] book.
LOVING: A Photographic History shines a new light on the most written about, dramatized, or filmed emotions — love. The pages of our book portray love, but also courage — the courage that it took to memorialize that unmistakable look that occurs between two people in love. LOVING: A Photographic History celebrates a loving past. A past that points towards the future. It's message is for everyone. It's universal."
Feel free to send questions, comments, or accessibility concerns to pratt_mike@wheatoncollege.edu.
In recognition of the 20th anniversary of the historically devastating attacks on September 11, 2001, the Office of the President and the Center for Religious and Spiritual Life invite all members of the Wheaton community to join for a brief remembrance ceremony where we will hear from some of our community members and local first responders as well as share in a moment of silence for the many lives lost then and amidst the current turmoil in Afghanistan.
In 1969, Howard Taylor, brother of actress Elizabeth, bailed out a rag-tag band of 13 young Mainlanders jailed on Kauai for vagrancy and invited them to camp on his oceanfront land in Haena. Soon waves of hippies, surfers and troubled Vietnam vets found their way to Taylor Camp and built a clothing-optional, pot-friendly tree house village at the end of the North Shore road. In 1977, after condemning the village to make way for a State park, government officials torched the camp leaving little but ashes and memories of the best days of our lives.
1970s photos and rare historic footage reveal a community that rejected consumerism for the healing power of nature. The film tells the story of Taylor Camps seven-year existence through interviews made 30-years later with the campers, their neighbors and the Kauai officials who got rid of them.