Dr. Ronald Crutcher, President Emeritus returns to Wheaton to celebrate the release of his recently published memoir I Had No Idea You Were Black: Navigating Race on the Road to Leadership. A leader in higher education, distinguished classical musician and accomplished administrator, Dr. Crutcher shares his talents on the cello before sitting down for an interview discussing his life as a Black leader successfully bridging America's cultural divides and sharing his compelling story which offers many important lessons on life and leadership.
Arda Collins poetry features a quiet assertive voice that builds or collects or accumulates a domestic space.  It is an approach to subject matter and context that has, in the poetry world, found a greater voice through women poet's work.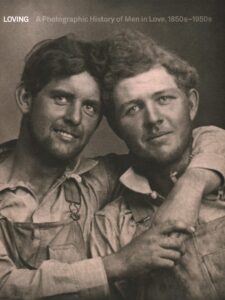 The Center for Social Justice and Community Impact, in partnership with Safe Zone at Wheaton, invites you to join Hugh Nini and Neal Treadwell, authors of the book "LOVING: A Photographic History of Men in Love, 1850s-1950s" in a discussion and Q&A-style program.
In-person seating is first come, first served. Register on Engage here. You can register for the live Zoom here!
"In the late 1990's Neal & Hugh started collecting photographs purely by accident. The first photograph came from an antique store in Dallas. The photograph was of two men in a loving embrace mixed within random photos of a Dallas neighborhood from the 1920s. [Their] collection of over 2800 vintage photos of romantic couples spanning the 100 years between the 1850s and 1950s is the basis for [their] book.
LOVING: A Photographic History shines a new light on the most written about, dramatized, or filmed emotions — love. The pages of our book portray love, but also courage — the courage that it took to memorialize that unmistakable look that occurs between two people in love. LOVING: A Photographic History celebrates a loving past. A past that points towards the future. It's message is for everyone. It's universal."
Feel free to send questions, comments, or accessibility concerns to pratt_mike@wheatoncollege.edu.
A freelance writer and editor, Rebecca Long reports on a wide range of topics, including politics, TV, film, literature, and environmental justice. Her writing has been featured in VICE, Bitch Media, Bust Magazine, and Electric Literature. Long's essay about Stranger Things' Jim Hopper was Bitch Media's most-read article of 2019. She currently works as the Digital Content Editor at a women's non-profit organization and previously held full-time editorial roles at National Geographic Learning and SAGE Publications. Via Zoom, registration required.
Jonathan Maniscalco has taught English to ESL learners in Japan, Spain, and New York City. A Massachusetts native, he is a graduate of Boston University and a stringer for the New England Review of Books. Ten Stories to Manhood is his first published book. Via Zoom, registration required.
Christina Thompson, editor of the Harvard Review and the author of a memoir, Come on Shore and We Will Kill and Eat You All, which was shortlisted for the 2009 NSW Premier's Prize, reads from her work. Her new book Sea People: The Puzzle of Polynesia, is scheduled for publication in summer 2018. May Room, Mary Lyon Hall, 5:00 p.m.