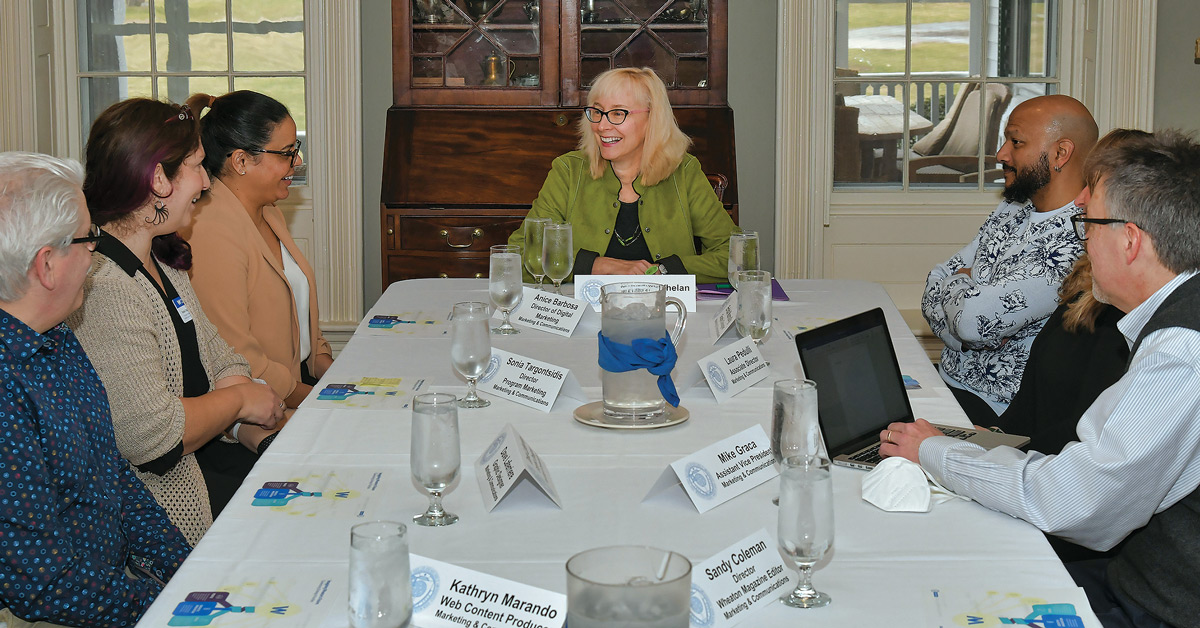 Stories fascinate me; they always have. A tale well told transports an audience to another time and place, conveys new experiences, evokes emotion. Writer André Maurois said, "In literature as in love, we are astonished at what is chosen by others."
Studying literature, I delved into the complexity of narrative—structures and experiments that play with stories, engage and frustrate readers, and invite interpretations.
Since the fall, I have been meeting and talking with staff and faculty, trustees, alumni and students, and I have been listening to their stories about Wheaton and their imaginings of multiple possible futures. I've been thinking about how the college's history informs our community's shared values today and our aspirations for the future.
One through line in these stories is a commitment to offering an education that is both intellectually challenging and prepares students for professional life.
Eliza Wheaton chose a rigorous curriculum at a time when women's schools typically focused on domestic education and decorative arts. Wheaton's first principal, Eunice Caldwell Cowles wrote, "The whole spirit of this institution . . . has been as we all know, solid rather than superficial, useful rather than fashionable and vain." (The late Professor Emeritus Paul Helmreich noted this in his book on the history of the college.)
At the same time, Wheaton has long been dedicated to the value of pragmatic learning or experiential learning. In 1917, Catherine Filene Shouse, Class of 1918, organized the first intercollegiate Vocational Conference for Women at Wheaton; vocational conferences were held annually on campus for decades. In the 1980s, the college integrated internships and out-of-the-classroom learning through its "second transcript" requirement. Twenty years ago, the faculty made cross-disciplinary study an integral part of every student's education through Connections, an approach that inspired other liberal arts colleges to follow suit.
Today, Wheaton's Compass curriculum builds on those earlier innovations with personalized advising and interdisciplinary pathways that combine classes, experiential learning, and mentorship to prepare students for their futures. Intellectual rigor and pragmatism have served Wheaton students well through time.
The college has now embarked on a path to growth, and it has made significant progress. The courses of study introduced during the past 10 years—such as business and management, film and new media studies, neuroscience, and public health—are among the college's most popular. To those, we are now adding two more—a bachelor of science in nursing and a multidisciplinary design major—that promise to accelerate that momentum.
The challenge we face is imagining how to write the next chapters of Wheaton's history. Our path forward will include new academic offerings that complement the college's existing areas of strength. It will undoubtedly involve strategic investment in people, since faculty and staff are essential to high-quality programs. And it will further our progress toward becoming a community characterized by diversity, equity, inclusion and belonging. We strive for inclusive excellence, which is necessary for academic excellence.
I believe that we possess all that is needed to grow while being grounded in the college's historic mission. We have creative, energetic and talented faculty, staff and students; a generous and supportive community, united around a shared commitment to liberal arts and experiential learning; and a long record of accomplishment. Tradition and innovation, both essential to Wheaton's story these past 188 years, will be the source of our success for the future.