Working with NASA on conservation efforts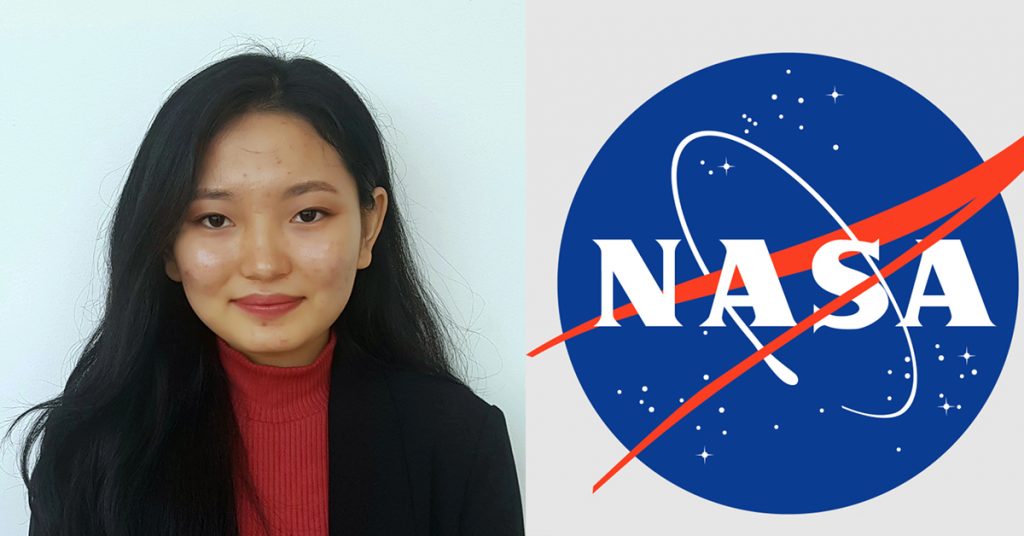 Junior uses satellite data to study Asian elephant habitat in Bhutan
The National Aeronautics and Space Administration (NASA) is best known for its space expeditions, but the agency also is engaged in work to address diverse environmental issues using its satellite images of Earth.
Junior Kezang Tshering recently completed a 10-week project at NASA DEVELOP, which engages in interdisciplinary research projects that apply the lens of NASA Earth Observations, the agency's satellite data, to community concerns around the globe.
During the spring opportunity, Tshering focused her research on Asian elephants in her home country of Bhutan.
"Being a Bhutanese, respecting the environment and sustainable living were key values I grew up with. So, I felt that the NASA DEVELOP project would be an outstanding experience through which I could learn and develop my technical and professional skill sets while working on something that I enjoy," said Tshering, a double major in biochemistry and psychology.
Collaborating with four other Bhutanese students studying in the U.S, Tshering utilized satellite data to assess land cover change and model a potential corridor map for Asian elephants in southern Bhutan. The population of these endangered animals continues to shrink due to habitat loss, poaching and retaliatory killings, according to Tshering.
"One consequence of the habitat shrinkage has been the increase in human-elephant conflict in southern Bhutan, which has resulted in the loss of lives and the livelihood of farmers in the region. Appropriate allocation and maintenance of suitable corridors for elephants that can facilitate their movement from one habitat to another without coming in close contact with human settlements can help alleviate this conflict," she said.
Tshering and her colleagues corresponded with partner organizations, including the Bhutan Foundation, regularly and produced maps and results to help inform the decision-making process of these organizations and other policymakers in southern Bhutan.
Tshering also assisted in the production of various science communication materials, including a research paper, presentation and story map.
"Through this project, I developed and honed important interpersonal skills such as teamwork, communication, professional etiquette, project management and presentation ability. I gained various technical skills such as Python, cartography and accessing and analyzing satellite data," Tshering said. "Also, meeting all the brilliant and like-minded individuals through this project and working with them was definitely a highlight."
Tshering said the experience will serve her well in a future career that benefits from her interdisciplinary and multicultural background.
"I have always wanted to work in a career that would make a substantial difference in the world and this project has helped me gain such an experience," she said.
Tshering conducted research with Assistant Professor of Psychology Srijana Shrestha during the summer of 2020. She studied the knowledge and perception of dementia in Nepal among laypeople.