Working wellness into the day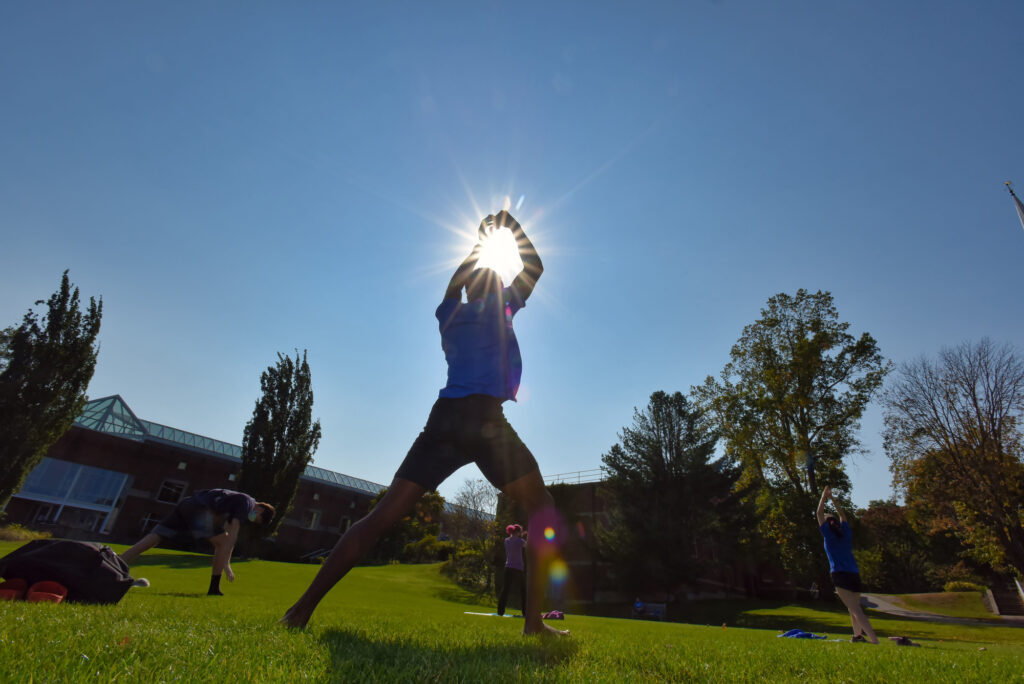 Athletics and recreation offers virtual yoga, meditation and cardio classes
In the pre-pandemic days, the basement of Cole Memorial Chapel and the Balfour-Hood dance studio would be filled with the contemplative quiet of downward dogs as well as the huffing and puffing of students, staff and faculty taking meditation, yoga and high intensity cardio classes.
Because of the safety guidelines for COVID-19, the in-person gatherings are not happening this semester, but the workouts are continuing. The Athletics and Recreation Department has been offering a full schedule of virtual fitness classes, funded in part through the Student Government Association. The aim is to support the health and wellness of the Wheaton community, said Judy Allen, assistant director of athletics for campus recreation.
Dory Gedraitis '22 teaches "Yoga with Dory" on Tuesdays at 8 a.m., Wednesdays at 7 p.m. and Thursdays at 6 p.m. Caleigh Grogan '18, the interfaith engagement coordinator and wellness event planner at Wheaton, teaches "Meditation and Mindfulness" on Mondays at 5:30 p.m. and Wednesdays at 8:30 a.m., and Rebecca Olivieri '18—a former member of the Wheaton women's basketball team—teaches "Head to Toe" on Mondays at 4 p.m., "HIIT It by Rebecca" on Tuesdays at 11 a.m., and "Get Fit with Rebecca" on Thursdays at 11 a.m.
"Yoga with Dory"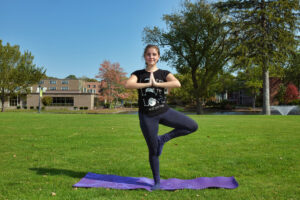 Gedraitis teaches her online classes solo from her dorm room, and, on a recent October Saturday afternoon, she conducted a socially-distanced in-person yoga session outside on Chapel Field.
Since her first year at Wheaton, the environmental science major has been teaching yoga for the Athletics and Recreation Department and during late night events.
She said it is a great way to deal with stress. "Yoga helps with my studies by giving me a place to just be in the moment rather than worrying, and that's probably what I love most about it. It gives you the space to be as you are," she said.
Her wellness advice: "My best tip—especially in this pandemic—is to allow yourself to listen to your brain and your body. That might mean getting some movement in, but it also might mean sitting on the couch. You do enough in your day, and you deserve to treat yourself with kindness."
"Meditation and Mindfulness"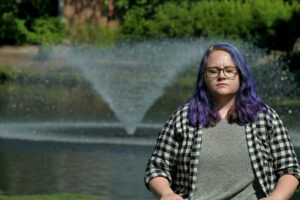 Grogan, who majored in religion and creative writing, has been doing basic meditation instruction for about three years—enhancing her skills through The Providence Zen Center. She teaches her virtual classes from her office in the basement of Cole Memorial Chapel.
"I first started learning about meditation in my First-Year Seminar course with Professor Jeffrey Timm. He led in-class meditation and taught about mindfulness. At the time, there was also a small meditation club that I began attending," Grogan said.
"Over time, developing a meditation practice has helped me focus and manage my emotions, which helps me be more successful in any endeavor. I love really trying to get in touch with stillness. So much is happening in our personal lives, in the country, in the world. It is amazing how good it can feel to allow yourself to be still, both physically and mentally," she said.
Her wellness advice: "I think meditation can be really helpful for anyone during this difficult time because it can be very grounding. With the state of the world it's easy to get overwhelmed and very stressed by things that are out of our control. Meditation gives us permission to let go and focus internally on our bodies and emotions so we don't forget about our own needs and well-being."
"Get Fit with Rebecca"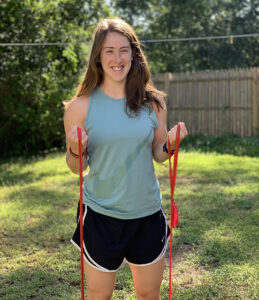 Olivieri, who majored in biology, currently is in her last semester as a student at UMass Lowell in the doctorate of physical therapy program. She also works as a personal trainer and group exercise instructor part time. She teaches her Wheaton classes from her home in Milton, Mass.
While a student, she worked in the lab of Associate Professor of Biology Laura Ekstrom, was a resident advisor for three years and a member of the women's basketball team for all four years. Olivieri also gained experience programming workouts for her teammates and teaching fitness classes on campus.
She said she has always had a passion for exercising with others that mainly revolves around team sports and now enjoys helping people have healthy, active lives.
"During this time, group fitness keeps us engaged as a community and can significantly improve our physical, mental and emotional health," Olivieri said. "The community aspect of group fitness is so special. Meeting new people, getting to know them and encouraging each other for the hour of class is what makes exercise classes worthwhile. I love the mutual inspiration and motivation we get from each other, which helps us improve our energy levels and enhance our well-being. And, of course, it's a lot of fun."
Her wellness advice: "Move your body every day in any form that you enjoy. If you can't use your legs, there are other ways to move while sitting or lying down. Find what works best for you and make sure to move 30 minutes per day. If you have a desk job that requires extended periods of sitting, make sure to take breaks at least every hour. When you get tired of the same routine, switch it up and find some new activity. Lastly, find a buddy or a group of people who you can move with and help keep you accountable."