Working in the White House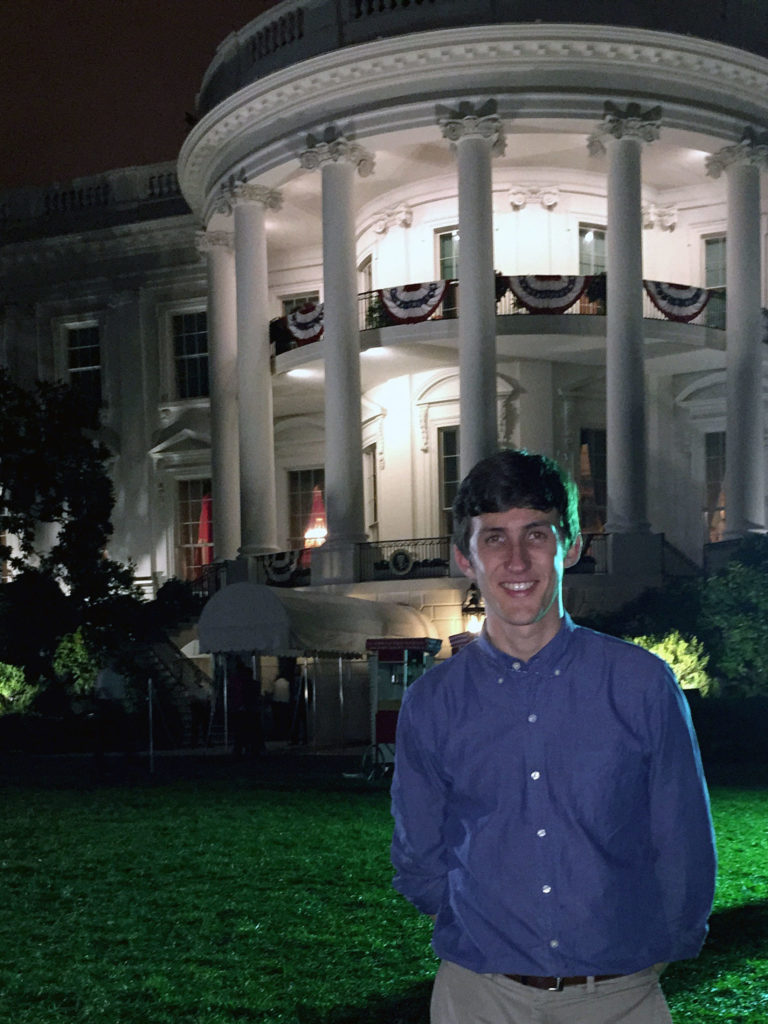 For a political science major, a White House internship is what Alex Butcher-Nesbitt '15 refers to as "the Holy Grail" of opportunities.
The recent graduate spent his first summer after Wheaton working in the White House Office of Public Engagement and Intergovernmental Affairs (OPE/IGA), with support from a Gertrude Adams Professional Development Fellowship. The office is the first point of contact for anyone looking to engage with the Obama administration.
"The internship represented an excellent way to further my interest in domestic politics and experience the operations of the federal government at the topmost level," Butcher-Nesbitt said.
Participating in the White House Internship Program had been a longtime goal of the North Sandwich, N.H., native, and it was one he was able to achieve with some help from two alumnae/i—Gabe Amo '10 and Mandi DeGroff '12, who both have worked in the White House.
Butcher-Nesbitt's job involved a lot of writing as well as copy editing of speeches and blogs for senior White House officials, organizing events, managing the office's travel budget and coordinating all staff travel.
"I also worked directly for our office's 'paper deputy,' or the person who serves as the conduit for all 'POTUS Paper'—memos and other missives headed for the President's desk. This meant that each week I got to edit our office's update memos to the President and his chief of staff, as well as any other briefing memos from OPE/IGA staff members for the President's review," Butcher-Nesbitt said. "This was more than exciting, because I knew that I had some of the last hands on documents before they were delivered to the President of the United States."
One of the most challenging parts of the job was speechwriting, which Butcher-Nesbitt—a strong writer who served as editor-in-chief of the Wheaton Wire—found surprising.
"Speechwriting involves much more than sitting down with a pen or a keyboard and writing whatever comes into your head. It involves a great deal of preparation, from research of past speeches and remarks, to review of administration talking points, to a distinct understanding of the cadence and voice and style of speaking of the person for whom you are writing," he said.
He left the internship with a new respect for speechwriting and a better understanding of the opportunities available to him for a career in politics.
"OPE/IGA does a lot of work with private organizations working to further the President's policies with similar methods of engagement and communication conducted through private channels not bound by the legal and staffing restrictions of government offices," he said. "Just because I'm not working in government doesn't mean I can't work on issues in a meaningful way that will still assist the government in doing its job."
After his internship ended, Butcher-Nesbitt remained in Washington, D.C., working for a communications firm on a project designed to build support, particularly among the pro-Israel and Jewish communities, for the United States' nuclear agreement with Iran.
In October, he started a new job as a political organizer, working on Hillary Clinton's 2016 presidential campaign in Iowa.
"I'll be on the front lines of the election, talking directly to voters in the first caucus state about why I support Hillary, and engaging with them on their priorities for this election," he said.
Again, Butcher-Nesbitt was able to work his Wheaton connections—friend Adin Lenchner '12 is also working on the Clinton campaign in Iowa and helped him get the job.
Looking back on his time at Wheaton, Butcher-Nesbitt said the college's emphasis on individual responsibility and accountability prepared him well for his internship.
"The White House Internship Program, particularly the positions in the OPE/IGA, relies on self-starters and independent learners that are able to pick up on new skills quickly while inundated with about a million and a half tasks due in the next half hour," he said.
He also credits his alma mater for encouraging experiential learning. As an undergraduate, Butcher-Nesbitt interned in the Office of the Governor of New Hampshire, with the Terry McAuliffe for Governor Campaign in Virginia and in the college's Office of Admission.
"Wheaton's emphasis on internships from the first year played a huge role in building my resume," he said.