Working for gender equity in science, technology
The global economy increasingly is opening opportunities for careers in the fields of science, technology, engineering and math (STEM). However, women continue to be underrepresented in those occupations, according to reports over the years by various agencies and organizations, including the U.S. Department of Commerce and the National Science Board.
Ben Williams '93 is working to change that as director of special projects for the National Alliance for Partnerships in Equity (NAPE), a role he took on in February. NAPE is a nonprofit consortium of state and local agencies, educational institutions and industry partners working to increase student access, educational equity and workforce diversity in STEM fields.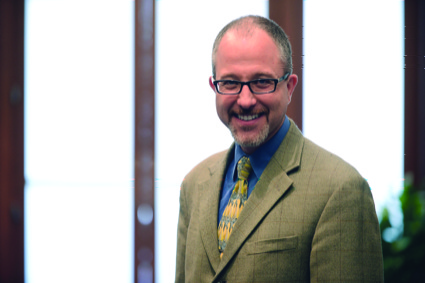 "Our primary focus is professional development for secondary institutions and community colleges," Williams says. "We provide training, technical assistance and research tools to help instructors, administrators and counselors to increase access and success for underrepresented students in their programs."
He also helps to develop the curricula and travels to schools around the country to provide training, and oversees research looking at the impact of the programs.
Williams says he has Wheaton to thank for his career in gender equity. His interest is rooted in the experience of joining the college's second coed class in 1989.
"At Wheaton, I was mentored and brought into the community by women," he says. "There was a lot of excitement and optimism. There were also some people who were not thrilled to have men on campus, and I think that was really good for us to experience. We all felt a real responsibility to honor the tradition of an all-women's education. To think of ourselves as differently coeducational."
He chose to major in psychology after taking an introductory course with Professor Derek Price, in which students discussed different perceptions of gender in psychology and used a gender-neutral textbook. His second major is in philosophy. Drawing from both majors, Williams wrote an honors thesis examining the moral development of college students.
"That's what eventually drove me to pursue graduate work in student affairs administration, and working with college students," Williams says. After graduating from Wheaton, he taught English in Japan for three years, where he met his wife, Marla, and then attended The Ohio State University, earning a master's degree in student affairs and higher education administration and a Ph.D. in educational policy and leadership.
He started working with NAPE in 2009 when Ohio began to participate in NAPE's National Science Foundation-funded STEM Equity Pipeline Project, aiming to include more women in college career and technical training (previously called "vocational ") programs in STEM.
Working as project director at Columbus State Community College, in partnership with NAPE and the Ohio Department of Education, Williams helped expand the project further in Ohio over the following four years. In 2011, he started working for NAPE as a consultant and lead trainer for their curricula. Now he oversees the second iteration of this project in 10 states across the country.
Williams and other advocates for gender equity stress that trying to close the gap in the STEM field requires capturing the attention of female students as early as elementary school so that they will be engaged in STEM subjects through college, and interested and prepared to pursue careers in the field—creating a "pipeline."
Also, addressing inequity extends beyond gender, Williams notes. "While we look at this starting through the lens of gender, it's also really important to be mindful of race and ethnicity, and special populations, including students with disabilities and those who are considered economically disadvantaged," he says. "If a teacher is intentional about being inclusive in the classroom, then it can really help every student feel that they belong."