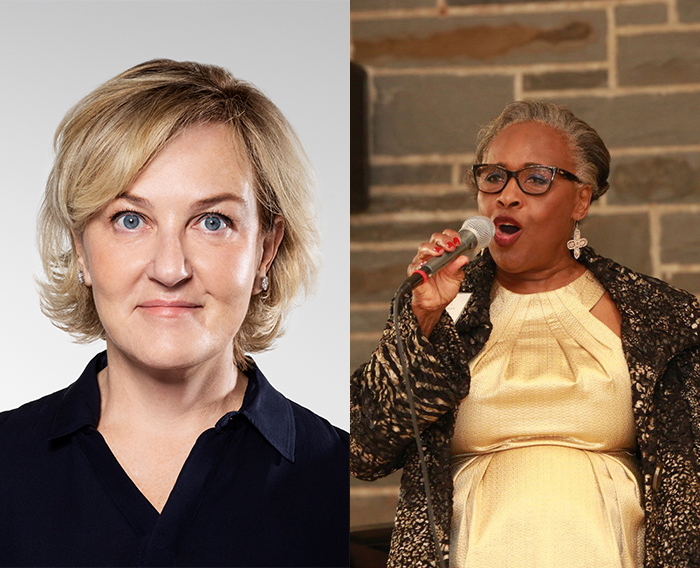 Two alumnae named Woman of the Year
The year has just begun, but already it's a great one for Wheaton women.
Both Sharon Callahan '84 and Rose Weaver '73 recently were named "Woman of the Year" for accomplishments in their respective fields.
Rhode Island media company GoLocalProv designated Weaver its 2018 Rhode Island Woman of the Year for her meaningful contributions to the arts community, while the Healthcare Businesswomen's Association named Callahan 2019 Woman of the Year for her efforts to promote workplace gender parity.
Weaver, an accomplished actress, singer and producer, was awarded an honorary doctorate of laws at Wheaton in 2018—but that was only one of her many awards over the past year.
She also received the community spirit award from The Wheeler School and was honored at the Rhode Island's Heritage Hall of Fame. Moreover, she shared advice on lifelong lessons at the "Note to Self" event at the Moses Brown school, and she researched, wrote and performed a play documenting a woman's journey from Africa to slavery in Rhode Island at the Southside Cultural Center.
"It is not just her life's journey and experiences that she has shared through performance that has made her outstanding in her field, but her continued generosity in giving back to the community, that has made her a true legend," according to GoLocalProv.  
Meanwhile, the Healthcare Businesswomen's Association recognized Callahan for her work championing diversity and inclusion as CEO of TBWA\WorldHealth and chief client officer at Omnicom Health Group.
She is the founding board member of both Omniwomen, which aims to increase the number of women in leadership positions, and OPEN Pride, which cultivates a positive work environment for Omnicom's LGBTQ community.
"With a healthcare marketing career that spans more than 30 years, Sharon Callahan is a highly influential and inspirational female leader who has advocated for the rights of women and for diversity and gender parity both personally and professionally," according to the association.
In her free time, Callahan is vice chair of the Victory Fund, which is working to increase the number of openly LGBTQ officials in government. She also serves on the boards of the Arthritis Foundation and Women Against Alzheimer's.  
Callahan will be officially honored at the 30th annual Woman of the Year event on May 9 in New York City.