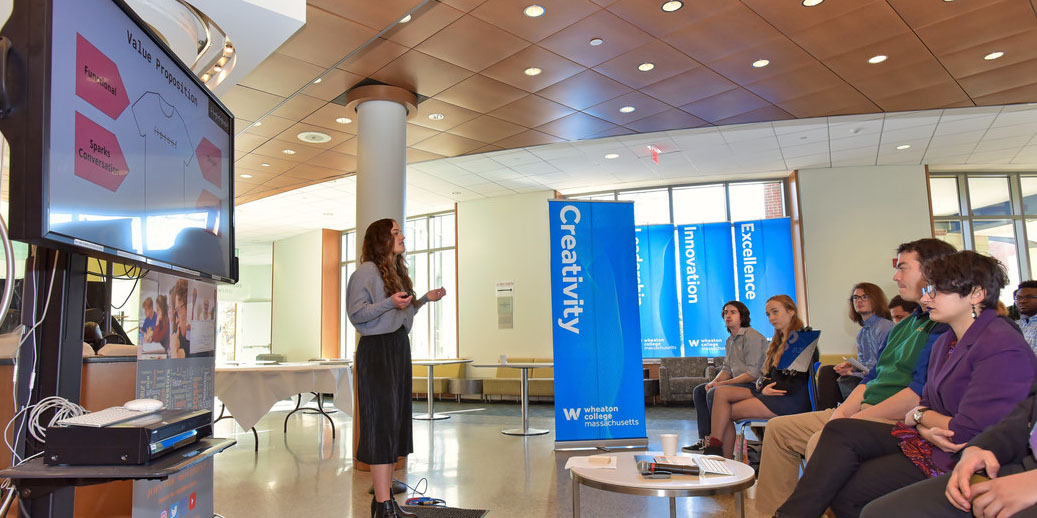 Students work on startups over January break
Each January, motivated Wheaton students return to campus a week early to develop a business idea through the Social Entrepreneurship Launch Program (SE Launch). This year, that group involved 21 students from a variety of majors, as well as an adult learner. Their ideas included fashion lines to battle the stigma of mental illness, celebrate LGBTQ identity and help the homeless; supporting artists through the sale and design of up-cycled clothing, skateboards and independent film and video projects; and mobile apps to promote political activism, financial stability and smarter media consumption.
Led by the Global Center for Social Entrepreneurship Network (GCSEN), the SE Launch "boot camp" began at the start of winter break, when students took an online course and identified a business idea. Once on campus, they spent a week working on their ideas, attending workshops and lectures, building and refining their business pitches, participating in field trips and working toward a final presentation.
>> See some of the student business ideas
Visiting Instructor of Business and Management C.C. Chapman served as a faculty coach and dean of students for the January 2020 program. He said it was amazing to watch the students, many of whom were not business majors, pack so much learning into one week and to overcome nervousness to deliver confident pitches.
"It was great to see these students take a kernel of an idea and turn it into enough detail to pitch it to a room full of people," he said. "The students learn a lot of new things, but they also learn confidence, public speaking and working together, which will help them no matter what field they enter."
Among the staff the students worked with was Vanessa Collingridge, an author and broadcast journalist from Scotland, who served as an "impact coach," helping students work on their posture and presentation skills.
On the program's last day, the students delivered three-minute presentations to a group of judges—including Chapman, GCSEN staff and faculty from about 15 other colleges and universities who are interested in bringing a similar program to their campuses. Judges scored the students using an app called Pre, allocating virtual funds to each business as "investors."
Jenna Palmer '20 received the highest score in the judging for her business venture "Proof," a clothing line that encourages conversations about trauma and mental health among first responders.
"The atmosphere that was created at the SE Launch boot camp was one of the most supportive and accepting that I have ever been a part of," said Palmer, a business and management major who is interested in a career in nonprofit management and philanthropy. "It was nice to be surrounded by people who care as much about your success as they do their own personal success."
The top three scorers also included Jacob Libby '22, who is developing a self-budgeting mobile app called WINGZ, and Sam Read '22, whose mobile app VUE allows users to curate their own news feed from multiple social media platforms.
Throughout the spring semester, the SE Launch participants will have monthly web calls with GCSEN staff to check in on their projects. They also can participate in a second week of workshops at the beginning of the summer, in which they will explore the structural side of setting up a business, Chapman said.
SE Launch is offered in partnership with Wheaton's WiN Hub, which supports student entrepreneurship on campus through workshops, professional guidance and other programs.
"This program showcases why a liberal arts education is most beneficial: It teaches students to think beyond any walls or definitions that might hold them back," he said.