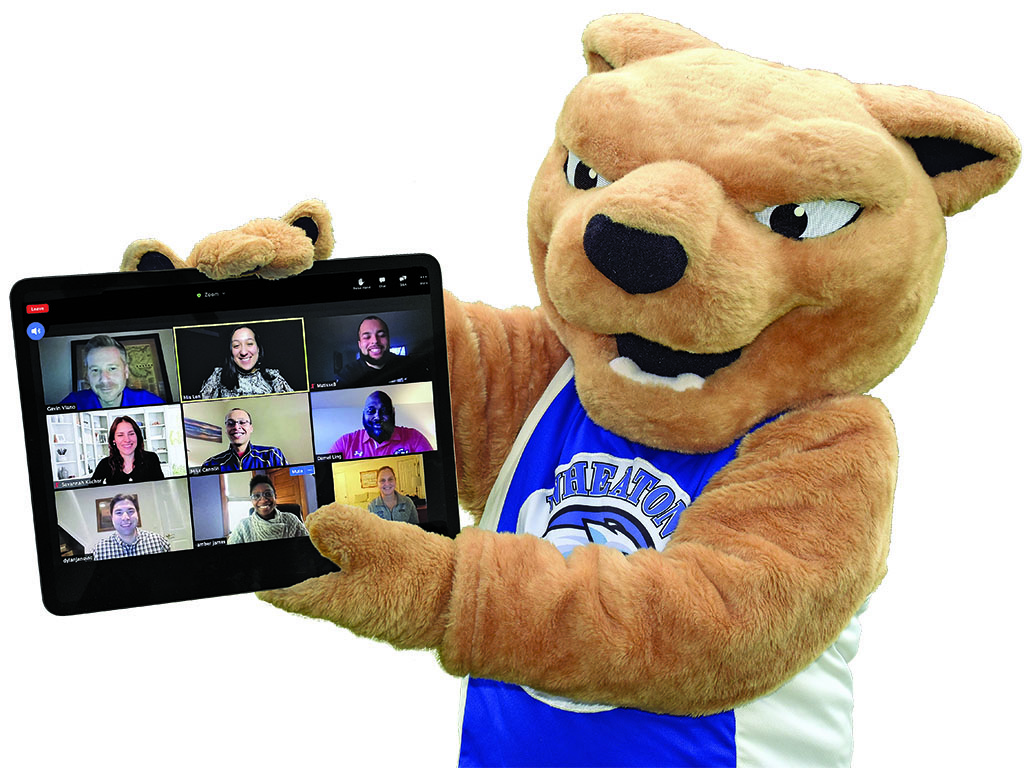 During the spring semester, Wheaton hosted several virtual conversations featuring alumni, current student-athletes and club sport participants, who shared professional advice, reflected on the liberal arts and celebrated Women's History Month and International Women's Day.
The athletics department launched "Lyons in the Field," an alumni career panel series with events in January and February, and hosted two other panels in March. Former student-athletes engaged with current student-athletes to provide information about their career success, answer questions and to network.
"Right before the holidays, we started a LinkedIn group and business page for Wheaton athletics. Mia Len '21 and I worked to put together two alumni career panels to kick off the semester. This was a great opportunity to network and gain some valuable insight into life post-Wheaton," said Gavin Viano, director of athletics and recreation.
The career panels featured Braden Marstaller '18 (cross country), a brand marketing associate at Cogo Labs; Dylan Janovic '20 (lacrosse), a business analyst at Mobomo; Ajay Sisodia '06 (track and field), a managing director in business development and innovations at Truth Initiative; Amy Moreira '13 (lacrosse), director of enterprise business systems at Bottomline Technologies; John Sutyak '00 (baseball), director of athletics at Ferrum College; Oscar Medina '97 (soccer), supplier performance and innovation lead at Takeda; Matisse Baumann '16 (soccer), digital project coordinator at The Kraft Group and Affiliates; Michael Cannon '15 (basketball), financial advisor at Morgan Stanley; Damel Ling '99 (basketball), assistant basketball coach at Caldwell University; Amber James '04 (track and field), lead accessibility content strategist at Twitter; and Savannah Geasey Kacher '12 (track and field), regional development officer at Scripps College.
In celebration of Women's History Month and International Women's Day in March, Lisa Yenush '90, associate director of athletics, Leah Niederstadt, associate professor of museum studies/history of art, and Barbara Darling, assistant professor of religion, co-organized two panels in collaboration with Len.
Len is a business and management major, former member of the basketball team and an external relations intern in the athletics department. In addition to coordinating the "Lyons in the Field" career panels, she also served as a panelist on the Women's History Month panel.
"Having the privilege of organizing the department's first virtual alumni event was so special and rewarding," Len said. "The fact that each panelist was more than happy to give back to their college and athletics department speaks so highly of the type of people in our Wheaton athletics family.
"It's not every day that you get a group of alumni who are willing to give an hour of their time on a Friday night. The stories that each panelist shared were inspiring and unique, but the one commonality among them all was their genuine excitement for Wheaton as well as their gratitude for all of the people who have helped them get to where they are. Wheaton community members are one of a kind, and I'm so glad that I was able to witness that—yet again—through these panels."
The idea for the Women's History Month panel originated from Associate Professor of Theatre and Dance Stephanie Burlington Daniels '97, who reached out when she was collaborating with faculty and staff on Wheaton's annual International Women's Day event, Niederstadt said.
Professors Niederstadt and Darling are faculty athletics representatives and Yenush is the athletics department liaison.
The Women's History Month panel, "Women and Athletics: Sports and the Liberal Arts," featured Adaeze Anaebonam '18 (club soccer and rugby), associate video producer at Condé Nast Entertainment; Indira Henard '03 (track and field), executive director of the DC Rape Crisis Center; Margaret "Meg" Walker '22 (track and field), psychology and education double major; Yenush (soccer, basketball and softball) and Len.
The International Women's Day panel, "Women and Athletics: International Perspectives," included: Emily Berardi '15 (softball), Latin teacher at Newton Country Day School of the Sacred Heart; Lauriina Heinonen '22 (synchronized swimming), business and management major; Helene Mantineo '21 (ultimate Frisbee), biochemistry and statistics double major; and Eva Pet '21 (swimming and diving), biochemistry and economics double major.