They say that a picture is worth a thousand words. Nowhere is that more true than at Wheaton as you walk the campus on any given day. Before the end of the spring semester, as I strolled along, the point was repeatedly proven in random visual narratives about how creativity is fostered and encouraged here; about how highly regarded our alums, parents and friends are; and about how well-rounded our students are because of their interdisciplinary liberal arts education at Wheaton.
Just a few examples:
One day an intriguing giant box appeared outside of the Mars arts building. "What is it?" I asked. It turned out to be an art installation by Charlotte Hall '17. "Students in 'Sculpture II' created immersive installations for their final project," Professor Kelly Goff explained. "Some were site-specific (around campus) and others were contained within these temporary booths we made from theater flats. Charlotte Hall created a sort of version of her dorm room, clad inside and out with refuse that she personally accumulated over the last few weeks. Passers-by are invited to enter the booth."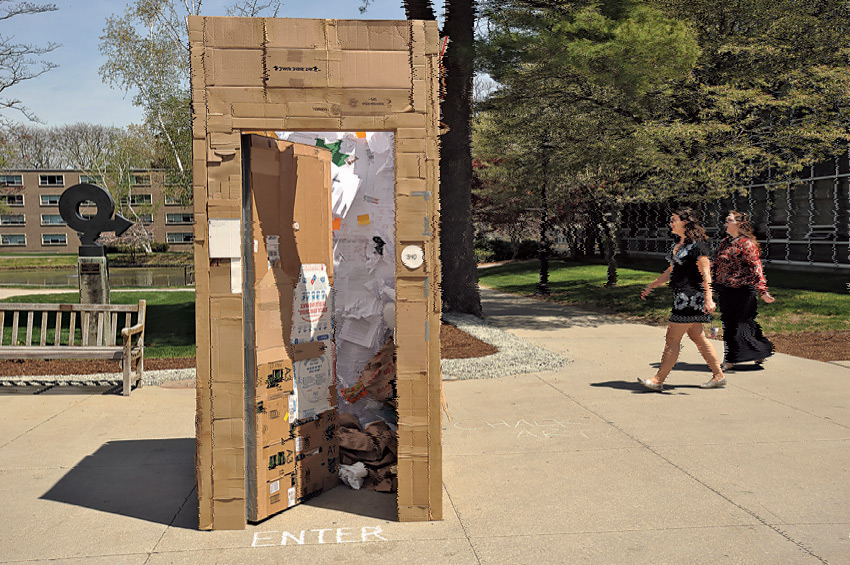 Another day, I saw a member of the college's grounds crew on his knees at the base of a tree, a big bucket beside him. What was he doing? Painstakingly picking the teeny tiny weeds from the mulch around a tree so that the campus could look perfect for the alums, parents and friends who would be arriving on campus for Commencement.
And, finally, one of the most beautiful random sights this spring: two violinists—Kristina Danga '17 and Ashley Wang '16—on the green in front of the library performing an impromptu concert. Not only are they talented musicians, but they also are neuroscience majors. Well-rounded, indeed.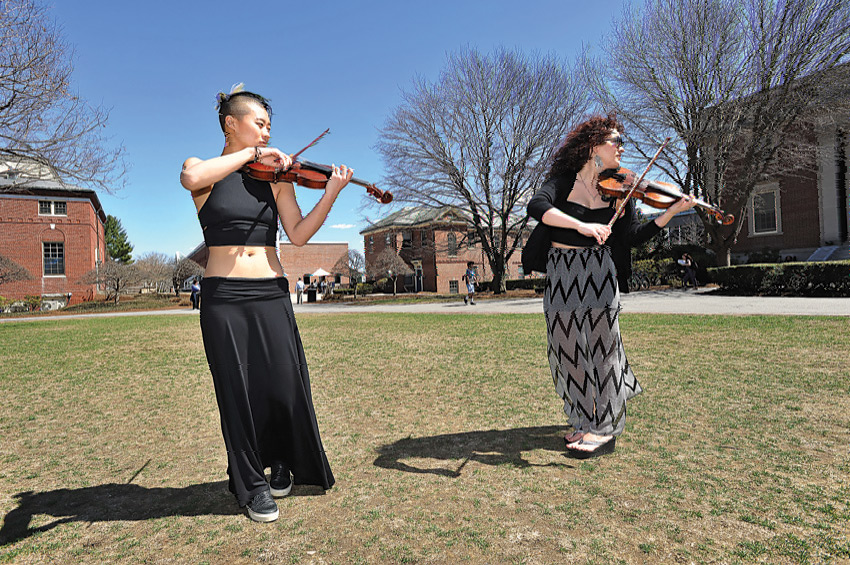 Like the campus, this issue of the Quarterly brings you lots of beautiful visual narratives that help tell the story of Wheaton: Nick Fradiani '08 on page 34 with his hand triumphantly raised in the air as he wins "American Idol," proving that you can major in history and pursue your love of music; students, on pages 25 through 27, taking advantage of internship opportunities provided through the Filene Center; professors working together to create and teach an interdisciplinary business and science course, which we write about in our cover story on page 18; and the highly regarded alumna Nancy Conger '67, giving back to her alma mater by helping to successfully lead it into the future as the new chair of the Wheaton Board of Trustees, page 32.
Great images. Great stories. Enjoy.