Wheaton pre-med student studies abroad in Denmark hospital, interns in Ecuador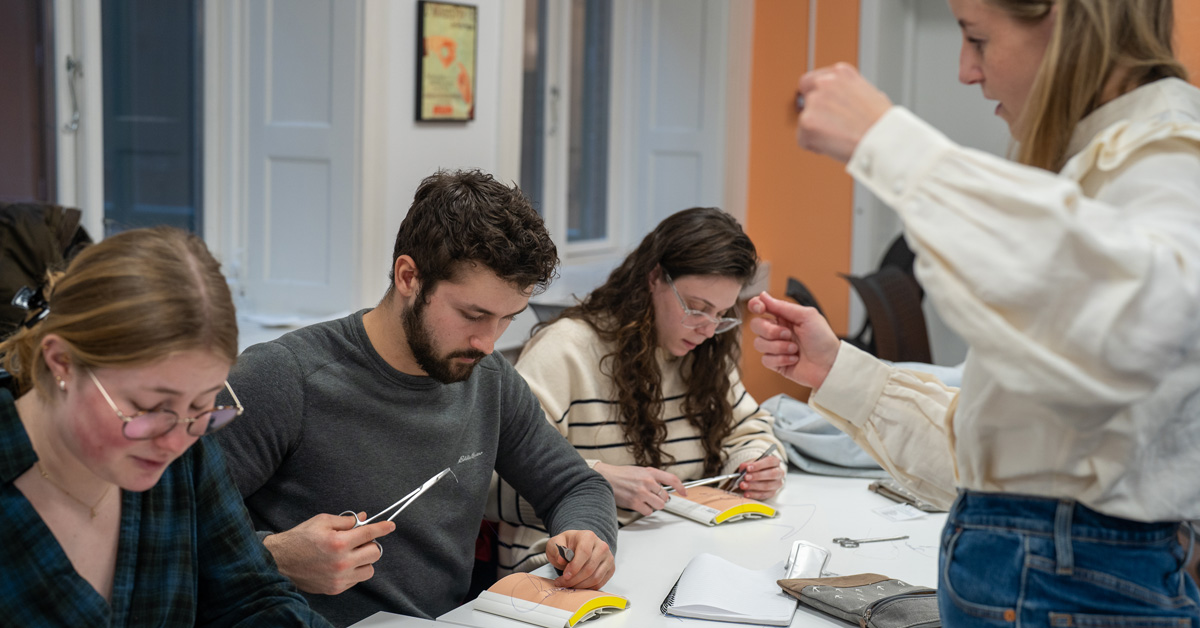 Jackson Elwell '24 enriches his academic knowledge and gains experience with medical techniques and procedures
A surgical anastomosis is a suturing technique that doctors use to make a new connection between two body structures that hold fluid, such as blood vessels or bowel. Wheaton College senior Jackson Elwell, a biochemistry major on a pre-med track, has learned the challenging technique after spending a semester studying abroad in Copenhagen, Denmark.
It was just one of the many skills he gained in the "Human Health and Disease: A Clinical Approach" program offered by DIS Study Abroad in Copenhagen, in which courses were taught by practicing physicians in a Danish hospital from January through May. Elwell also experienced the energy of the hospital and learned how everything functions.
"Surgical anastomosis requires very fine technique, with the sutures remaining within the thin line of tissue on the outside of the intestine, with any errors leading to possible internal bleeding, leakage and infection," Elwell said. "It was not a technique that I could master in a day to be able to perform it on my test. I had to practice a lot with my suture kit. But, by the final exam, I improved a lot and was one of the first to finish it on the exam."
"The program was an amazing experience," he said. "One of the more notable moments in Copenhagen was my visit to Herlev Hospital, where we practiced simulated emergency medical situations and had to quickly assess and decide on the best route of care based on the symptoms. We learned about what we can and can't treat as an emergency medical physician, and when to call in other resources. It was a great experience, especially because I am a certified EMT and I would like to become an emergency medical physician."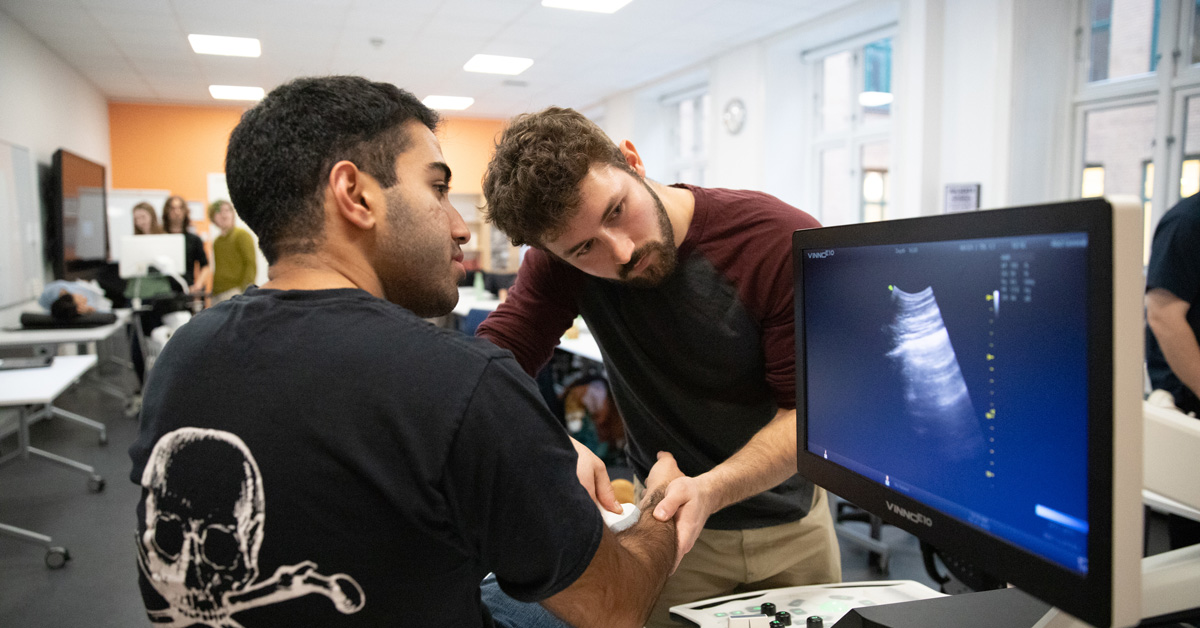 Elwell's interest in the medical field stems from his time spent in a hospital as a patient. When he was 17 years old, the hip pain he had been experiencing was diagnosed as avascular necrosis. In this condition, there is a lack of blood supply to a bone and the bone dies. His right femur bone already showed significant collapse.
After two unsuccessful surgeries to save his hip, he underwent a total hip replacement at age 18—one month before starting his first year at Wheaton. Little did he know that the medical event would become a defining moment leading to his passion for a career in medicine.
"I had no idea what I wanted to do going into college and then I had this traumatic experience. For two years of my life, I was recovering from multiple surgeries. I was a healthy and athletic 17 year old, and then I wasn't. During that time, I had a lot of involvement with the medical system, and I really admired the doctors and surgeons I worked with," he said.
"Medicine has been life changing for me because I would not be able to walk around without the medical system we have in place. It changed my life and I want to be able to do that for other people's lives."
After finishing his coursework in Copenhagen, Elwell began a global health internship in Quito, Ecuador, with Child Family Health International as a funded Davis International Fellow in June. He lived with a host family and shadowed health care professionals through three different rotations in an operation room, preventative medicine in a family medicine practice, and in emergency medicine in the largest public hospital in Quito for five weeks. He also worked at a clinic in Otavalo, Ecuador, that provides primary care to the local Indigenous community.
His spring and summer in Denmark and Ecuador moved him closer toward his goals, as well as taught him some lessons about himself.
"I thought that to get into med school and pursue my goals, it was about innate intelligence and understanding concepts on the first try. During the Denmark program I saw that, while this certainly helps, resilience and perseverance are just as important," he said. "I cannot ace every test or understand everything perfectly just after learning it. But I can jump right back on the horse and give it my all."
In addition to his travels abroad, Elwell has also engaged in experiential learning opportunities at Wheaton. Since his sophomore year, he has worked as a personal care attendant for a fellow Wheaton student who has physical challenges.
"This has been a really valuable experience for me. Not only has it provided me with a lot of direct care experience, but it has also given me the opportunity to meet a remarkable person," he said.
Currently, Elwell is preparing to take the MCAT to apply to medical school and has expressed great appreciation for the help and support his Wheaton professors have provided.
"Professor [Hilary] Gaudet helped me understand my plan for the next two years in getting to med school and showed me that going abroad was a feasible option, despite a heavy course load. She is my pre-med advisor as well, and has helped me a lot so far with planning when I will take the MCAT and what I need to do to prepare," he said. "My academic advisor, Professor [Jennifer] Lanni, has also helped me plan my courses and reduced my stress around the whole process of preparing for the MCAT."
Elwell said he is happy to be back on campus diving into his biochemistry course work and playing ultimate frisbee.
"I loved my experiences abroad, but I missed my friends and the sense of community at Wheaton. I am really happy to be back and excited for my senior year," he said.