Wheaton liberal arts education prepares alumni to create their own opportunities
Kenneth "Ken" Aspeslagh '00 starts computer lab for kids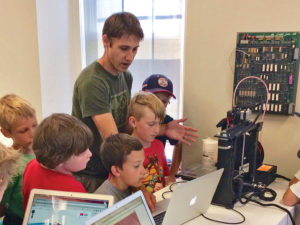 During his junior year, computer science major Kenneth "Ken" Aspeslagh '00 received a broken Palm Pilot from Professor of Computer Science Mark LeBlanc.
"Ken and his twin brother [Glen '00] had an uncanny ability with hardware, and I thought they might be able to fix it," says LeBlanc.
Not only did Aspeslagh fix the device, he and his brother began designing software for it, which they sold on the Internet. That same year, as Wheaton undergrads, they founded Ecamm, now a market leader in Mac software.
Aspeslagh has a sweet deal. Working with his brother, he spends his days doing what he loves, creating problem-solving apps for Mac computers. "We work on our own projects and set our own schedules," he says. Ecamm has sold hundreds of thousands of products and received numerous favorable reviews in Macworld magazine.
"They are rock stars," says LeBlanc.
But something was missing, says Aspeslagh. "I wanted to give back."
In 2014, he founded Code & Circuit, a nonprofit discovery lab, where children in grades K–12 explore technology and computer programming and connect with like-minded peers. Based in Amesbury, Mass., the lab boasts state-of-the-art equipment—including a 3D printer—and classes in coding, robotics and circuitry.
"I wanted to create a community where kids who love computers can be themselves and don't have to worry about being labeled as nerds," Aspeslagh says.
He enjoys hearing from parents that his students are continuing their computer studies in their spare time, instead of gaming.
"There is no right or wrong once you come through our door—only discovery, experimentation and never-ending surprises," reads the "About" page at codeandcircuit.org.
Instructors mentor and guide and "help make the students' ideas come to life," he says. A student at a Lego robotics class told Aspeslagh it was the best tech course he had taken. "When I asked him why, he said, 'Because you help us.'"
Despite his commitments to Ecamm, Aspeslagh teaches many of the courses at Code & Circuit. "Kids need mentors," he says.
As children, he and his brother learned coding from a friend's father, who was a programmer.
At Wheaton, he learned to take risks, thanks to LeBlanc. "He gave me freedom to explore my own ideas and design my own projects, which was important to my entrepreneurship," says Aspeslagh.
Now Aspeslagh is paying it forward by inspiring a new generation, including his two young daughters.
"My oldest enjoys my Coding Club class, and my youngest really loves the STEAM Team class."
—Mary Howard '86
Zhe "Connie" Liu '16 named a top entrepreneur in China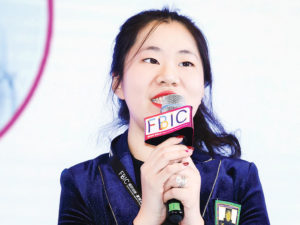 Considering her recent accomplishment, Zhe "Connie" Liu '16 says that majoring in international relations and economics at Wheaton was one of the most important decisions she has ever made.
"I took courses in history, philosophy, anthropology and religion to finish my degree; therefore, I developed the skills of thinking from multiple angles and better understanding of the beauty of difference," says Liu, who lives in Tianjin, China. "When I have problems, I can think more strategically and comprehensively."
All of it is serving her well as the founder of Tmoji, a business that offers a line of healthy snacks and herbal-based beverages made from dried fruits and vegetables.
Her success landed her on the 2017 edition of Forbes China's "30 Under 30 China" list that features "innovators, entrepreneurs and leaders who are challenging conventions and making an impact on the world." Liu says her company enjoys a large following, with more than 300,000 customers from China and a growing market in Singapore and Australia.
Liu launched the Tmoji line after considering rising obesity rates as well as her own success in trying to lose weight. She saw a need in the consumer market.
"Most drinks and snacks are not healthy at all. I wanted to develop products that balance taste and nutrition, so I started this company," she said.
"I feel really excited and overwhelmed" about making it onto the Forbes China list, she says. "The award is a huge recognition, making me realize that our brand has become better known, little by little, and we are making a difference."
In addition to running a successful business, Liu is pursuing her master's degree in social entrepreneurship at Peking University. She also is a philanthropist and volunteer at amfAR, The Foundation for AIDS Research.
"What we gain from the world should be given back," she said.
—Laura Pedulli