Celebrating alumni of color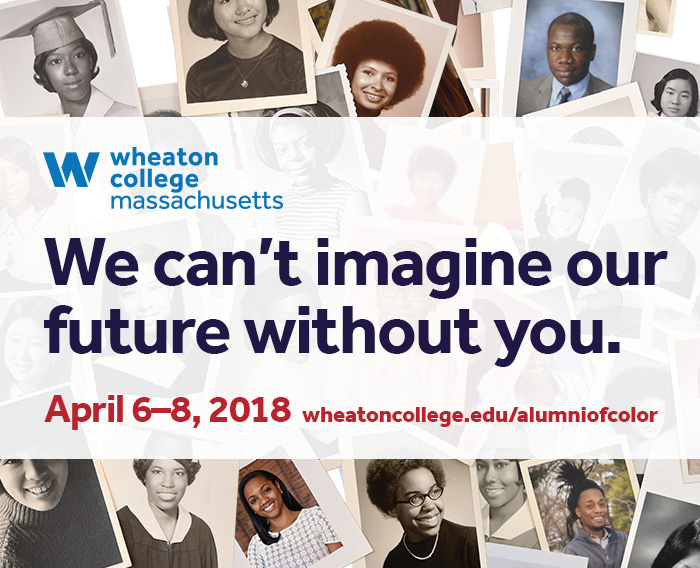 Registration is now open for Wheaton's upcoming Alumni of Color conference, slated for April 6–8. The weekend event celebrates the achievements of the college's community of students, alumni, faculty and staff.
Formally titled "Reflection and Renewal: Remembering our Past, Shaping our Future, a Celebration of our Alumni of Color," the event aims to encourage alumni to reconnect with each other, network with students and share their varied experiences.
"We are celebrating alumni of color through the recognition of their unique accomplishments both to the college and the world," said Oneda Horne '07, who is co-chairing the event with Wheaton Associate Provost Shawn Christian.
During the past decade, a small group of Wheaton alumni have worked to provide meaningful programming for alumni of color, culminating in events including the "100 Men of Color Conference" (2008); the roundtable "Wheaton Alumni of Color Share Their Experiences in Support of Today's Students" (2009); and the forum "When the Game Changes: Opportunities and Challenges for People of Color in the Workplace" (2010).
Motivated by these early initiatives and a desire to create a meaningful affinity space, in early 2016, alumni, staff and faculty established a steering committee to plan a full conference, according to Horne.
The event will feature a variety of workshops, and an awards presentation recognizing alumni, faculty and staff contributions to diversity and inclusion on campus. Also, an exhibit of stories, obtained from the Wheaton archives and alumni, will be showcased that depict the rich experiences held by students and alumni of color.
The Office of the President is sponsoring the April event. Courtney Shurtleff, director of Alumni Relations, sees the conference as a core component of the college's Strategic Plan to increase alumni engagement through "learning opportunities and other initiatives aimed at developing our increasingly diverse alumni community and giving them a reason to stay connected to the college."
Horne looks forward to the event, which she says will be both meaningful and a good time for all.
"There is an earnest belief that this conference will be so much more than a singular event celebrating our community; rather it will be the impetus for organized and strategic action meant to create an inclusivity not felt previously," Horne said, adding, "The conference also will be fun. I am thrilled to reconnect with a network that continues to have transformative impacts on my life."