Wheaton community responds to Ukraine crisis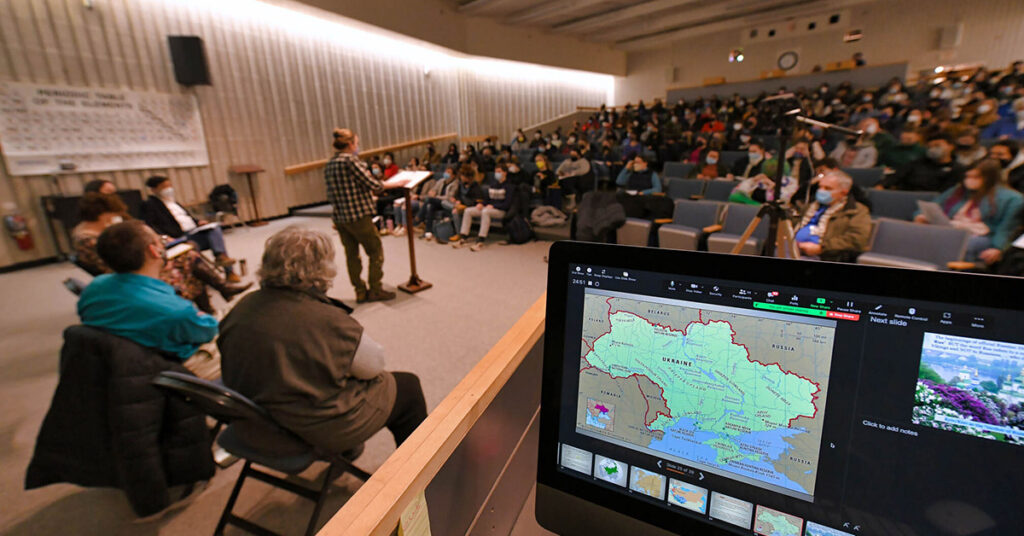 Events led by students, faculty and staff address harrowing conflict
The Russian invasion of Ukraine is stirring much confusion, sadness and outrage—as well as raising questions as to what is setting off these historic series of events.
The Wheaton community is finding constructive ways to better understand, process and respond to the unfolding tragedy through various campus events and initiatives led by students, faculty and staff.
Student-led radio program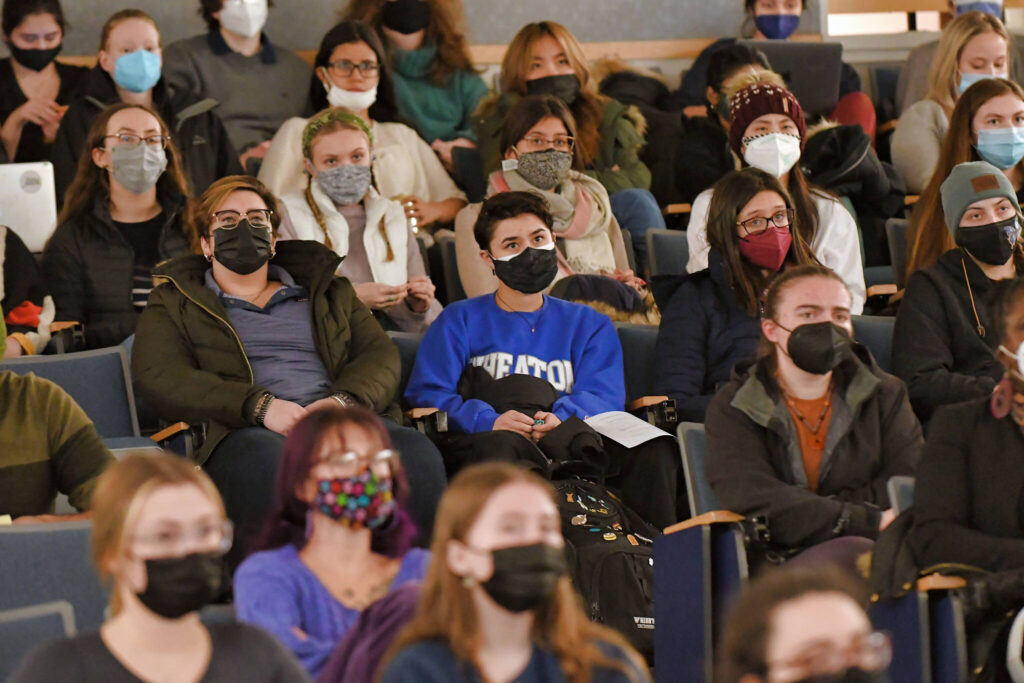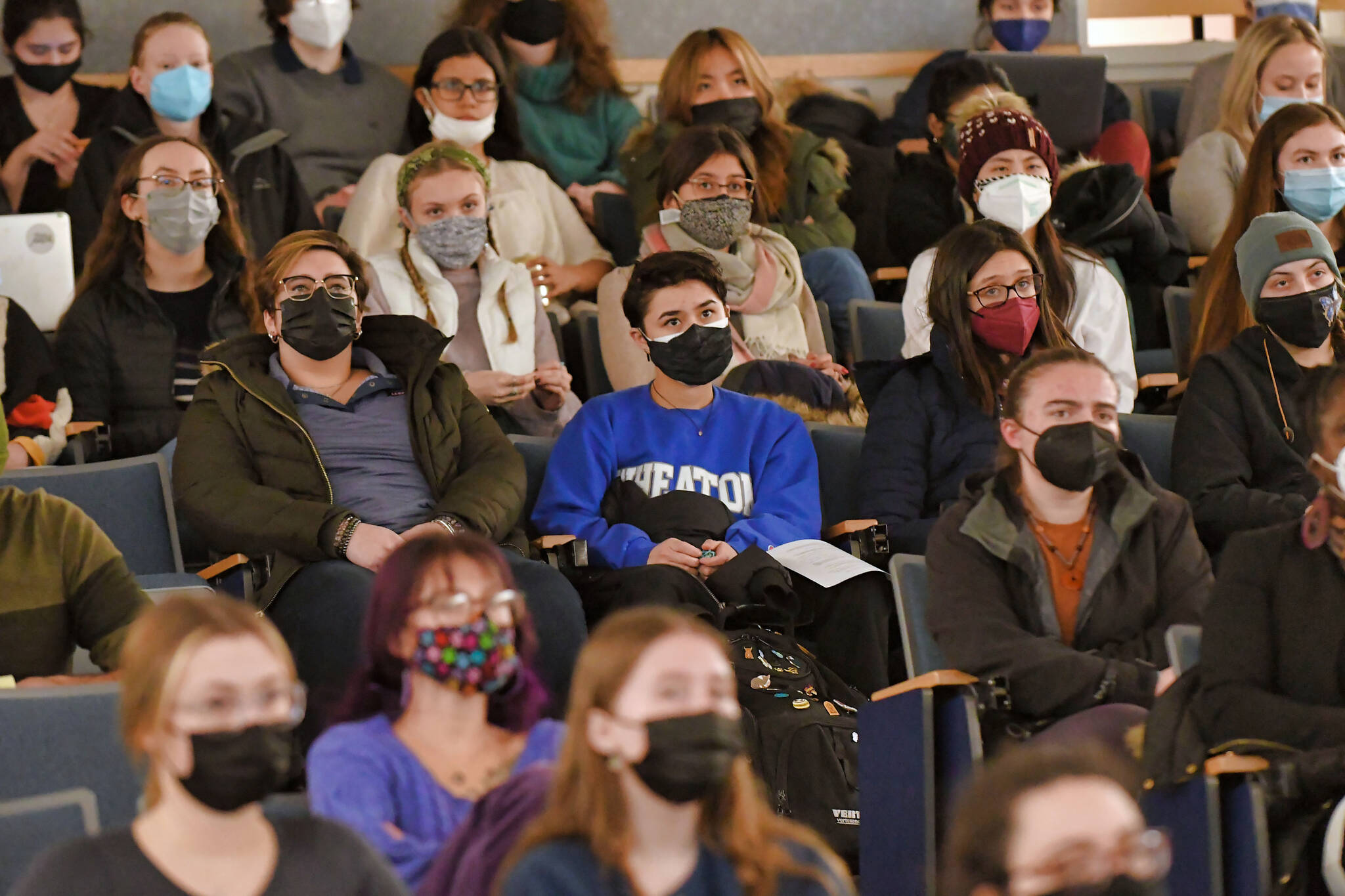 On Saturday, February 26, Wheaton College's radio station WCCS 96.5FM, Wheaton's Model United Nations and the Wheaton Democrats hosted a two-and-a-half-hour radio broadcast called "What's Happening in Ukraine."
"Recent world events in Ukraine have many students worried. We put together an event that hoped to explain the current situation in Ukraine and have a student-centered discussion on the topic," Harrison Zeiberg '22 said.
The broadcast featured four hosts, Zeiberg, Mae Flibotte '22, Stevent Cleto-Garcia '22 and Elian Fabing '22, who presented their research to listeners in segments. They explored the history of the conflict; the ongoing refugee crisis; and profiled President of Ukraine Volodymyr Zelensky and Russian President Vladimir Putin. The group also took advantage of an alumni connection and interviewed Kiran Pfitzner '21—a recent graduate who is attending University of Chicago for a master's degree in social studies with a concentration in European military history.
"We had a record number of listeners to the radio during this event, with many of them staying tuned in for the entirety of the broadcast," Zeiberg said.
Claire Brady '23, a history major and member of Model United Nations who helped organize the broadcast, said she found it awe-inspiring that students came together so quickly to create this event.
"Educational events help provide important information that might have been missed due to the constant stream of information from the news as the sheer amount of information can be overwhelming. In addition, it helps us as Wheaton students to become better-informed citizens of the world," Brady said.
Faculty panel
On the evening of March 1 in Hindle Auditorium at the Diana Davis Discovery Center, more than 200 members of the campus community attended the two-hour panel discussion "What is Happening in Ukraine?". It featured faculty from the departments of history, political science and Russian studies.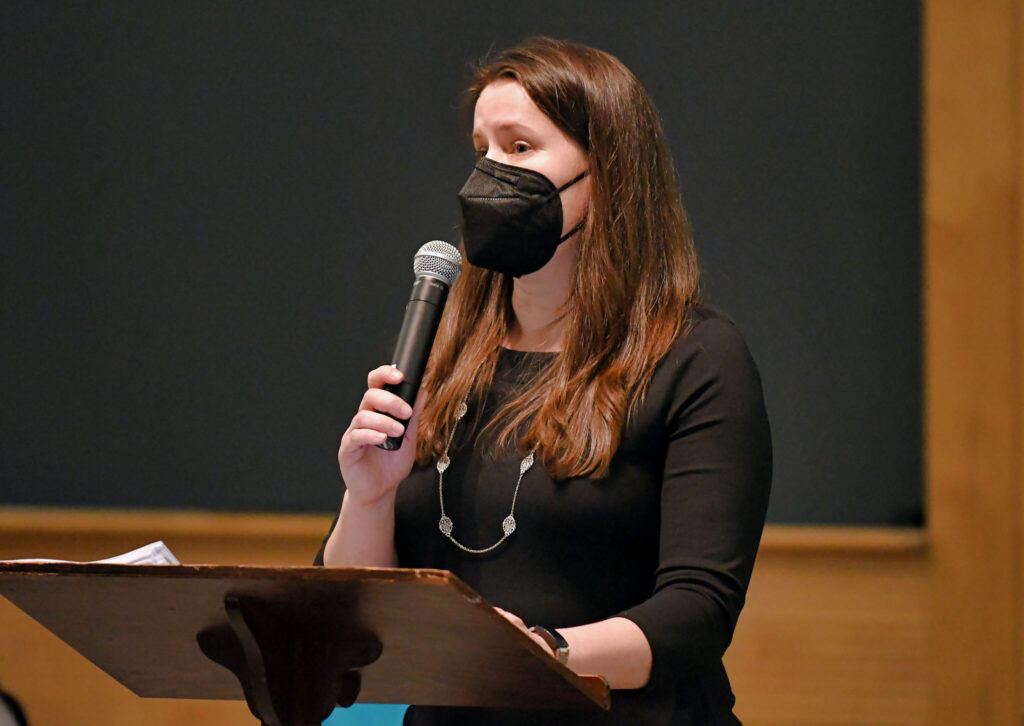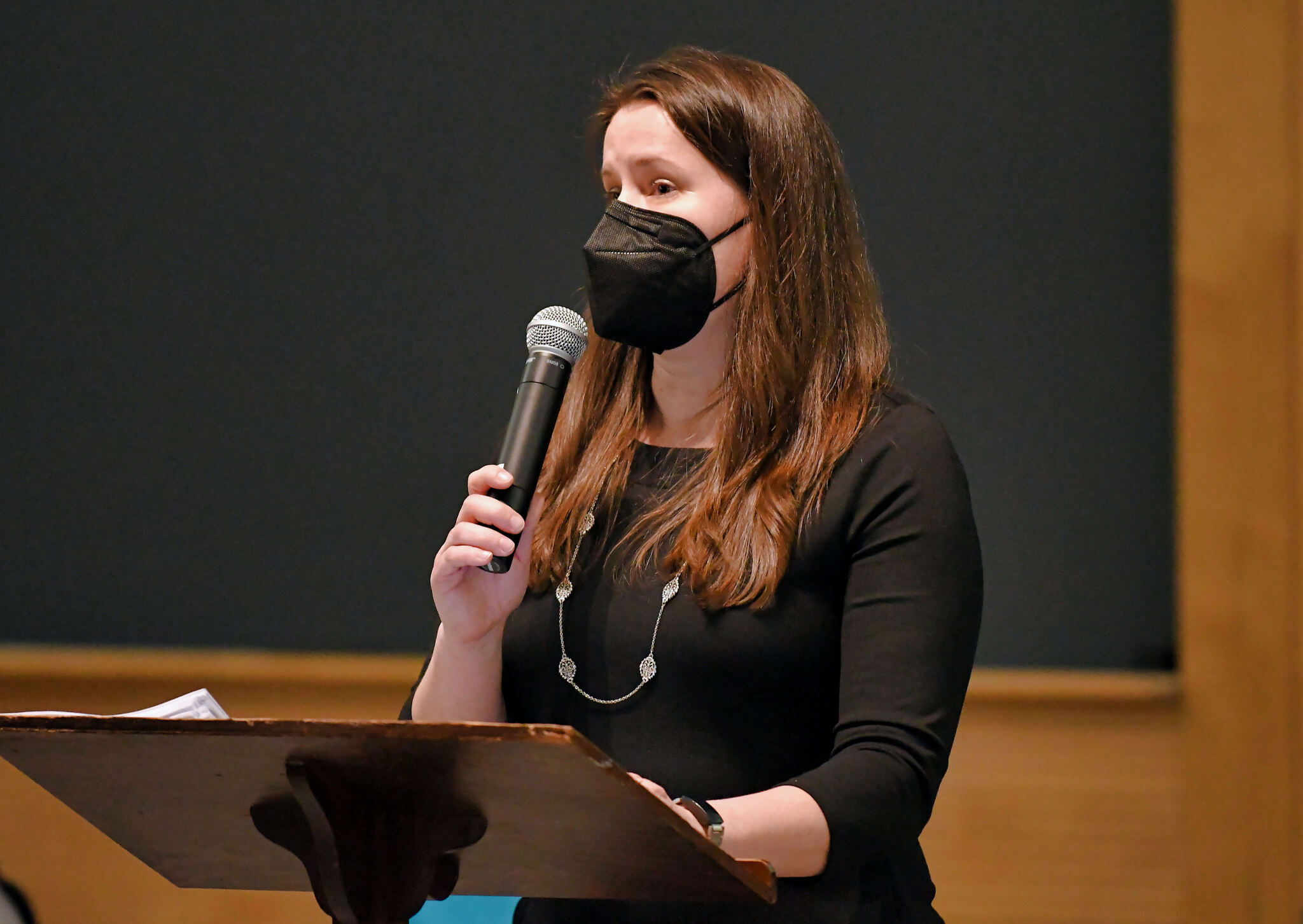 Associate Professor of Political Science Aubrey Westfall, event organizer, said the idea for the panel began on the morning of the invasion on February 24, when she and Assistant Professor of Political Science Jonathan Chow discussed the gravity of the situation from a historic, political and humanitarian perspective.
"As educators, we felt that it was our responsibility to provide the Wheaton community with an opportunity to learn more about what is going on to contextualize and understand what students are seeing on the news, and to have a chance to grapple with some difficult questions," Westfall said.
In addition to Westfall and Chow, faculty who provided their insight on the Ukraine crisis through their lens of study included Francoise Rosset and Tom Dolack (Russian studies); Anni Cecil (European and military history); and Jeanne Wilson (Russian and Chinese politics).
Students said they benefited from learning about the crisis in Ukraine from a reliable source: Wheaton professors.
"In college, we have many resources for education, the largest of which is our professors, who are experts in their fields. I learned there are multiple elements that must be considered and being able to hear from experts in all areas was very informative," said Kate Brennan '25, a double major in environmental science and political science.
"I also believe that college students should be involved in these types of discussions. We are here to get our degrees and educate ourselves for our futures and we are also here to learn how to be citizens of the world," Brennan added.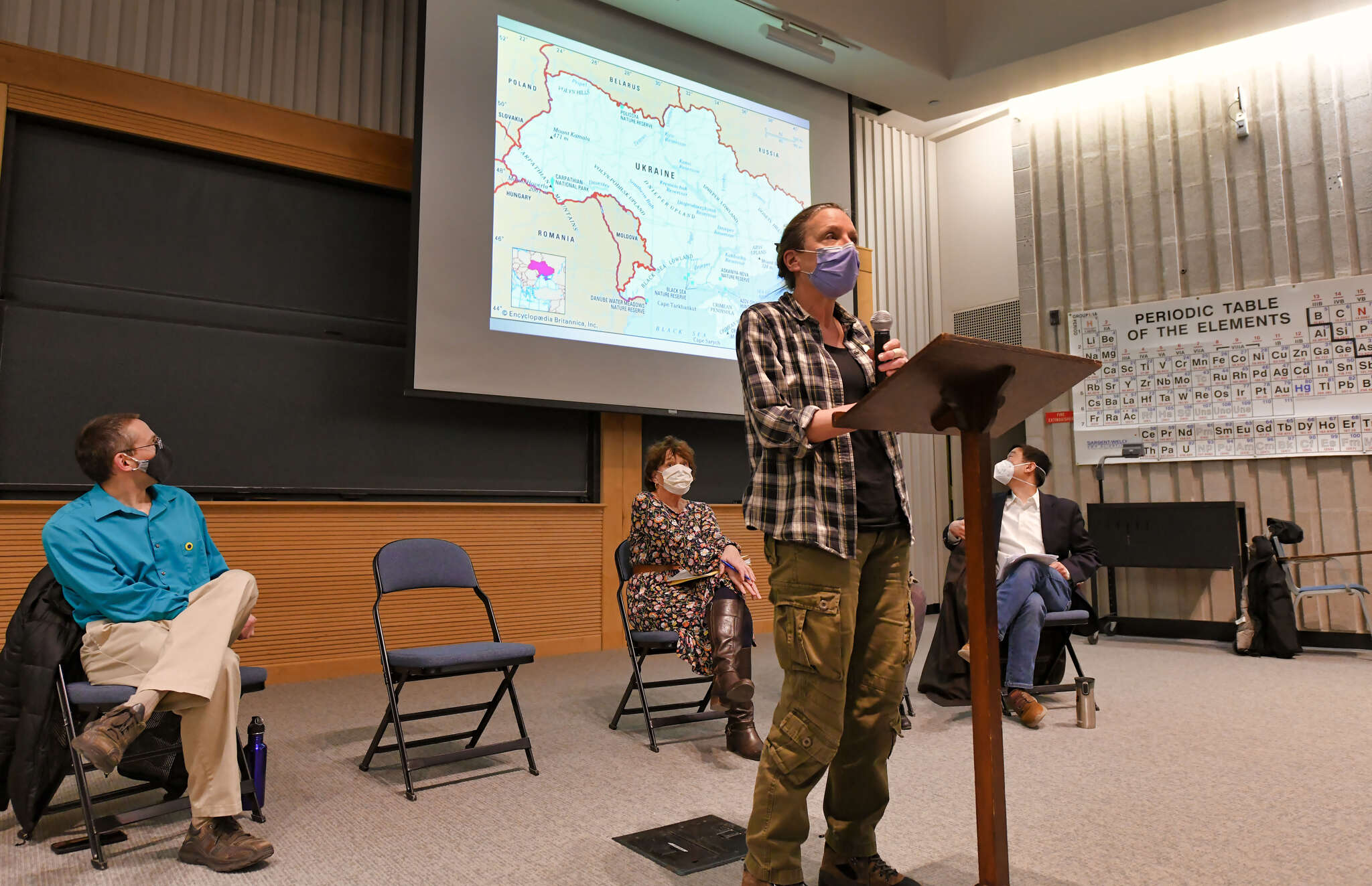 As a political science major, sophomore Brennan Parker said this crisis affects every part of her learning, and it's vital that students stay informed.
"In particular, I found Professor Cecil's presentation incredibly interesting, to learn about the weapons and mechanisms used in the Russian and Ukrainian militaries and what the conflict will look like in the future. As well, Professor Westfall's section on refugees and the double standard of nations' acceptance of Ukrainian versus Syrian refugees was striking, pointing to many issues not just in our handling of international crises but also the inherent xenophobia and racism in the global community," Parker said.
Nicole Janeiro '23, who is majoring in political science, also found Cecil's presentation on military strategies illuminating. "I very much valued learning about Russian army logistics because it was very informative and allowed me to make sense of how the Russian army works in contrast to the United States Army."
She added, "It also was incredibly valuable to learn what the Ukraine invasion means for other countries other than the U.S. because of how crucial it is to think beyond how this affects us as individuals living in the U.S."
But what stuck out to Janeiro most was the panel turnout.
"I did not expect so many people to show up, and I was pleasantly surprised at how the Wheaton community has come together to educate ourselves, get involved and show support for such an important cause," said Janeiro. "Creating an outlet for members of the Wheaton community is especially crucial in times like these and I have certainly been doing my best to take advantage of the opportunities being provided."
Peace vigil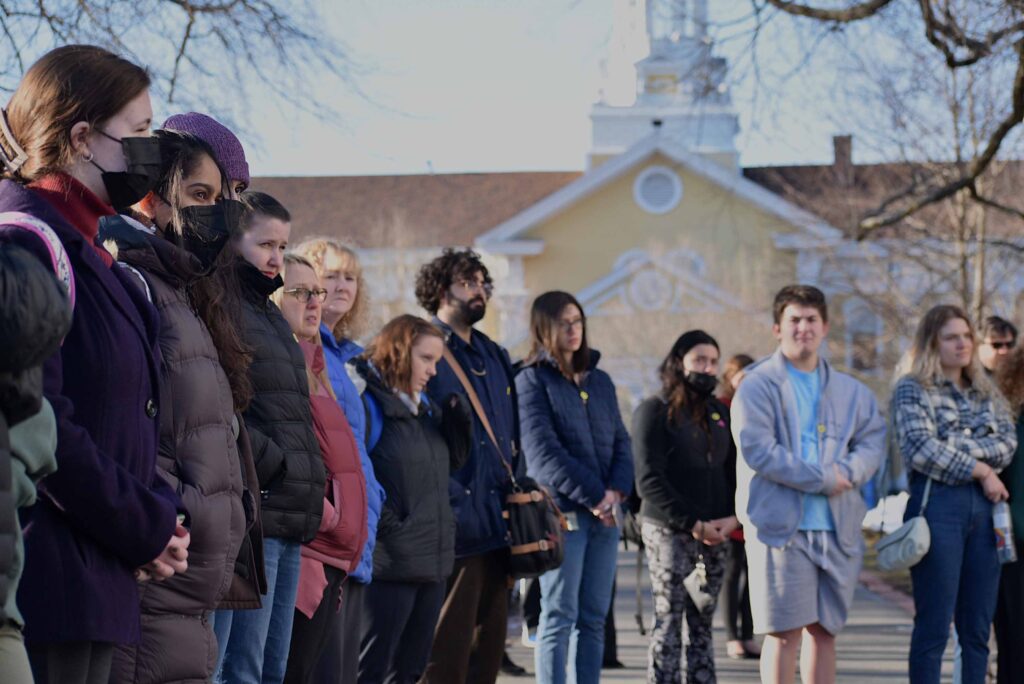 On Wednesday, March 2, in front of Cole Memorial Chapel, 87 students, faculty and staff attended a vigil for peace in response to the loss of life and continued violence in Ukraine. The Center for Religious and Spiritual Life, Center for Social Justice and Community Impact (SJCI) and UWC Davis International House jointly sponsored this event.
"One of the main goals of the Center for Religious and Spiritual Life is to create time and space for community reflection and recognition of impactful events both in our community and in the global community," said Caleigh Grogan, interfaith engagement coordinator. "There is so much violence and injustice in the world. …We wanted to make some intentional space to be together in these difficult feelings."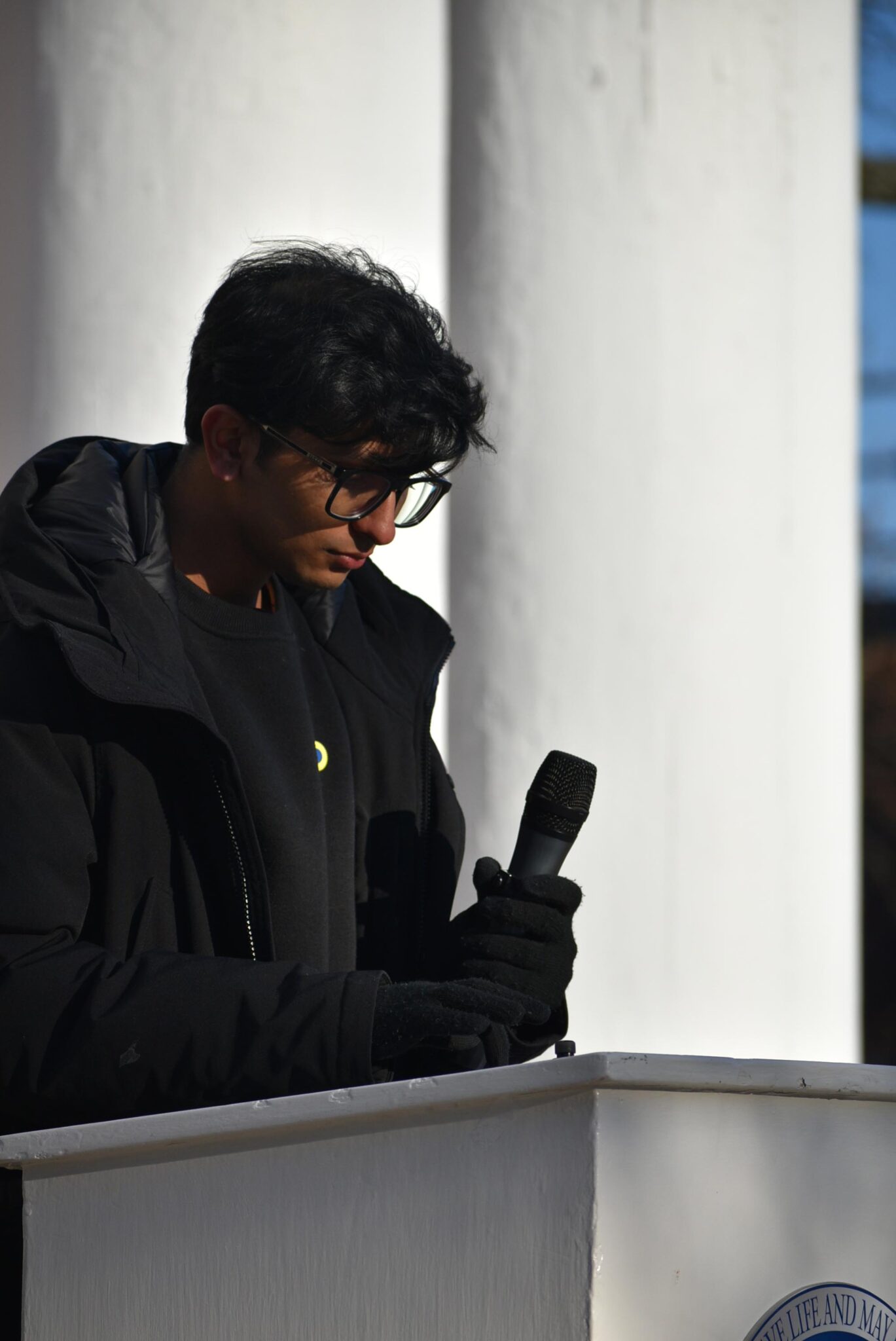 The SJCI team decided to partner with the Davis International House—which aims to cultivate intercultural understanding, civic responsibility and leadership—when they learned that students living there were posting some resources and a call for solidarity on their Instagram account. At the vigil, students led by Akib Marzuk '22 and Rushil Bhatia '23 provided a variety of information on how to take action to support Ukraine.
"I hope students come away from the vigil with a greater sense of community and solidarity both with their peers at Wheaton and with their peers in the global community," Grogan said. "I also hope they see that there are ways to take action and there are other people who want to do something. Hopefully, this helps give them the opportunity to connect with other like-minded students and continue this conversation beyond the event."