Wheaton College alum Gabe Amo wins race for U.S. Congress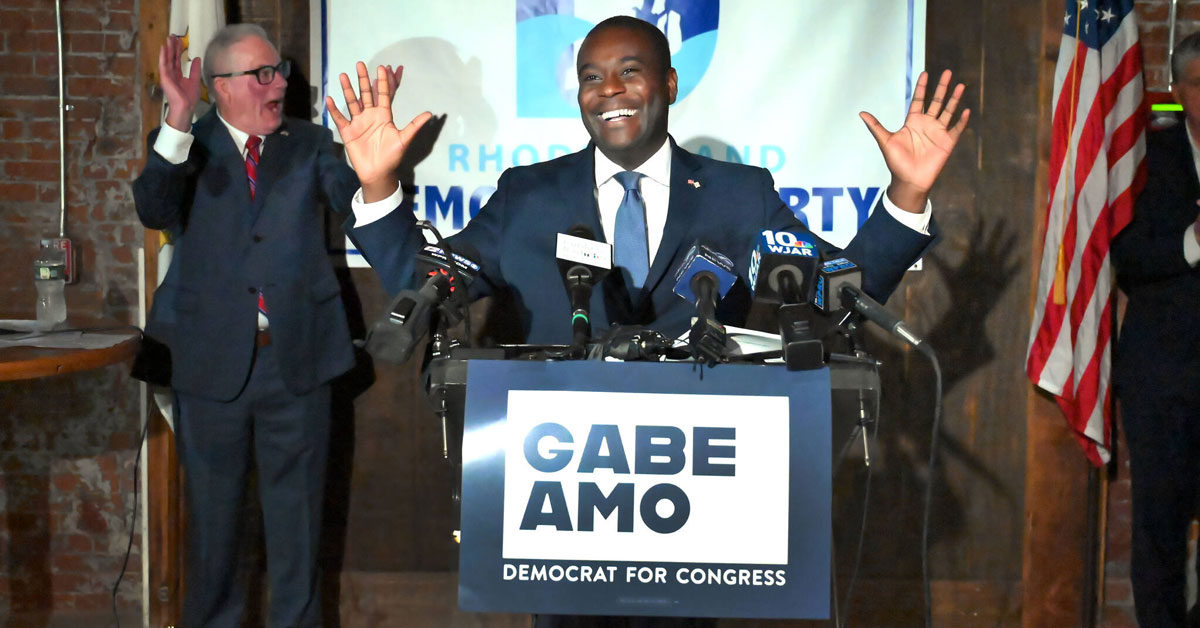 Candidate makes history as first person of color from Rhode Island to hold federal office
PAWTUCKET, RI—Gabe Amo, a Wheaton College Class of 2010 graduate, won the Nov. 7, 2023 general election to represent Rhode Island's First Congressional District. The victory makes him the first person of color from the state to hold federal office, according to media stories.
At his election night watch party held at The Guild brewery in Pawtucket, R.I., the city in which he grew up, Amo stood smiling in the soft glow of amber lights and addressed a crowd of excited supporters shortly after the polls closed and it was clear that he had won.
"Happy Tuesday everybody! I am honored for the first time to say that I am your congressman elect!" said Amo, sending the room into wild applause and chants of "Gabe. Gabe. Gabe."
"I know that you may not know sometimes why I do this, but this room is why. I went to vote with my mom earlier today, and when I was eight years old, helping my mother study for the citizenship test, I never could have imagined that I would go with her to cast her ballot to vote for her son for the United States Congress," said Amo, whose parents are Ghanaian and Liberian immigrants.
Amo, who majored in political science at Wheaton, won 64.6% of the vote as the Democratic nominee against challenger Republican Gerry Leonard Jr. Amo will fill out the remainder of the term of former Representative David Cicilline, who stepped down in May to become the president of the Rhode Island Foundation.
The national news media took note of Amo's win, including NBC News. The New York Times wrote "Gabe Amo Is Elected Rhode Island's First Black Member of Congress." The Boston Globe published "In historic win, Gabe Amo becomes Rhode Island's first Black congressman." Ted Nesi '07, the politics editor at WPRI-TV in Providence and a Wheaton College visiting professor, also covered the event live throughout the night.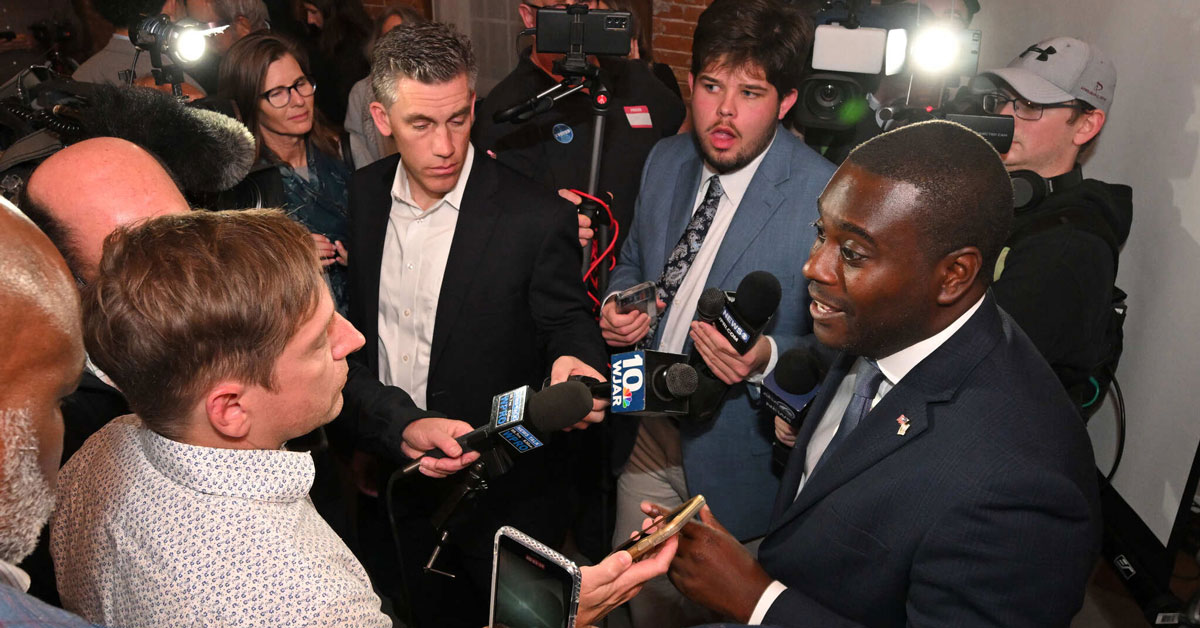 Before the election, through a recorded message, former President Barack Obama had encouraged voters to get to the polls to vote for the candidate.
Amo worked at the White House's Office of Political Affairs in the summer 2010, the Obama-Biden campaign in 2012 and the White House Office of Intergovernmental Affairs from 2013 to 2015. From 2015 to 2019, he was the director of public engagement and community affairs in the Office of Rhode Island Governor Gina Raimondo. In 2021, Amo was appointed as deputy director in the Office of Intergovernmental Affairs, serving as the liaison between President Joe Biden and state and local elected officials across the United States.
During his speech, Amo thanked those who have contributed to his success.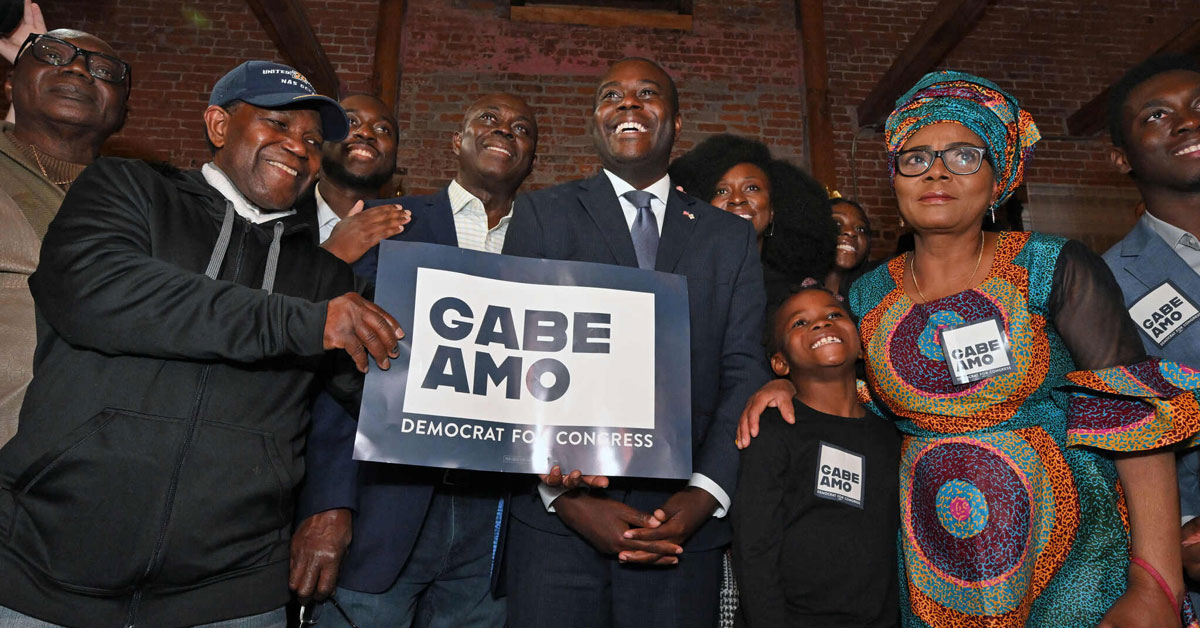 "This campaign's journey started in April, but the journeys of so many people here in Rhode Island, the shared story I talked so much about along this campaign, began many generations ago. Whether your ancestors came to Rhode Island in search of religious freedom, or came here as enslaved peoples, or came here for economic opportunity in the 20th century, whether they were Irish or Italian, Cape Verdean or Portuguese … or from any place in between. The journey of so many to Rhode Islanders and their families is one of great hard work, determination and resilience. I stand on the shoulders of so many who came before me to make this day possible," he said.
"I've dedicated the bulk of my career to public service because I believe in the politics of the possible. I believe that when we come together, guided by a common desire to make tomorrow better than today, we can do great things," he said. "So, as I close this evening, I want to let you know that this is just the beginning of a partnership between me, between you and the people throughout our communities, the people of the First Congressional District who gave me this great honor tonight. And I dedicate myself to building our community so that everybody can thrive."
While a student at Wheaton, Amo engaged in his passion for serving in leadership roles. He was president of Wheaton's chapter of The Roosevelt Institute and served on the Student Government Association and the College Hearing Board. He received a Truman Scholarship for public service and, after graduating, was awarded a Marshall Scholarship to study public policy at Oxford.
In an interview days after the election, Amo was asked about his Wheaton experience and education and how they have supported his success.
He was fairly certain that he wanted to major in political science before he arrived at Wheaton, given that he had been volunteering on political campaigns while in high school. Once here, his interests in politics deepened and expanded within a supportive environment that fueled his self-driven nature.
"The thing about Wheaton that was great is I got to think broadly about issues in the world and cover them in different subject areas," he said.
Beyond political science classes, Amo took courses in philosophy, ethics, English literature and public speaking that provided a range of interdisciplinary knowledge and skill sets used everyday.
"Being able to write well is something that comes up over and over. I mean, it's one of the things that I am most discerning about in my interactions with people because voice [both spoken and written] is critically important when you are relaying big ideas."
Amo also noted that his extracurricular experiences allowed him to experiment with forms and models of leadership that he ultimately hopes to engage after he's sworn in as a congressman.