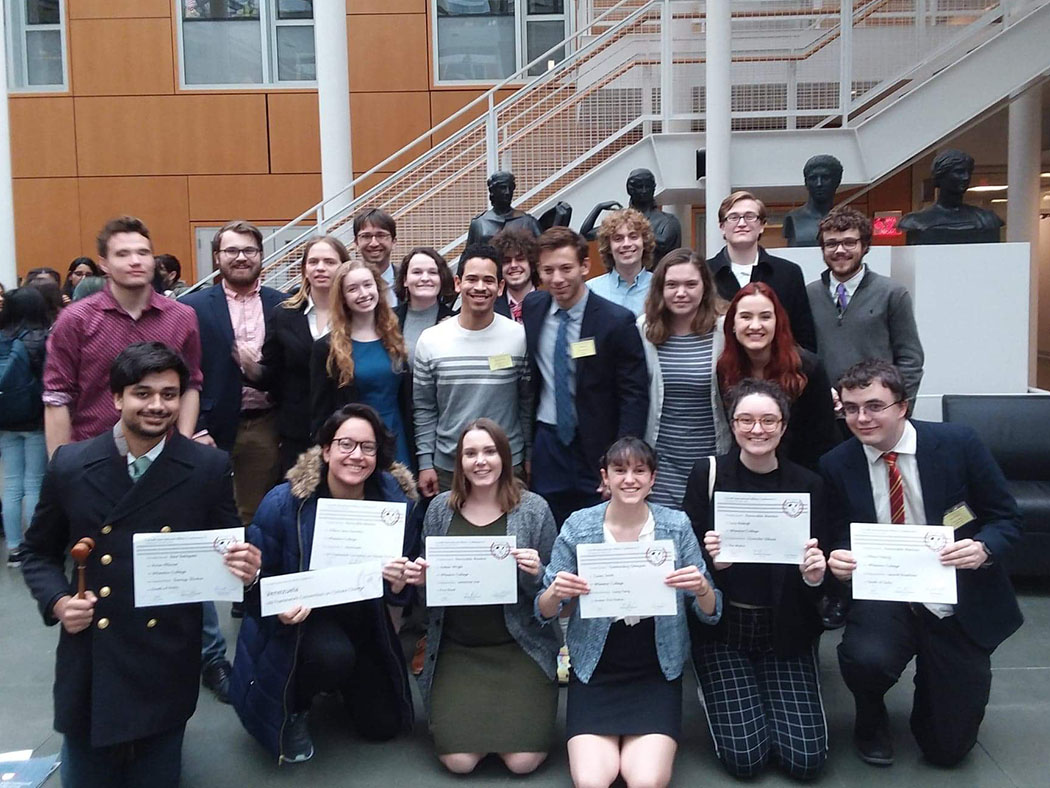 Team recognized in nationwide fall rankings
Wheaton's Model United Nations team (WheaMUN) has been recognized as one of the Top 50 college teams in the U.S. after a stellar fall performance. The team was among the five delegations closest to breaking into the Top 25, according to rankings released by Best Delegate.
The fall ranking looks at student-led college teams' performance at competitive conferences around the country, based on the number of individual and team awards earned as well as the size and type of conference, according to bestdelegate.com.
"Best Delegate takes into account teams who win several awards at the conferences they evaluate, so our achievement of six awards at CIAC [Cornell International Affairs Conference] definitely helped to set us apart," said Amber-Marie Wright '20, WheaUN co-head delegate. "We also added BARMUN [Boston Area Model UN Conference] as a new conference in October, which is ranked as the third-best conference by Best Delegate, and Casey Smith [co-head delegate] won a Verbal Accommodation."
"Our ranking is a combination of both attending and performing well at conferences that are well perceived in the circuit," Wright continued. "It also helps that we are a large delegation whose presence is noticeable while at conferences."
Wright has served as a team leader for three semesters and said she has been impressed by her team's improvement over the past four years.
"I can genuinely say this is the proudest I have been yet, and I can't wait to see what's in store for the team next," she said.
Smith '20, a senior, also remarked on the team's growth in a short time.
"Compared to other schools we have an incredibly young Model UN team. The fact that we've grown this much in five years is kind of unheard of," she said.
Delegates credit the team's creativity and collaborative nature for its recent successes.
"This shows that the way we approach Model UN [in a holistic and personal manner] is effective," said Joe Perez '20, co-head delegate.
Up next, WheaMUN will attend Harvard National Model UN in February and Five College Model UN at Mount Holyoke College in March.