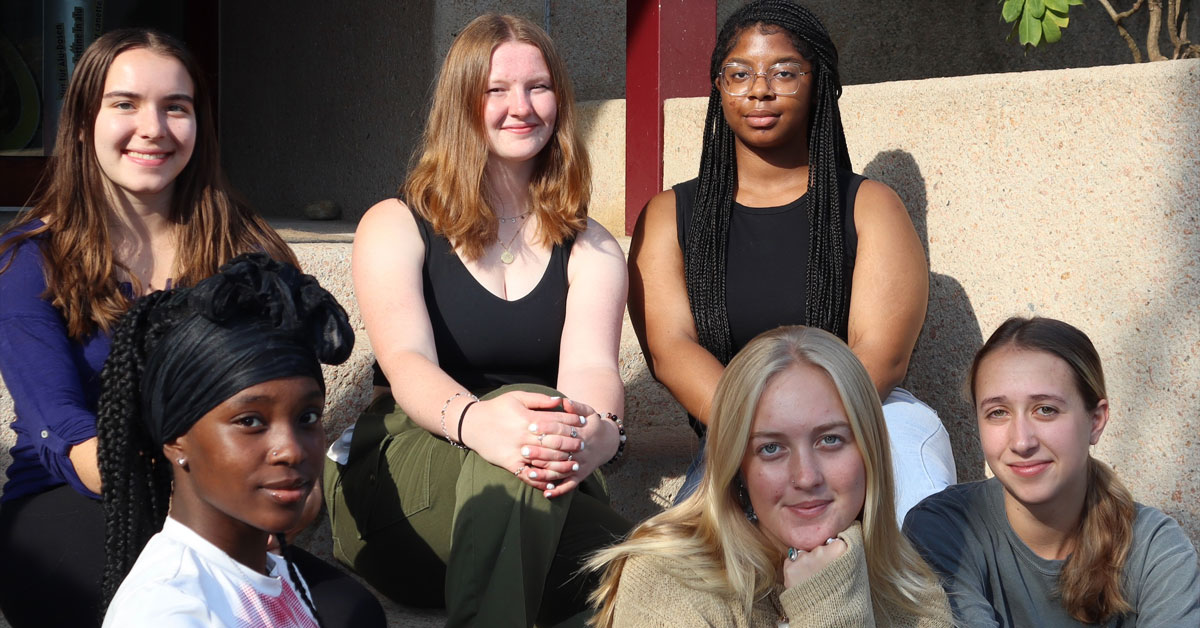 First-semester study abroad cohort shares insights about experience in Switzerland
The first students enrolled in Wheaton's new WheaGo Global program so far are enjoying the experience and already gaining wisdom to share, according to an article posted on the website of Franklin University Switzerland.
WheaGo Global, a first-semester study abroad program launched this fall, offers four options to explore international business and management in Sydney, Australia; communications and international relations in Barcelona, Spain; art, design and fashion in Paris; or culture, sustainability and the sciences in Lugano, Switzerland.
Currently, first-year students Anella "Nelly" Bolster, Clara Cortright, Mima Germain, Treassy Jasmin, Mieke Buterbaugh and Sylvia Lamphere are studying at Franklin University in Lugano, Switzerland. Also, Ari Renzi-Surprenant is enrolled at Paris College of Art in France.
The Franklin University article features an interview with the six students studying there and Gretchen Young, the dean of Wheaton's Center for Global Education, who is heading up the program and also teaching a course virtually to help students get the most out of their cultural exchange experience.
"Each week, the Wheaton-Franklin cohort attends an online class with Dean Young called 'Learning from Intercultural Experiences,' in which they share their ethnographic explorations as they investigate their new surroundings," the article notes. "Seemingly mundane weekly tasks such as going to the grocery store and navigating the more limited open hours of Swiss retail shops can be a source of frustration, learning and adjustment. Interviewing someone from a different culture and engaging in the Swiss landscape through hikes and public transport allows Wheaton students to reflect on the differences of a new country."
In a compilation of comments for the article, the students said the small campus environment has made the transition from the U.S. to Switzerland easy and comfortable, particularly given the support they have had from the university.
Well acclimated and thinking about future students, they offered candid advice for engaging with the surroundings: "We recommend that future students take advantage of weekend travel opportunities and get off campus as often as possible. If you remain entirely on campus, it takes a lot of work to assimilate into the local culture. Use the Swiss bus system and try out your beginning-level Italian. Visit a local Ticinese grotto for Switalian cuisine and use the FLP [small] train near campus to cross into Italy on Sundays to get groceries. Walking downtown from campus is tiring, but you get used to it and can get in shape fast here."
"We would characterize the Wheaton-Franklin abroad experience as a meaningful study abroad experience, especially since it is one semester only. It's a partial cultural immersion, not a fully integrative one. In that way, it's an ideal first-year, first-semester adventure for Wheaton students. We love the beauty of the campus, and we have all become very close since we take Dean Young's class together every week. We came to Switzerland knowing we would have a core group with shared goals and a sense of adventure."