What can you do with a philosophy degree?
The answer: Anything
That awkward silence.
Many soon-to-be liberal arts graduates have been in the all-too-familiar (and uncomfortable) situation where a friend, relative or stranger, upon hearing what the student is majoring in, follows up with the question, "What are you going to do with that?"
For Wheaton philosophy majors, the answer is: Anything.
We can prove it. And they know why.
For the past two years, Wheaton has surveyed its most recent alumnae/i six months out to see where their degrees are taking them. Along with providing an overview of what the graduates are doing, the "First Destination Outcomes Report" breaks down respondents by major—looking at who's working, who's continuing their education and other factors
The numbers reveal that Wheaton philosophy majors are the second most likely, after computer science majors, to find full-time employment six months after graduation. Philosophy majors are finding success in a wide variety of jobs, from app developer to investigative attorney, chef to teacher to pharmacist.
What makes the statistic stand out is that it contradicts a flawed yet pervasive perception that some liberal arts degrees—in particular, those in the humanities—are less valuable or practical in today's world.
Just look at the most recent presidential primary season for an example. Responding to national concern over student loan debt, then Republican candidate Marco Rubio made comments about the perceived value of a philosophy degree throughout his campaign. At events in Washington, D.C., in March 2015, and Des Moines, Iowa, in August 2015, Rubio questioned whether it was worth borrowing money to "major in Greek philosophy," and at a debate held in November 2015, he suggested that, "Welders make more money than philosophers."
But several news sources pointed out that is not really the case. And, in fact, many CEOs, hedge fund managers and entrepreneurs hold philosophy degrees—including PayPal co-founder Peter Thiel and Soros Fund Management chairman George Soros. Other famous philosophy majors? Jeopardy host Alex Trebek, New York Knicks president and former coach Phil Jackson, suspense novelist Mary Higgins Clark and retired Supreme Court Justice David Souter.
The bottom line: Philosophy majors are doing really, really well.
But what are they doing? And what is it about the study of philosophy that sets graduates up for success?
The good argument
"My philosophy studies really honed my analytical and logical skills, as well as my ability to take any side of a debate and successfully argue my position," says Margaret Wheeler-Frothingham '08, a music and entertainment attorney at Arent Fox LLP in New York City, who earned her law degree from Fordham University School of Law. "These skills have been essential for me as an attorney, as it's key that I be able to convincingly argue the position that will most benefit my clients."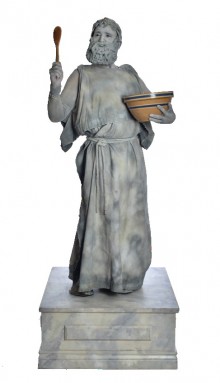 At Wheaton, Wheeler-Frothingham was a double major in philosophy and Hispanic studies and a dance minor. She chose philosophy after taking an introductory ethics course with Associate Professor of Philosophy Stephen Mathis.
"It made me think in a way that no other class ever had," she recalls.
At Arent Fox, she works primarily on litigation in the digital music industry—cases that help to shape how music is treated as a commodity, at a time when the way people distribute and consume music is constantly changing.
"When you're dealing with areas of the law that are pretty new—for example, how digital media is treated under copyright laws—you have to think creatively to articulate viable legal reasons for why it should be treated in the way that's going to benefit your client," she says.
Similarly, Mandy Spaulding '02 finds her philosophy studies help her make and break down arguments in her job as a civil litigation attorney. Her background also enables her to understand how people—from clients to court professionals—think and why they respond to situations the way they do.
"Philosophy is the study of the fundamental nature of knowledge, reality and existence. So it is different from a field of study that teaches you to do a certain thing, or think a certain way—it is literally the study of thought," says Spaulding, who majored in philosophy and political science and minored in legal studies. She earned her law degree from University of North Carolina School of Law. "It also makes us more empathetic, because we can accept that other people see things differently than we do."
Along with owning and operating her own law firm in Plainville, Mass., Spaulding works as an adjunct professor. "In my adjunct teaching, [majoring in philosophy] has helped me to recognize that people have different styles of learning and processing information, so I try to teach to as many different styles as I can," she says.
Passing the test
It's not difficult to see the value of philosophical study in the world of law—where cases are won and regulations changed through the careful crafting of arguments. In fact, philosophy majors consistently rank among the top liberal arts majors on the Law School Admission Test, or LSAT, according to reports from the Law School Admission Council.
But philosophy majors also do notably well on other tests required for graduate school admission. Recent results from Educational Testing Service, the nonprofit that administers the Graduate Record Examination (GRE), show that as a group, philosophy majors have the highest composite scores among all other majors. Philosophers are also among the top performers on the Graduate Management Admission Test (GMAT) for entrance into business school, according to recent data from the Graduate Management Admission Council.
"We send a lot of people to law school," says Mathis, who advises Wheaton's pre-law students and teaches courses in social and political philosophy. "But I also get political science majors, economists and social scientists of different stripes in my courses."
The ability to analyze a problem, to approach any argument with a critical eye, has implications in any field, as well as in students' personal lives, Mathis says.
"Philosophy affects how students think about their lives, how they think about themselves as moral agents in the world. That's bigger than any job," he says.
Problem-solving pros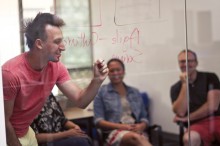 Christopher "Topher" Speth '12 finds his philosophy background incredibly useful in the software industry. As a junior product manager at GlobalTranz, a transportation software firm in Scottsdale, Ariz., his job is to evaluate and implement changes that will make products stronger and more profitable and bring in new users.
"I love being the guy who is expected to know a little bit about business, a little bit about process, a little bit about software development, and a lot about communication and team cohesion," says Speth, who majored in philosophy and economics. "Everyone I work with knows more than me about what they do, so it's my job to effectively leverage that knowledge to find creative and profitable solutions to our users' needs."
One of the most important lessons his philosophy degree taught him was that the first step to any problem is to check his premises.
"If those are wrong, I have just about no chance of coming to the right conclusion, even if my reasoning is flawless," Speth says.
This understanding has helped him solve arguments between co-workers and bring everyone onto the same page so they can work out a solution.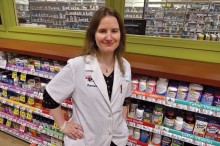 "Philosophy also taught me to hone—and occasionally overhaul—my own theories by anticipating objections to my current line of thought," Speth says. "This is incredibly valuable in software development, where I am constantly on the lookout for what could go wrong as a result of the changes I'm making. Fixing issues during the conceptualization process is much less costly than in testing."
The same aspects of a philosophy education that have served Speth in the tech business have also aided alumna Bernadette Goncharova '05 in her role as a pharmacist at Hannaford in Camden, Maine.
"At work, problem-solving skills are crucial when looking at medications," says Goncharova, who majored in philosophy and German studies and minored in Russian. She also holds a doctor of pharmacy degree from Massachusetts College of Pharmacy and Health Sciences.
"Being a philosophy major has also taught me about humanity. My patients aren't just walking lists of pills—they're people with personalities, hobbies, opinions, problems and worries. I feel very close to them, and I incorporate their humanity into their therapy," she says.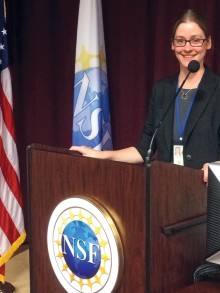 Elisabeth Christensen '05, too, finds her philosophy background helps her solve problems on the job—allowing her to approach any issue with an open mind and use reason to resolve conflicts. These are useful skills in her role as an investigative attorney with the National Science Foundation Office of Inspector General, in Washington, D.C., which investigates possible wrongdoing involving individuals or organizations affiliated with the foundation.
"Every day and every case brings new and exciting challenges, so I am constantly learning, both as an attorney and as an investigator," Christensen says.
Her philosophy studies at Wheaton taught Christensen rigorous standards of writing and documentation, and gave her the tools to handle unique, often incompatible perspectives.
"The ability to use facts and reason to compare opposing arguments, and to find the strengths, weaknesses and commonalities of each, is a skill I use daily when studying and describing the current state of an applicable law or regulation," says Christensen, who also majored in Hispanic studies and minored in legal studies. She holds a law degree from Case Western Reserve University School of Law.
Talking it out
Christensen also appreciates the way philosophy has added value to her interactions with colleagues and friends. The alumna has fond memories of late-night discussions with Wheaton classmates studying a variety of majors, "where we all had recently learned something pertinent to the topic at hand and were excited to share our thoughts with each other."
"Being a philosophy major means having engaging and worthwhile conversations about those aspects of life that really matter to each of us," she says.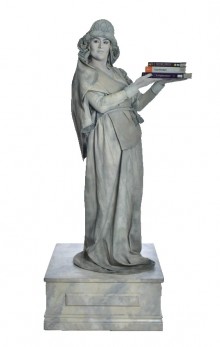 Other philosophy faculty and alums echo that sentiment, proudly recalling fascinating and memorable conversations that occur in classes, after class, at study sessions, over dinner and everywhere else.
"We're contributing to a conversation that has been going on in some way for centuries," explains Professor of Philosophy Nancy Kendrick. "As faculty, we go out and share our ideas and then come back and share those ideas with students, and then students say things to us and we go back out there. There's this constant process of revising, rethinking and fine-tuning."
The importance of give-and-take is why Kendrick and other Wheaton faculty encourage students to submit their papers to academic conferences, whatever their major and whether or not they intend to continue on to graduate school.
"It's a way of putting your money where your mouth is. It's a way of being answerable to your own ideas," Kendrick says. "It all comes back to what we're trying to teach students—not just the details of philosophy but those intellectual virtues: how to be even-handed, how to be a good listener, how to think on your feet, how to accept when you have to change your position."
An open mind
The ability to hear and respond to multiple perspectives is an essential job skill in today's world and one that Philip Hamilton '12 appreciates in his role as associate for economic justice at the Unitarian Universalist Service Committee, based in Cambridge, Mass. The human rights organization facilitates grants and engages in advocacy and research with organizations throughout the United States and abroad. Hamilton's work, in particular, focuses on developing a strategy for the committee's economic justice work, developing partnerships with groups whose efforts fit that strategy, and providing grants to support those efforts.
"In my work there are many schools of thought on how best to advance human rights, and many of these schools of thought identify different sets of human rights problems and solutions. It is essential that I be able to critically assess what approach will best enable us to help advance human rights," says Hamilton, who double majored in philosophy and political science and has a minor in African, African American, diaspora studies. He also holds a master's degree in development studies from the London School of Economics and Political Science.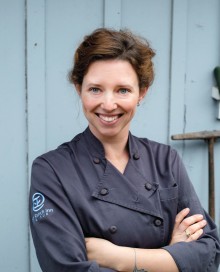 On the other side of the country, and in a completely different job, Julia Felder '06 also finds the ability to acknowledge different perspectives a real asset. Felder works as a sous chef, overseeing line cooks, developing the menu and managing the kitchen when the head chef is absent, at Sierra Mar, a restaurant located at the Post Ranch Inn in Big Sur, Calif.
"Philosophy is not about learning or discovering facts but rather using those facts to reveal greater truths about the world. It unearths the motivation behind an action, provides justification for a belief, lays bare the validity of an argument," Felder says. "My philosophical background comes into play with a near-constant stream of value judgments, many made in the heat of a kitchen—from the aesthetics of a plated dish, to adjudicating disputes between staff, to the sourcing of ethically produced ingredients."
A double major in philosophy and German, Felder went on to earn a master of philosophy from the University of Cambridge in England. She then spent two years in England training as a chef. She says her degrees have instilled in her a passion for lifelong learning, while her chef job keeps her satisfyingly busy.
"Working in a kitchen has a kind of physical immediacy that is incredibly gratifying—at the same time, my job requires a lot of organization, advance planning, problem solving and creative thinking," she says.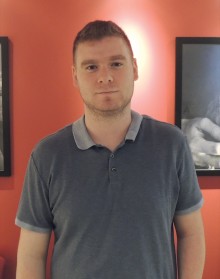 Similar to Hamilton, Eric Solomon '15 works in the nonprofit world and finds his philosophy degree helps him keep an open mind. As a marketing and development associate at DOROT, an organization that helps older adults in New York City live independently, Solomon works to raise awareness and resources for the organization.
"Studying philosophy at Wheaton taught me to exercise good judgment," says Solomon, who also majored in art history. "Knowing when to say something is just as important as knowing what to say."
He credits his philosophy studies with helping to prepare him for grant writing—a key part of his job—saying the process of "synthesizing complex and disparate information into a coherent proposal" is similar to writing papers for his Wheaton classes, in which he had to explain complicated philosophical arguments clearly and concisely.
Asking the right questions
All college disciplines are concerned with asking and answering questions, says Associate Professor of Philosophy Teresa Celada. What distinguishes philosophers from those in other fields is the type of questions they're asking and the methods they use to answer them. Celada teaches courses in bio and medical ethics and sees a lot of students on the pre-health track.
"The kind of thinking that you do as a scientist is just different than what you do as a philosopher. We're all using the same kind of reasoning—we all use induction and deduction—and we're all collecting evidence, but where their evidence is experimental data, our evidence is reasons that we put into arguments," Celada says.
Ethics in particular explores many of the "big" questions—what makes something right or wrong, or the nature of morality, for example.
"Ethics questions are inescapable in life," she says. "Why not learn the method for answering them well?"
Students who go on to medical school won't receive the kind of training there that they get in philosophy classes, Celada says. "There are all sorts of questions they're going to encounter in their day-to-day lives that are not empirical, scientific questions—particularly when they're seeing patients, practicing medicine and dealing with insurance companies. They need to be able to answer all sorts of moral questions," she says.
The kind of critical-thinking skills philosophy students develop are applicable in any job, and for life in general, Celada notes. "Philosophy teaches you how to think well. It makes you more reflective about life in general and how to live it, and about your place in the world—questions that are very fundamental. I think plenty of people go through life and don't ask them, but I'm not sure their lives are better for the not asking."
Completing the puzzle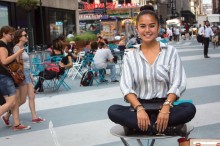 As a digital marketing strategist, Sharleen Benjamin '11 knows the importance of asking the right questions. At ThomasNet, a New York City-based marketing agency for the manufacturing industry, Benjamin helps clients reach the right audiences.
"It's kind of like a big puzzle to figure out what people like, what they are responding to, what they are not responding to, if specific geographic locations like doing something more than others and how we should target them. There are so many factors to consider," says Benjamin, a philosophy major who minored in women's studies. "You can't create a strategy if you don't know the right questions to ask. You need to have a curious mind and know when—and how—to keep pushing."
This kind of focused curiosity has also served Cara Morris '15 well so far in her career. Morris recalls receiving a review after an undergraduate internship in which her supervisor commended her "thoughtful inquisitiveness" and "insight."
"This 'thoughtful inquisitiveness' of mine was refined and developed directly from my studies in philosophy," says Morris, who majored in philosophy and minored in studio art and Asian studies. "Through asking the right questions, I was able to understand my boss's goals and priorities, understand the company's mission and succeed in my role."
These days, Morris teaches junior high English at the Japan Exchange and Teaching Program in Hyogo, Japan. She says her philosophy degree has helped in all facets of her job.
"Through philosophy, I learned the importance of a well-rounded approach to an issue or topic, and the importance of counter arguments and addressing them head-on to make your case stronger," she says. "Philosophy has greatly improved my writing and reading skills. The structured, no-fluff writing style has affected everything from how I write my emails to how I conduct my meetings."
The big picture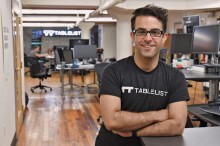 Philosophical questions pop up all the time in the digital app business. Just ask Nicholas Costa '07, a product manager at Tablelist in Boston. The application he manages, Tablelist, acts as a digital promoter, connecting people in Boston, New York, Miami and other major cities around the country to clubs, concerts and other activities.
"As a product manager, my main responsibilities are to coordinate people from the engineering and design teams, as well as marketing and sales, to build and sell something that delights users," says Costa, who majored in philosophy and economics. "I'm able to step back and ask the critical questions, such as why are we doing this or what is the nature of the problem we are trying to solve. In the startup business, those questions need to be asked, and I have the right set of tools to do just that."
Asking the big questions helped guide Costa to his current field. As a recent graduate in 2007, when the first iPhone was released, Costa was fascinated by the new technology. He wondered how the device might influence how people act and interact in the future, and he knew he wanted to be involved.
"My philosophy degree has been invaluable in helping to ask and answer career questions like, 'Is this a career path worth pursuing?' and 'What does it mean to have fulfilling work?' on a daily basis," Costa says. "No matter where my career takes me, I'm continuously reflecting upon those existential questions."
A badge of honor
Wherever they are and whatever they're doing, Wheaton philosophy graduates are proud to identify as such.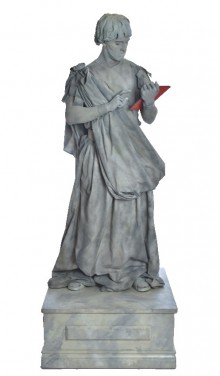 "It's a badge of honor," Spaulding says. "To me, a philosophy degree means small classes with lively discussions; it's Knapton Hall first floor, it's logic. It's brilliant and fun professors. When you sit in a room with a group of people and debate everything from life and death to abortion, rape, porn, reality, whether what we see is real, the nature of time, proportionality, physician-assisted suicide, artificial intelligence and how the development of media over time has influenced our thought processes, you inevitably learn to accept different ways of thinking, you inevitably make friends, get frustrated, have some laughs, and maybe even change your mind once in a while."
Spaulding has stayed in touch with many of her fellow philosophy majors, and one in particular—TeriLyn Colaluca '01—remains one of her closest friends. They were even in one another's weddings.
"I think there's a reason for that connection that you can't necessarily put into words, but I'm grateful for it," Spaulding says.
Like Spaulding, Jessica Gordon-Roth '04 values the lifelong relationships she built at Wheaton. Now an assistant professor of philosophy—recently at City University of New York's Lehman College and starting in August at the University of Minnesota Twin Cities—Gordon-Roth still works closely with her former professors. She and Kendrick recently co-authored a paper in the journal Metaphilosophy that explores how women philosophers are underrepresented in coursework. And they plan to present another joint project at a conference in Edinburgh, Scotland, in September.
"What I love most about my career is getting students to ask questions they might not have considered before entering my classroom, while simultaneously inspiring those who are already hooked on philosophy to continue down the path of philosophical exploration," says Gordon-Roth, a philosophy major who earned both a master's degree and Ph.D. in the subject from the University of Illinois at Chicago.
She also enjoys helping the next generation of philosophers see why the study of philosophy matters and how the big questions affect their lives.
"Philosophy is hard. It keeps you up at night. Just when you think you have your finger on the pulse of a problem or solution, it slips away," she says. "But that is also what I love about it."
Wheaton Professor of Philosophy John Partridge, too, recognizes the challenges of his subject, noting that "the kind of reading you have to do to make sense of philosophy is some of the most difficult and time-consuming reading that you'll ever have to do."
But the effort makes the results all the more rewarding.
"As faculty, we see the students' development and watch them improve as thinkers, as writers, but also grow into themselves as people and establish a clearer vision for how they want their lives to go," he says. "That's thrilling, and it's a real privilege."
Photos by Keith Nordstrom, Sharleen Benjamin '11 photo by Pete Byron