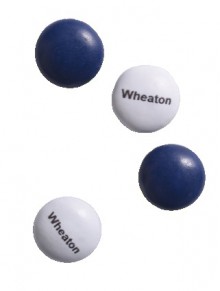 A crowd-funding initiative launched this spring raised more than $100,000 for the Wheaton Fund, thanks to the collaborative work of alumnae/i volunteers and Wheaton staff members. The Wheaton Fund supports every facet of the student experience, from experiential learning and scholarships to athletics and campus life.
Aptly called "Feed the Lyons," the social media-driven campaign met the challenge of acquiring 325 new donors (those who didn't give last year or who were first-time givers) for a $100,000 gift from an anonymous supporter. The campaign attracted 342 new donors from its launch date on April 9 to its close on June 12.
The "Feed the Lyons" campaign originated with the desire to boost engagement, particularly among alumnae/i from the classes of the 2000s and beyond, using the renovation of Chase Dining Hall to spark fond memories and interest, according to Molly Galler '06, director of communications for the Alumnae/i Board of Directors and a member of the Annual Giving Committee.
"The renovation of Chase was something we all felt would resonate, so we started talking about this concept of how Wheaton feeds you. We ultimately decided to go with 'Feed the Lyons.' The message was: Donate to help Wheaton continue to feed its students—mind, body and spirit," said Galler, who is an account manager for public relations and social media at LaunchSquad in Cambridge, Mass.
Committee members designated a goal of 325 donors, to coincide with an event that led to the start of Wheaton College on 3/25/1834. They solicited the help of Wheaton staff, who developed a social media campaign that played off nostalgia through sense of place by sharing imagery of familiar sites around campus.
The images—which were shared on Facebook and Twitter—also offered updates on the total number of donors reached at various points throughout the campaign. For example, "242" was written out with Wheaton's trademark M&Ms.
Each week staff and volunteers shared a new photo, offering a look at progress and a little peek into the alumnae/i's old stomping grounds.
"We got creative," said Scott Nickle '11, assistant director of the Wheaton Fund, who worked closely with Anice Barbosa, coordinator for alumnae/i communications, on the project.
Alums showed their love of the campaign by sharing and re-tweeting social media posts, which made all of the difference in the final two-day, make-or-break push to success. "People really mobilized their personal networks to support this," said Galler.