Welcoming Michaele Whelan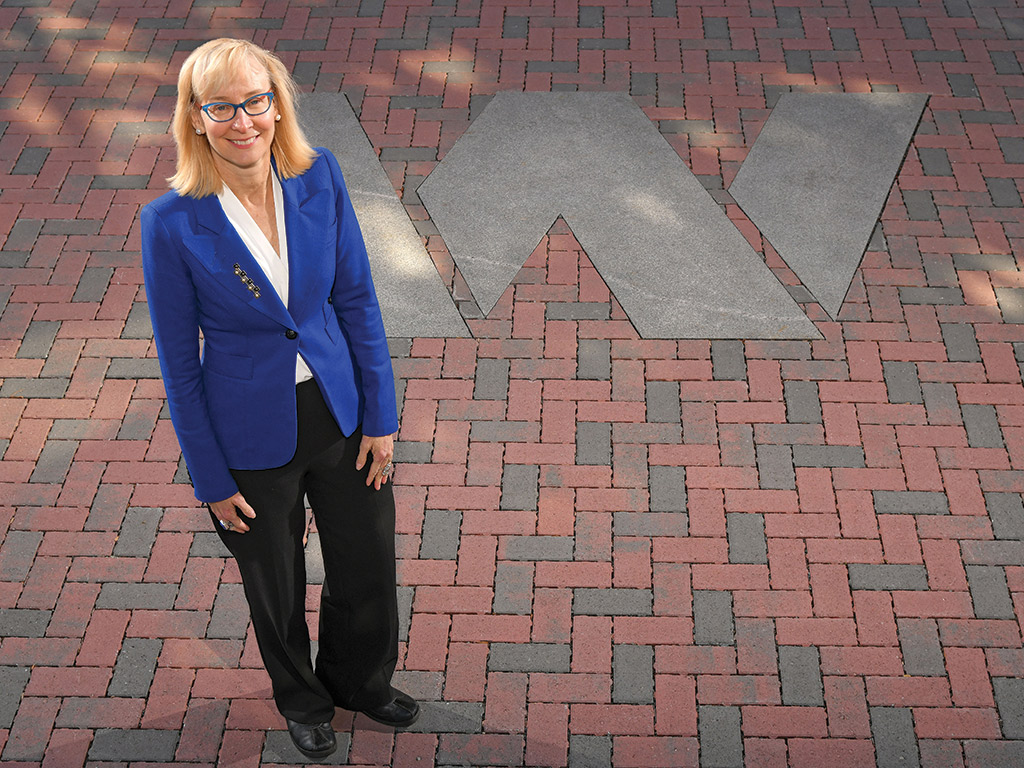 Wheaton's ninth president ready to listen, learn and lead next chapter in history
Michaele Whelan likes to visit college classes. When she served as the provost of Emerson College, she started each academic year by reminding the faculty that she welcomed opportunities to visit a class, learn something new and participate in teaching and learning. She never lacked invitations.
"We would have a Faculty Institute where all 200 full-time faculty would gather and every year I'd make my pitch about how the most fun that I have occurs when faculty invite me into their classes," she said. "This was not for any evaluative purpose, just to visit and learn."
"And professors responded. 'Sure I'd love for you to come visit my class.' I visited classes on acting and breathing techniques, cinematography, crisis communications, contemporary literature, creative writing and public health—great classes," she said. "I tried to do that every semester. Seeing students and faculty in classes gives you different and important insights into the institution."
It's also an excellent way to gain exposure to new ideas. "Visiting new classes every semester, that's one of my favorite things to do," President Whelan said.
For those who know her, this comes as no surprise. Friends and colleagues say that her interest in learning new things, and the speed with which she acquires knowledge, is one of Whelan's superpowers.
Whelan, who was named Wheaton's ninth president in September 2021 following an intensive eight-month national search to identify a leader to succeed President Dennis M. Hanno, is now applying her "quick study" skills to getting to know Wheaton and the members of its worldwide community. In truth, she began preparing as soon as her appointment was announced, meeting regularly with Hanno and other senior leaders throughout the fall.
In announcing her appointment, Janet Lindholm Lebovitz '72, chair of the Wheaton Board of Trustees and chair of the Presidential Search Committee, said, "Among an impressive and highly qualified group of candidates from across the country, Michaele Whelan stood out as particularly well-suited to lead Wheaton at this moment. She is a proven leader with an outstanding track record of innovation and collaboration. Wheaton's hallmark is its liberal arts education that combines rigorous academics with experiential learning, student-centered programs and innovative pedagogy within a highly collaborative community. Michaele is uniquely well-equipped to lead the college in building on those strengths."
Setting open-ended goals
A major goal for Whelan's presidency will be to develop and implement new offerings that help Wheaton continue to grow its enrollment and further broaden its reach. It's an endeavor that will be familiar to Whelan.
During her time at Emerson, she facilitated the hiring of 40 new faculty members from diverse backgrounds; oversaw efforts to promote diversity, equity and inclusion on campus; championed the establishment of innovative new majors; managed the introduction of a portfolio of global programs offered in partnership with institutions in Australia, China, France, Spain and Switzerland; and strengthened an institute for liberal arts and interdisciplinary studies.
The former president of Emerson College, M. Lee Pelton, offered high praise of her ability to bring people together around new initiatives. "Michaele is among the most brilliant academic leaders I have known in my more than three decades in higher education," he said. "She is smart, quick thinking and astute. She is a learner by temperament—a strategic leader who knows how to get things done. Her approach to leadership involves the kind of collaboration, careful listening, creative thinking and sympathetic imagination that engenders empathetic partnerships."
Whelan's reputation as a leader extends beyond the campuses at which she has worked, too. She currently serves on the Executive Committee of the New England Commission of Higher Education, the region's institutional accreditor for colleges and universities.
"She's a very quick study, and she does her homework," said Harvard University's Deputy Provost Peggy Newell, who first worked with Whelan at Tufts and now serves with her on the New England Commission of Higher Education.
"From her first meeting as a member of the commission, it was very clear, from the questions she asked and the issues she raised, that Michaele had read all of the materials and identified the most salient points," Newell said.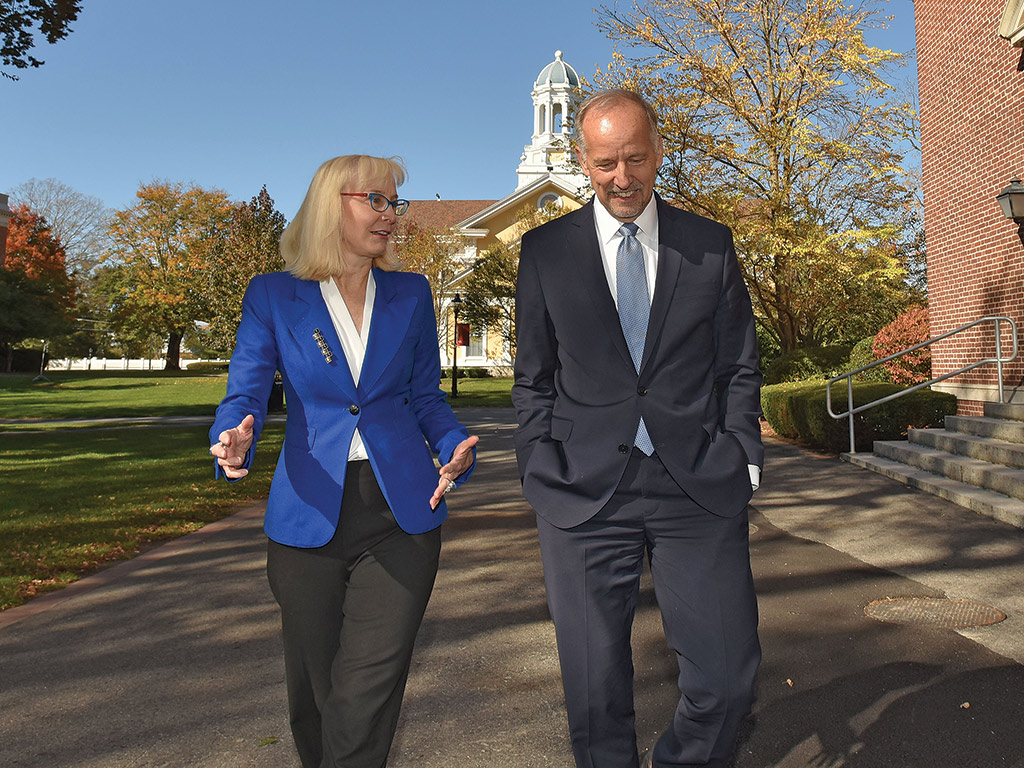 Whelan also has been a frequent contributor to and participant in educational conferences and leadership groups, including the Board of Directors for the Association of Chief Academic Officers, the American Council on Education (ACE) Commission on Internationalization and Global Engagement, the ACE Network of Women Leaders in Higher Education, the New England Resource Center for Higher Education Academic Affairs Think Tank, and the Aspen Institute.
The new president relishes the opportunity to build on Wheaton's strengths, and said that she doesn't see her role as arriving on campus with grand, ready-made plans to change the institution.
"Leadership is about fostering a collaborative process to create a vision and plan to move the whole college forward," she said. "And that vision will come through discussion with the entire Wheaton community. Literally everyone will have to be involved."
Becoming a scholar
The author of Travel Implies Destination (Aracne, 2010) and Navigating the Minefield: Hawkes's Narratives of Perversion (Peter Lang Publishers, 1998), Whelan has received numerous awards, fellowships and honors, including a Woodrow Wilson Foundation Grant for Mellon Fellowships in the Humanities.
In retrospect, it may seem preordained that Whelan would pursue a career in academia. Her father, Robert J. Whelan, was a professor of German literature and language, first at Boston College and then at the University of Massachusetts, Lowell, where he taught until his retirement. In fact, she remembers going to campus with her father and writing on the chalkboard as he prepared for his class. In addition, her mother, Teresa, who was a registered nurse, also taught psychiatric nursing for a time at McLean Hospital and Boston College.
Perhaps more telling is Whelan's early love of reading. Growing up in Weston, Mass., she recalls riding her bike to the town's public library to stock up on reading material, piling books into a handlebar basket and onto a rack on the back of her bicycle.
Sometimes, her curiosity and passion for reading could lead to trouble as it did in grammar school.
"You were supposed to read books from the shelves that were in your grade area, but I was always rebellious, wanting to read more or different things beyond the specific books that had been selected for us. Rebellious reading was an early and frequent problem," she said.
The bookshelves in Whelan's Somerville, Mass., home office confirm the fact that her passion for reading still runs strong. Among the volumes behind her desk are favorites by novelists Haruki Murakami and Joan Didion, and collections by poets Wallace Stevens, Seamus Heaney, Elizabeth Bishop, June Jordan and former U.S. poet laureate Tracy K. Smith.
When it came time for college, Whelan, the eldest of five children, decided on Cornell University in Ithaca, N.Y., drawn by its faculty and its founding principle that "any person can find instruction in any study," as well as its beautiful campus located a healthy five-plus-hour drive from home.
She enrolled with the idea of studying science, pre-med or psychology. While she completed most of the courses required for a degree in psychology, the pull of literature proved stronger. She talks about her time as an undergraduate with great fondness, recalling a poetry reading room visited by numerous writers, faculty members who were well-known as poets and novelists, and challenging classes.
"I remember I wanted to take this class, 'The Art of the Essay.' I was a first-year student and the course was intended for juniors. I said to the professor, 'I think I can write pretty well. You know, why don't we try it and see what you think?'" she recounted, laughing at the memory. "So I persuaded him to let me take the class, and it was a great experience.
"I would have happily stayed in school for another decade, which is why when I got the Mellon grant for doctoral study in the humanities, it was such great news," she said.
Whelan ended up enrolling in The Graduate School of Arts and Sciences at Harvard University, where she earned her doctorate in English and American literature. She also met her husband, Peter Wiederspahn, who was then a graduate student in architecture and is now a practicing architect and an associate professor of architecture at Northeastern University.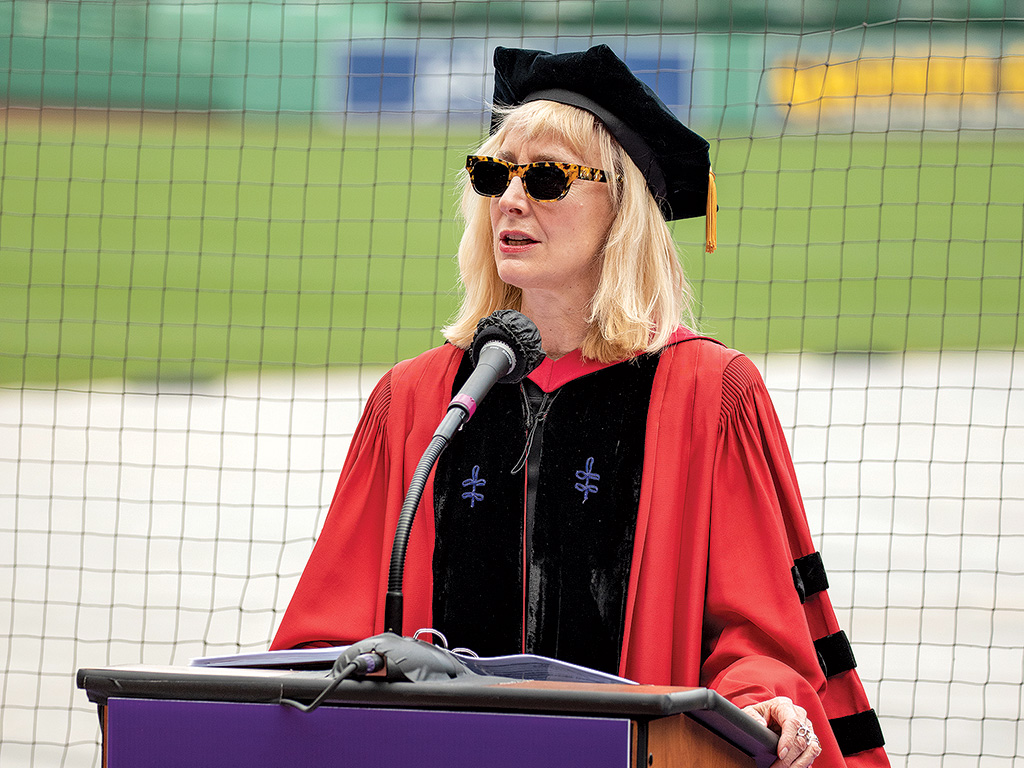 Moving to administration
After Harvard, Whelan took a faculty position at Pennsylvania State University in the departments of English and American Studies. During her four years at Penn State, she won an award for teaching excellence; she won a second award for teaching from Harvard when she returned there as a faculty member in 1995. The Cambridge campus was also where she got her first experience as an administrator, serving as assistant director of undergraduate studies in the English Department. And while it was unplanned, she found that the skills she had developed as a teacher translated well to administrative roles.
"A lot of teaching techniques, such as making sure everyone in the room is heard and has a chance to speak and mediating divergent viewpoints, are directly applicable to administrative work and academic leadership," she said. "Synthesizing emerging ideas and facilitating large group discussions are skills that come from teaching. So whether you're teaching or you're running a meeting, you have a very similar mindset: be engaged, listen and value all contributions."
Having opened the door to taking on administrative roles, Whelan was soon presented with new and increasingly more senior leadership opportunities: a move to Tufts University, where she served as associate dean for academic planning in the School of Arts and Sciences, and the School of Engineering, and then to Brandeis as associate provost for the whole university. At both institutions, her work included the development of global programs and partnerships, as well as the introduction of new processes and structures to promote diversity and inclusion goals among staff, faculty and students.
Ioannis Miaoulis, now the president of Roger Williams University in Bristol, R.I., recalled working with Whelan at Tufts when he served as the dean of its engineering school.
"Michaele was always greatly skilled in facilitating negotiations and helping all of the deans to see the big picture beyond our schools. She was a great, great team player and an excellent addition to the team," Miaoulis said.
During her tenure at Brandeis, where she finished her service as the vice provost for academic affairs, Whelan played a leadership role in launching and managing academic initiatives, overseeing preparations for the re-accreditation process, creating programs in graduate professional studies, working with colleagues on diversity, and fundraising.
Whelan said she particularly enjoyed her work with the Brandeis National Committee, an organization of friends of the university with 80 chapters across the country.
"It involved strategic planning, change management and working with talented and dedicated volunteers," she said.
Janice Fineman, who served as the executive director of the committee under Whelan's supervision, said that her former boss excelled at working with the volunteers who were navigating the process of integrating men into the organization and changing its name from the Brandeis National Women's Committee.
"She was extremely well-received when she visited chapters because she's very articulate, and she was able to present what was going on at the university in a way that a general audience could understand," Fineman said.
For her part, Whelan attributes the success of the organization's change to a careful and collaborative process that began with the commitment and ideas of the members and months of conversation within and among the chapters across the country.
Change through collaboration
The value of discussion is central to Whelan's approach to leadership. In fact, she credits conversations with others for several of the new programs that were launched at Emerson College during her tenure as provost. The fruits of those collaborations included a new major in comedic arts, which captured national attention for its innovative combination of writing, performance and production with an in-depth examination of comedy through the liberal arts.
"The major in the comedic arts draws on Emerson's strengths in the performing arts, visual arts and media, and in writing, literature and history," she said. "And I would just say that it wasn't my idea. It was a faculty member's idea."
The same is true of the college establishment of a major in the business of creative arts, a business program adapted to the needs and concerns of
performers, filmmakers and other creative professionals.
The lesson, said Whelan, is that a leader's role is not to generate all the ideas for organizational innovation and growth.
"You have to create an environment where people will come and talk to you and say, 'Hey, I have this idea,'" she said. "It's the leader's job to create the environment where these ideas can flourish. You're not always the generator of the idea; you're the facilitator and catalyst of the idea."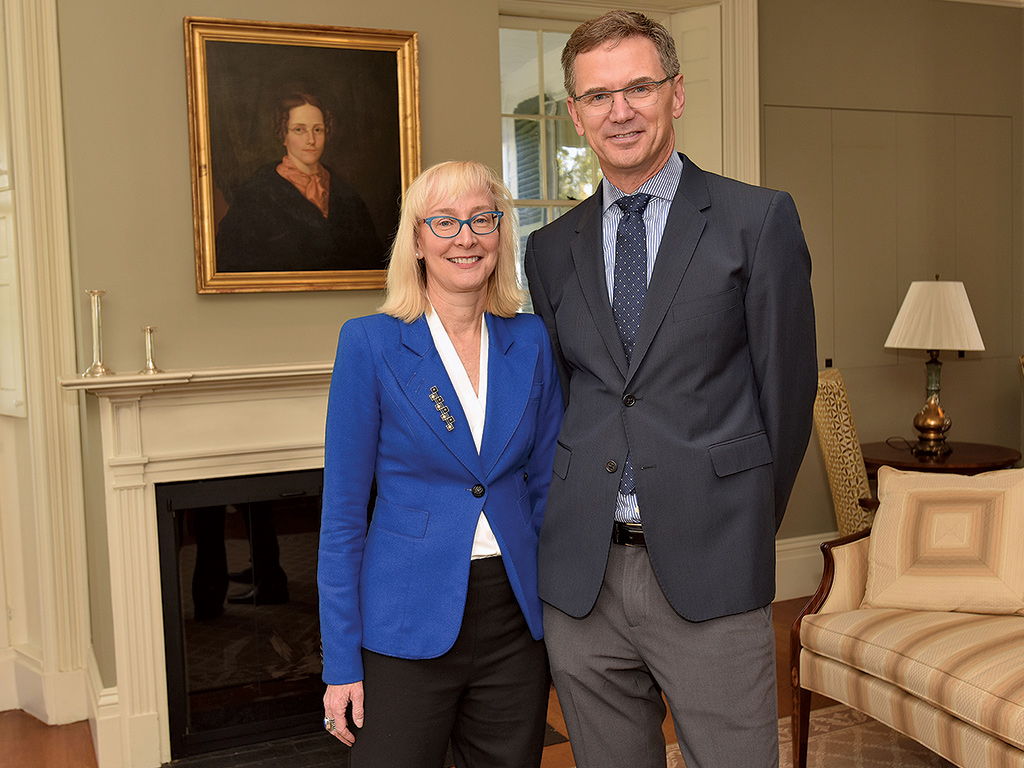 Whelan intends to foster that kind of dialogue at Wheaton, as she works to continue the development of new educational offerings that expand and enhance the value of the liberal arts. The college has had success in recent years with the addition of new interdisciplinary majors in public health, neuroscience, business and management, and film and new media studies, as well as the establishment of social entrepreneurship programs and the renewed commitment to experiential learning.
"Wheaton has been daring, the college has taken risks and been innovative, exploring other ways of gaining knowledge and skills through experiential learning," she said. "The faculty have been creative thinkers, reimagining the curriculum to emphasize flexibility and allowing students to create mentored learning pathways. These are all great ideas. So the questions now are how do we augment that, how do we grow, and how do we differentiate and distill the Wheaton story?"
Those questions are important, as the college seeks to navigate through challenging times for higher education in general and small liberal arts colleges in particular.
The difficulties confronting colleges and universities include a decline in the number of college-aged students that is forecast to steepen dramatically by 2025 combined with ever-increasing costs and widespread questions about the value of a college degree. Wheaton's response to those pressures has been to carefully control expenses while broadening its reach to students by strategically expanding its offerings.
"It will take the entire Wheaton community to move the college forward in this path of blending innovation and tradition. From alumni, parents and donors to faculty, staff and students, we're going to need the talents of the entire community. Everyone needs to be a part of this," Whelan said.
"To be the president of Wheaton is both an exciting and humbling opportunity," she said. "This college has a long and proud history, and it will have a long and promising future. I took this position to help advance the college and see it thrive into the future. I'm doing this because I believe in Wheaton's mission and in the people who comprise its community on campus and around the world."