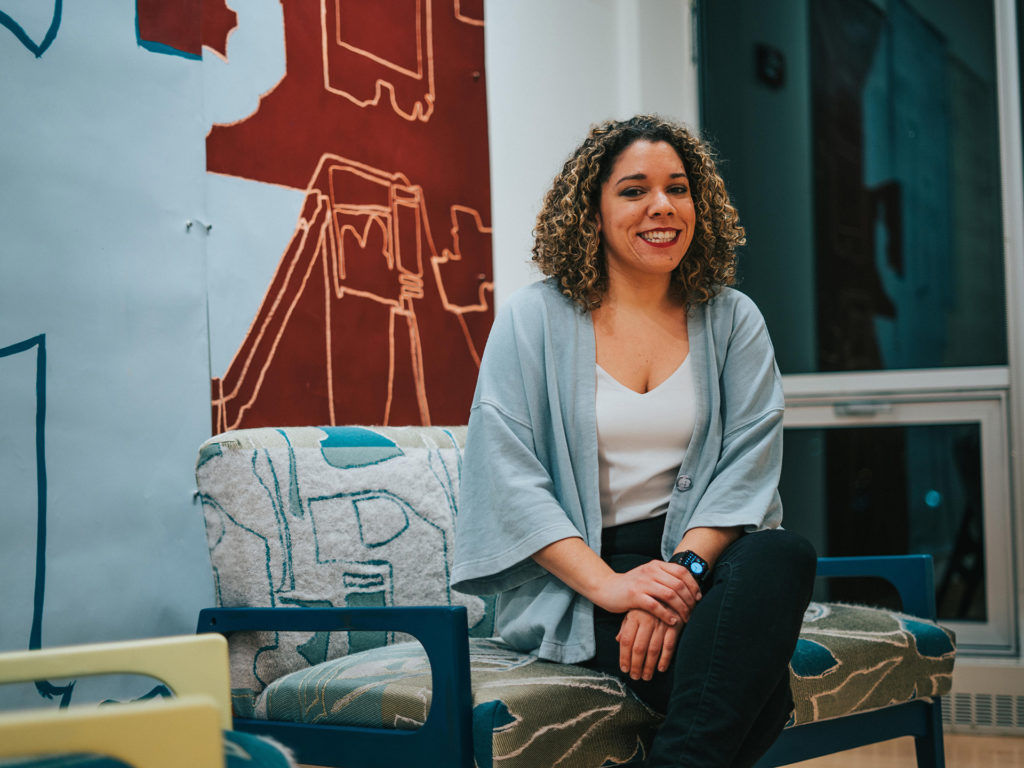 Gabrielle Ferreira '12 exhibits her work in textiles and print design on campus
Artist Gabrielle Ferreira '12 returned to campus this winter to showcase her varied work in textiles and print design, which honors her Cape Verdean and Portuguese heritage.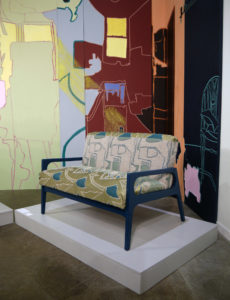 The artwork—which she describes as an examination of place, heritage and identity—is part of "a nerve is not a nerve but a bundle of fibers," an exhibition in the Beard and Weil Galleries in the Watson Fine Arts Center. Six other textile artists are exhibiting alongside her at the show, which runs through March 28.
Ferreira, an art history major at Wheaton, curated exhibitions in the Beard and Weil Galleries as a student as part of her "Exhibition Design" course and as interim gallery director in fall 2018. As a student, she also curated a show at Mary Lyon of prints and drawings from Wheaton's Permanent Collection. This is the first time her own artwork has been formally exhibited on campus.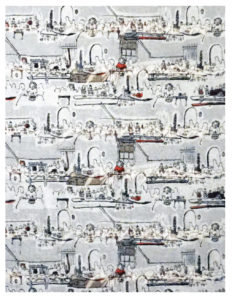 "It is incredibly uplifting to be back on campus bringing back the ideas and perspective I've gained. I would have never thought it was possible when I was enrolled at Wheaton that eight years after graduating my work would be hanging on the walls of the Watson gallery," Ferreira said.
 Hand stitchery, sewing, knitting and weaving are all traditions passed down to Ferreira through her Cape Verdean and Portuguese heritage. She learned how to silkscreen and engrave at a young age and began making patterns after studying and working for Arteomete ii, a design company in Rome, Italy. She recently graduated with a master's degree in fine arts textiles at the Rhode Island School of Design and currently works full-time as a textile designer at Natco Home Group, a home furnishing company based in West Warwick, R.I.
For the exhibition at Wheaton, Ferreira draws, paints, weaves and designs screenprints, murals and wall hangings centered around everyday stories and objects. Also on display are chairs made from mohair, viscose and bamboo fiber, upholstered on poplar wood frames.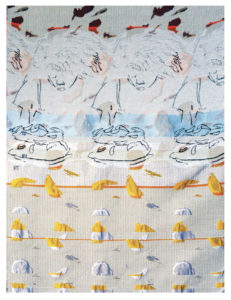 "On a daily basis these objects are overlooked and considered simplistic for their generic quality, but they actually have longstanding social and economic significance and power," she said.
Ferreira said her interdisciplinary liberal arts education at Wheaton shaped her development as an artist.
"At Wheaton, my studies demanded that I perform extensive research and transform that research into a defense of my ideas. Creating paintings, weavings and tapestries is another way of defending my ideas. Every project I begin starts with research and gathering information; the only difference now is that I transform that data into color, pattern and texture," she said.