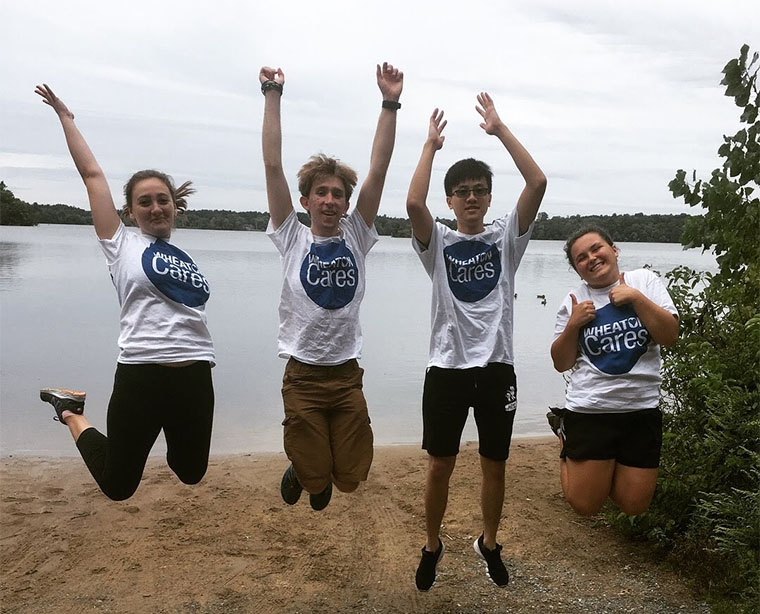 Eva Danielson '22 awarded Newman Civic Fellowship for campus, local involvement
Eva Danielson '22 says one of her missions in life is to try her best to help people get to where they want and need to go.
"I feel very energized by being able to do my part to help others grow or to help them be successful," she said.
Her most recent accomplishment will assist her in learning more about how best to do that through volunteer work. Danielson has been selected as one of 290 students nationwide for a 2020–2021 Newman Civic Fellowship.
The Newman Civic Fellowship is a yearlong program for students from Campus Compact member institutions. Campus Compact is a Boston-based nonprofit working to advance the public purposes of higher education. The students selected for the fellowship are leaders on their campuses who demonstrate a commitment to finding solutions to challenges facing communities locally, nationally and internationally.
Through the fellowship, Campus Compact provides students with a variety of learning and networking opportunities that emphasize personal, professional and civic growth. Each year, fellows are invited to a national, in-person conference of Newman Civic Fellows and participate in numerous virtual training and networking opportunities. The fellowship also provides them with pathways to apply for exclusive scholarship and post-graduate opportunities.
Danielson, whose  hometown is East Bridgewater, Mass., has been very involved on campus and in the local community, including in several leadership roles. She is the fundraising and programming chair for the Community Initiatives and Volunteer Involvement Club (CIVIC); the Student Government Association's 2022 Class Council treasurer; a resident advisor for Pine and Meadows; a student assistant for Campus Life and a member of the Residence Hall Association, Wheaton Craft Club and campus radio station, WCCS 96.5 FM.
"Working for Campus Life, being connected to the Center for Social Justice and Community Impact through volunteering and CIVIC, and even being a part of SGA has made me feel purposeful during my time at Wheaton, and allowed me to meet so many wonderful people who I will cherish for a long time," said Danielson, a math major."Volunteering is really important to me because of the unique opportunity it provides to both learn about the community and have a positive impact in it; it's not one-sided, but beneficial to all parties involved."
Danielson's long list of volunteer work on campus and in surrounding communities has included: helping with the Norton VFW haunted hayrides, Norton Town and Wheaton Woods cleanup, Wheaton Tutor Outreach Program (at Yelle Elementary and Norton Middle schools), Attleboro Literacy Center repainting and a Thanksgiving turkey distribution organized by a local karate studio.
The Newman Civic Fellowship is named for the late Frank Newman, one of Campus Compact's founders, who was an advocate for civic engagement in higher education. In the spirit of Newman's leadership, Campus Compact member presidents and chancellors can nominate one student from their institution for the fellowship.
On the Campus Compass website where fellowship winners were announced, Wheaton College President Dennis M. Hanno described Danielson as a well-regarded leader on campus and said, "Through her many volunteer efforts, Eva is committed to increasing volunteer involvement on campus and addressing real community needs through heavy community engagement. Eva understands the importance of taking the time to build capacity for partnerships to evolve in meaningful ways. Her energy and passion to learn more about community issues and community-identified needs on service trips inspires her peers to engage in new ways."
Danielson said that she is looking forward to her time as a fellow to learn more about herself, to share what she has learned with other student leaders from campuses across the country, and also to gain insight from their experiences.
"Since volunteering can occasionally be one-and-done, depending on what you're doing, I often struggle with whether or not I am making a lasting impact with my volunteer efforts," she said. "With the resources and the learning experiences of the Newman Civic Fellowship, I hope to learn about the best ways that I personally can make a real impact in the community, and do my part to ensure Wheaton's volunteering as a whole has a sustainable and long-lasting effect.
"I also hope to be able to network with the other fellows and see how their on-campus advocacy has worked, from research to carrying out projects. I believe we can all learn a lot from each other's work and experiences, and I hope to do my part to bring those stories and that knowledge back to our campus," she said.