Virtual Commencement, real inspiration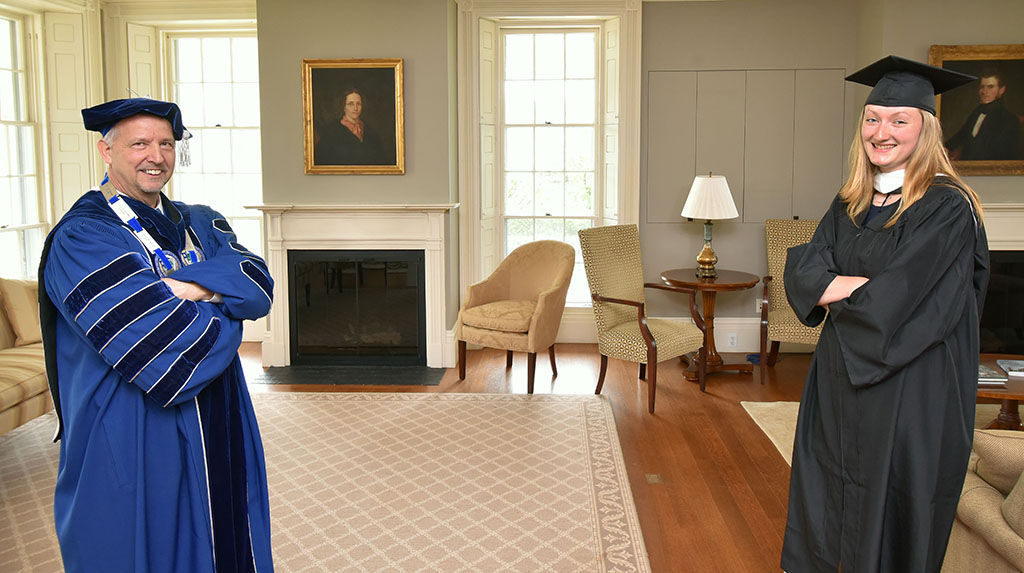 Class of 2020 is resilient and strong through challenges, Wheaton College president tells graduates
The pomp and circumstance was very different than anticipated, but the pride for graduating seniors was the same during the Wheaton College 185th Commencement ceremony held on Saturday, May 16, virtually rather than in person.
Not one to soon be forgotten, the event was livestreamed and the 433 members of the Class of 2020 were celebrated across computer and smartphone screens. In previous years, watching online was a welcomed alternative for those who couldn't join the crowd in Norton, Mass., to sit in the Dimple on a sunny day or in Haas Athletic Center on a rainy one. However, safety precautions due to COVID-19 made what once was an option a necessity this year. More than 5,000 viewers watched the livestream event.
"This is, without a doubt, the most unique Commencement in the history of the college," said President Dennis M. Hanno, following the ceremony opening by Board of Trustees Chair Janet Lindholm Lebovitz '72 and the singing of "A Wheaton Anthem" by Claire Buiocchi '20.
"Today we gather online, from places all over the world, to honor the extraordinary Class of 2020. While this looks and feels very different than gathering on The Dimple, our tradition of recognizing and honoring our graduates goes on even in the face of significant challenges. This community is strong, vibrant and resilient—just like the graduates of the Class of 2020," said Hanno.
"These are unusual times, but you have shown us all—certainly over the last few months, but also long before this—that you are up for the challenge," he continued. "Life will return to some sense of normal and I know that the knowledge and skills and perspective that you earned in the past four years will serve you well. You are headed to exciting new places—outstanding jobs, top graduate schools, public service and much more. I know that you will do great things, just as you have done here."
In her greetings to her classmates, Chair of the Class of 2020 Maia Hay '20 was frank in expressing the sentiment that many may be thinking but not saying out loud regarding the past several weeks of the pandemic and its impact. But she was also hopeful and forward-thinking:
"When this year began we saw a different end, not this unforeseen anomaly of an event that would hijack the end of our senior year," Hay said. "It's a moment you would never even think of, yet here we are. Here we are with our degrees earned, through countless hours of studying, late nights in the library, pulling all-nighters to finish that final paper or project, and no one, no event, no virus, nothing, can take that away from us. When it comes down to it people might remember the Class of 2020 as the one that graduated virtually, but that's not the case at all. We know we are more than how we ended. We know our story. And we will remember."
Honorary degree recipients usually receive accolades in person, but this year they were recognized during the virtual ceremony and will receive their awards at a later date. They are: Sally Bedell Smith '70, a historian and bestselling author (originally scheduled to present the keynote address); Edmund Barry Gaither, executive director and curator of the Museum of the National Center of Afro-American Artists; Khrystian "Khrys" King '95, a councilor-at-large in the city of Worcester; and Abby Spencer Moffat, the chief executive officer of the Diana Davis Spencer Foundation.
Before degrees were presented to the members of the Class of 2020, Hanno introduced a little surprise befitting a family gathering, courtesy of secret submissions from loved ones: baby photos of the graduates.
"There are many watching you graduate today who have seen your lifetime of growth. For them, for you, for your friends, and for all of us, let's take a few minutes to see how much you really have grown," he said. "Those photos capture some of the pride, joy and love that you have been creating for many years, and you are definitely loved. Don't stop creating that pride, joy and love. Don't stop growing. Don't stop developing."
Degrees were then conferred by Renée T. White, provost, and Zachary Irish, interim vice president for student affairs and dean of students, presented the graduates. As student names were announced, slides were shown featuring submitted photos and quotes.
The graduating class has the unique distinction of being the first group to be virtually welcomed into the Wheaton College Alumni Association of more than 19,000 graduates, which is celebrating its 150th anniversary, Alumni Association President Joshua S. Bauchner '95 noted in his remarks.
"While today is different than most of you imagined, I believe your unique Wheaton experience will bring an important perspective to our association now and into the future," Bauchner said.
At the end of the Commencement ceremony, beaming graduates would have left their seats and filed out between a line of applauding faculty members. Instead, in the digital version of the day, their professors sent heartfelt shout-outs, quotes and musical salutes from their living rooms, dining tables and front yards.
"Congratulations, Class of 2020! Times like these, times of crisis, are an opportunity to create positive social change. And I can't wait to see what you do with it," said Aubrey Westfall, associate professor of political science.
"You graduated college during a global pandemic!" said Sabrina Speights, assistant professor of business and management, nodding with emphasis on each word. "You are strong and you are resilient."