Unpacking lessons from Tanzania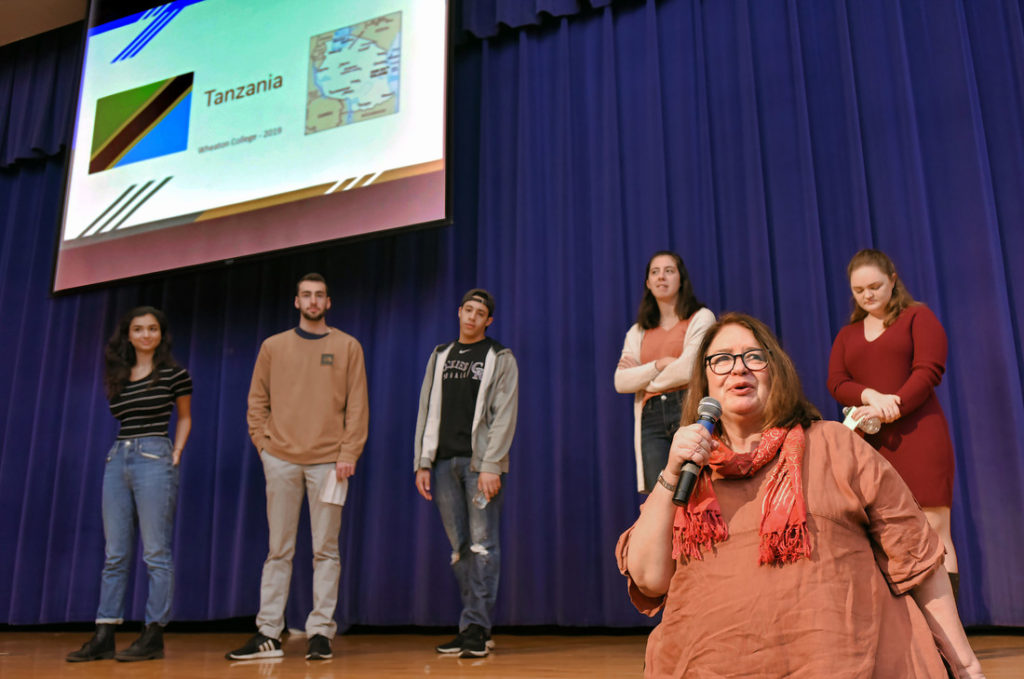 Wheaton students talk to Norton Middle School students about experiences 
"Hello" in Swahili is habari and "thank you" is asante sana.
The students (wanafunzi) at Norton Middle School learned these words and much more as they took a virtual trip to Tanzania from their auditorium seats on Friday, November 8, courtesy of Wheaton College students who visited, studied and taught in the country last spring.
Sarah Maliarik '20, Lauren Davidson '21, Tala Kayyali '20, Blake Stevens '21 and Tarwyn Washington '21 presented slides, photos and video clips on a large screen and took turns sharing information about the month they spent in Tanzania as part of Professor of Anthropology Donna Kerner's "Tanzania: Education and Development" course. See gallery below.
The faculty-led trip to Tanzania is one of several short-term courses coordinated by the Wheaton College Center for Global Education.
More than 200 Norton students attended the Norton, Mass., presentation, which unpacked facts about the country—such as that Tanzania has 120 ethnic groups, 58 million people, several major geographic wonders of the world (including Mount Kilimanjaro) and that it is known for its bananas. Students also learned about the animals that Wheaton students saw, the hospitals and laboratories they visited, the daily life of the families with which they stayed and the classrooms where they taught English (as well as showed students how to play duck-duck-goose).
"One of the main purposes of us going on this trip was to teach English," Maliarik, who organized the presentation, told the Norton students. "I know you all take English class. Something to think about is that these students don't just learn English, they speak Swahilli and they also speak their ethnic group's language. That's three languages that they are learning, so that's a lot."
The lives of students in Tanzania are significantly different from those of students here in the United States, yet there are also common elements and points of connection, including the love of music, Washington said.
Since 2011, Wheaton and Norton Middle School have partnered on this event as part of Africa Day. The day includes a session in which handwritten letters from Tanzanian students describing their lives are shared with Norton students, who in turn use their laptops to type letters about their lives to send back.
Sixth grade geography students and teachers also hold a fundraiser in conjunction with this event. The funds are given to the next group of Wheaton students going on the faculty-led trip to purchase sports equipment and school supplies for the Tanzanian schools where they teach.
"We celebrated the ninth year of the Wheaton-in-Tanzania program this year. It's a nice town-college-global-village partnership," said Kerner, who accompanied her Wheaton students at the presentation.
Norton sixth grade geography teacher Barbara Nado agreed. "The sixth graders study 'World Geography' and learn about many regions around the world. Hearing about direct experiences in Tanzania from the Wheaton College students is a great real-life connection for our students," she said.
"They love seeing pictures and hearing the stories of the people the Wheaton students had experiences with. Our students like to compare their lifestyle with the Tanzanian lifestyle. They enjoy reading and writing letters to the Tanzanian students. The day includes African songs, games and a movie of the animals in the savanna. Over the years, many students have told me it's one of their favorite school days of the year."
Maliarik organized the presentation. Before going to Africa, she had already studied abroad twice (a semester in Granada, Spain, to study Spanish, and a semester in London, to study theater), but considers the Tanzanian trip "life altering," noting that she admired the gratitude and the love of family she saw there.
"The Tanzania trip really attracted me because of the opportunity to teach English as a foreign language. I am a double major in Hispanic studies and theatre and dance studies with a minor in education. I have always known that I want to teach; my experience in Tanzania confirmed that," she said.
"I believe that traveling is the best education there is, but I also recognize that it is not an option for everyone, so I always try to share what I have learned with others. My experience does not end when I come home," Maliarik added. "I think there is so much misunderstanding in the world, especially now. If I can do my part to serve as a communicator with people in different parts of the world, then we will all start to understand each other a little bit more, and with that comes empathy."
At the end of the Friday morning presentation, many hands went up to ask questions:
"What animals didn't you see?" "What was your favorite part of the trip?" "Do they have lots of cars?" And near the final round of questions, "Was it hard to adjust to their lifestyle?" one student asked.
"No," Washington said. "It's all about perspective. If you go with an open mind and think, 'This is going to be fun and I'm really excited,' kind of like you go to school every day, I think you'll have a great time."
(Photos from Tanzania in gallery below by Tala Kayyali '20; Norton photos by Keith Nordstrom.)