Understanding autism from the inside out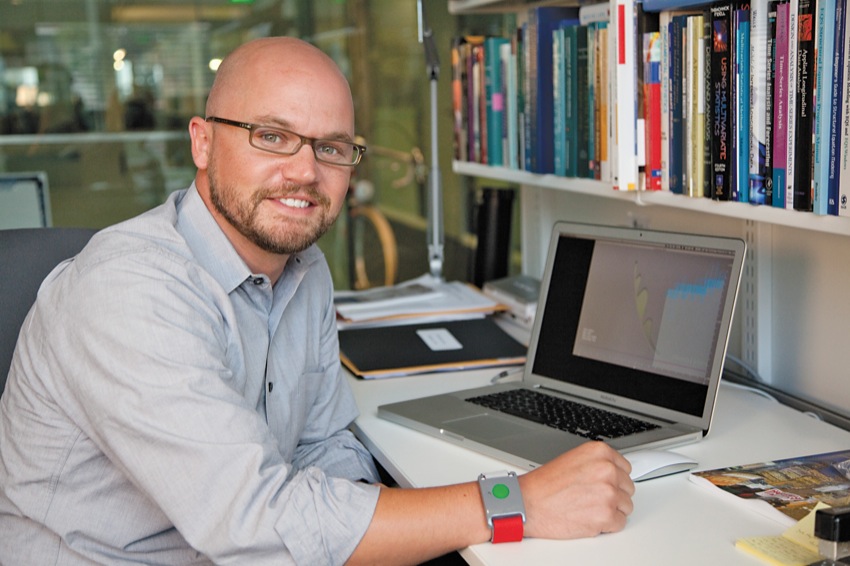 Understanding a person with autism requires looking beyond his or her outward behaviors.
This insight is what the late Professor Emerita of Psychology Grace Baron imparted to Matthew Goodwin '98, who has spent the bulk of his career pursuing technology solutions to uncover the inner lives of persons with autism to help them manage their day-to-day lives.
"Grace was the first person I met who emphasized the importance of considering the inner lives—thoughts, beliefs, feelings and desires—of persons with autism instead of focusing only on observable behavior and assuming there was nothing else," said Goodwin, who currently serves as an interdisciplinary assistant professor in the Department of Health Sciences and College of Computer and Information Science at Northeastern University in Boston.
This thinking sparked his idea to look at the internal physiology of autistic people, culminating in the development of a biometric wristband he helped develop during his postdoctoral work in the MIT Media Lab that can track changes in surface skin temperature, motion and sweat at the surface of the skin. Goodwin is working with the company that commercialized the biosensor, Empatica, Inc., to enable it to automatically alert caregivers of persons with autism to physiological changes that are found to associate with challenging behaviors, such as tantrums, self-injury, aggression to others, and elopement. They hope to complete that work in the next two to five years.
Goodwin presented his research on this technology at Autech 2015, a conference on autism and technology held on October 1, 2015, in Manchester, England.
While the innovation remains in proof-of-concept stage, the demand is strong for technology to help caregivers better navigate the ups and downs of daily life of persons with autism, Goodwin said.
"After nearly every scientific talk I give, all over the world, parents and teachers line up after saying, 'you described my child/student perfectly, s/he often has tantrums and meltdowns that come out of the blue. It would be so valuable to understand what is causing them and be better able to provide adequate support'," he said.
Goodwin, a psychology major at Wheaton, began developing this technology when he worked alongside Baron at the Groden Center, a Providence, R.I.-based nonprofit that works with youth diagnosed with autism, behavioral disorders and developmental disabilities. There, he monitored heart rate in students utilizing a wireless wearable harness with electrodes. Over the years, in various academic positions, he has redesigned the technology as a minimally invasive wristband.
Goodwin gave special recognition to Baron, who passed away in February 2015, in a eulogy he prepared for her service at Wheaton. "I am sorry not to be with you all today to celebrate one of the most extraordinary people I have ever met. Be it a simple twist of fate, or more likely evidence of the ubiquitous gifts Grace bestowed on so many of us, the reason I am not with you is that I am receiving a research award at Princeton University for my career contribution to autism. I credit Grace with this accomplishment and will receive the award in her honor, for she was unequivocally the one who set me on this path and led the way."