Susannah Snowden-Smith '05 achieved recognition in an international underwater photography competition for breathtaking photos that depict marine life and a shipwreck near the Cayman Islands in the Caribbean Sea.
At the Underwater Photographer of the Year awards, a contest held in London, Snowden-Smith won awards in the "Wrecks" and "Behavior" categories. Her photos, including one of the wreckage of USS Kittiwake, were chosen from among thousands of submissions.
"I had photographed the Kittiwake numerous times: from the bow, the stern, inside—but always close-up. On this particular dive, I swam a far distance from the wreck, over toward a nearby reef that drops off. I had noticed a school of jacks when I was swimming away from the ship. As I swam, in my mind's eye I was conceiving a photo that included them. Then it was a matter of combining all the elements—including a diver for scale—and finding the angle I wanted. I waited for the right moment to click the shutter," she said.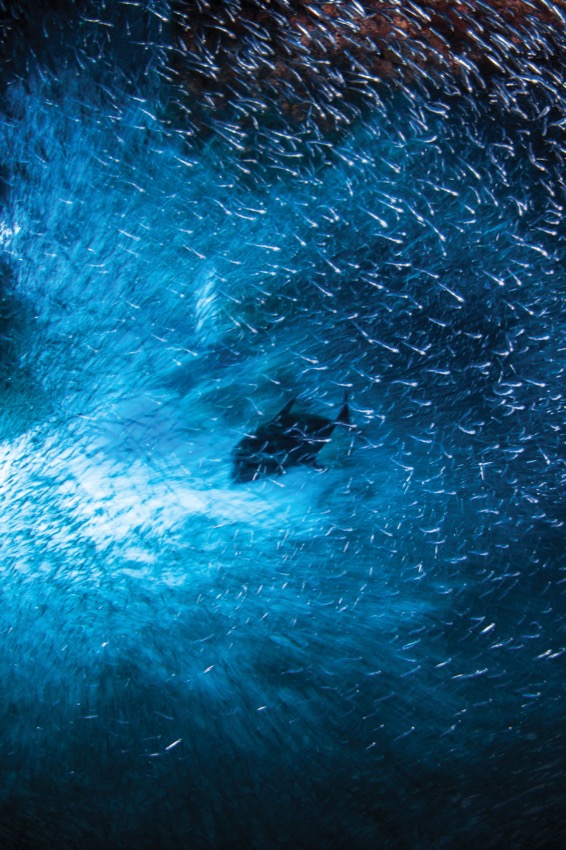 An anthropology major at Wheaton, Snowden-Smith has traveled the world working as an underwater archaeology photographer. She previously served as a photojournalist for The Westerly Sun in Watch Hill, R.I., before relocating to the Cayman Islands, where she shoots underwater full time.
"My archaeology degree opened doors to excavations and contacts; it was a must-have to work in this field. My degree also enabled me to learn methodology so I could conduct myself on site," she said.
Snowden-Smith enrolled at Wheaton knowing that she wanted to work in underwater archaeology.
"With that goal in place, one of the first stops I made when I toured the college was to see Professor Donna Kerner in the Anthropology Department. I explained to her what I wanted to accomplish and she helped guide me. Also, [Professor of Art] Andy Howard was an excellent and inspiring instructor of photography. Their teaching helped set me on the path to where I am now," she said.
As for her latest awards, she said, "I'm absolutely thrilled to have been commended. I'm on cloud nine."
Check out Snowden-Smith's work at www.susannahphotography.com.