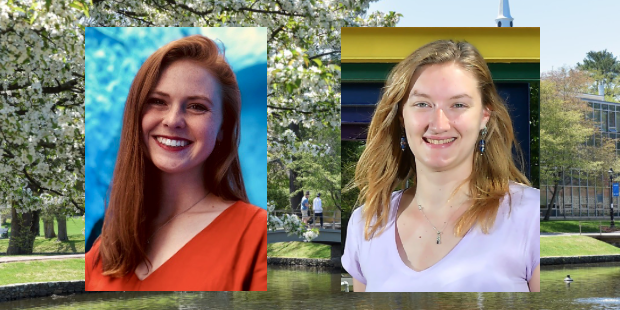 Maia Hay '20 and Elizabeth Helmreich '20 to explore public art, sex education during year abroad
Two soon-to-be Wheaton graduates will spend a year traveling around the world exploring different approaches to public art and sex education, supported by Watson Fellowships.
Maia Hay '20 and Elizabeth Helmreich '20 are among just 47 students nationwide selected to receive the 2020 Thomas J. Watson Fellowship, an award that gives graduating college seniors an opportunity to pursue their academic interests and passions internationally. The award grants each student $36,000 to cover travel and other expenses.
Including Hay and Helmreich, Wheaton has had 24 Watson winners during the past 20 years.
Understanding public art
Hay, a double major in visual art and political science, will explore community art spaces in South Africa, Ethiopia, France and Vietnam, in an attempt to better understand, as she put it, "why artists choose public spaces as their galleries and the wider public as their critics."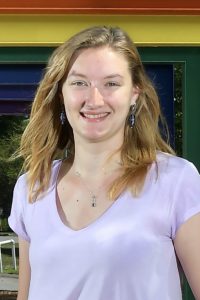 In South Africa, she will meet with Karoo Handgemaak, a group of women who make and sell handcrafted goods from natural materials. She also plans to volunteer with the Butterfly Art Project, a nongovernmental organization that uses art to help people heal and stay healthy.
In Addis Ababa, Ethiopia, Hay will investigate how free expression and artistic assembly have emerged following a long period of violent suppression. There, she will meet with artists, gallery owners and others, including the co-founders of Zoma Contemporary Art Center—connections she has made through her academic advisor at Wheaton, Associate Professor of Museum Studies and History of Art Leah Niederstadt.
Hay will look at groups and spaces in Vietnam that explore controversial topics through art, such as the Saigon Graffiti Club and the people behind a series of village murals.
The last stop on her Watson journey will be in Nantes, France, where the summer street festival Voyage à Nantes is held. Hay plans to volunteer with the event to learn up-close about its organization and impact.
"Through a Watson Fellowship, I will strengthen my understanding of how communities create, engage with and react to public art. I am particularly interested in learning more about artists' current inspirations and collaborators and about how they are perceived within their communities," Hay wrote in her Watson proposal. "Through journaling, drawing, photography and note-taking, I will document my experiences, compiling an archive that reflects both my understanding of public art in the four countries and that of the community members with whom I will interact and collaborate.
"I will return home better prepared to develop my own identity as an artist, teacher and public art activist. And, as always, inspired to create," she said.
Hay is considering graduate school; she knows for sure that art, and specifically public art, will continue to be a part of her life after Wheaton.
"After being a teacher assistant with [Associate Professor of Art] Kelly Goff in 'Spatial Dynamics' in my sophomore year, I have been interested in obtaining my MFA and becoming an art professor," she said. "The Watson experience is what I am focused on right now, and I think that will have a major impact on what I decide."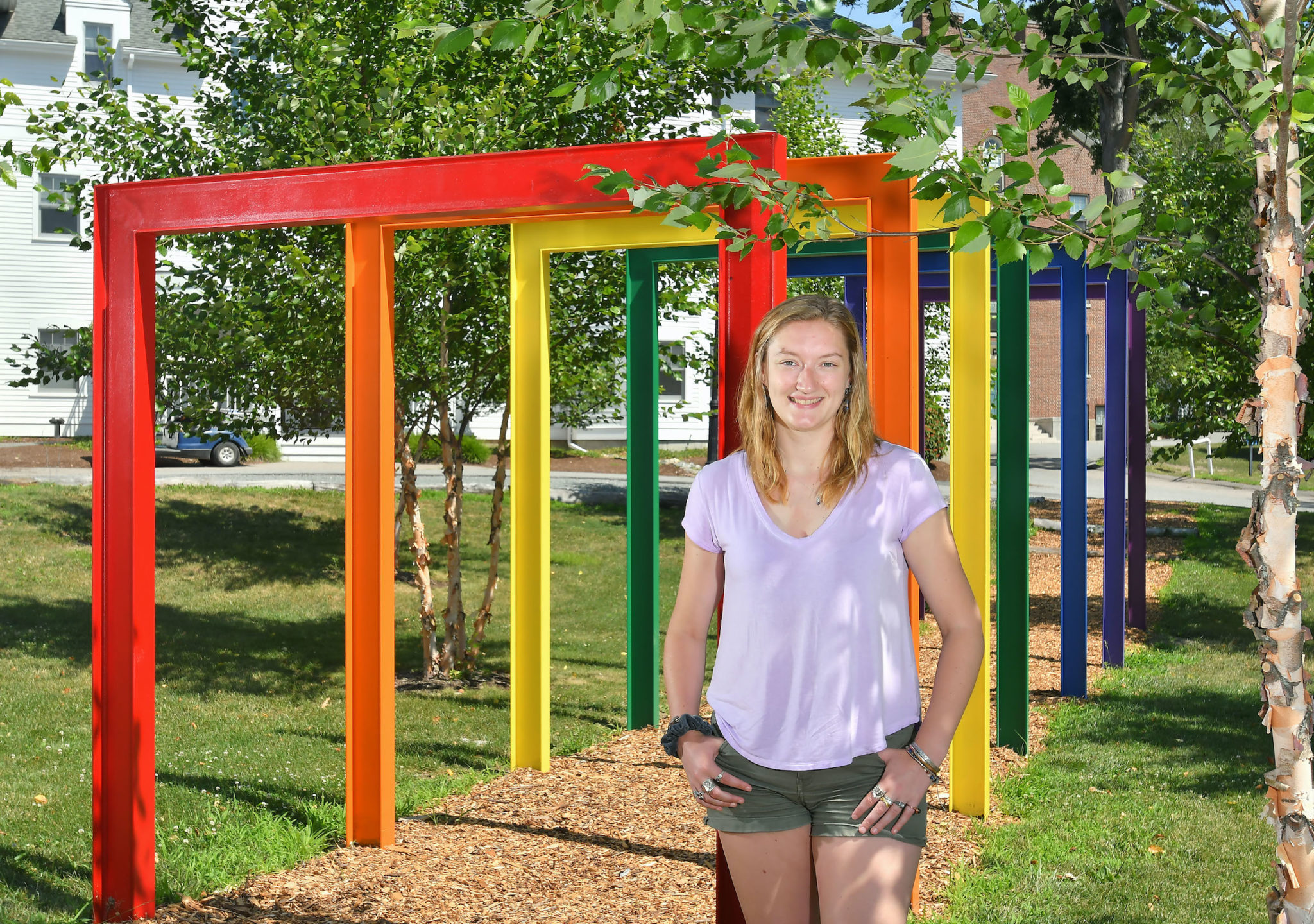 Empowerment through education
A double major in political science and women's and gender studies, Elizabeth Helmreich will be looking at comprehensive sexuality education (CSE) in Denmark, Peru, Thailand and Uganda, analyzing systems of enforcement, government involvement and social structures in each country. She plans to meet with nonprofits that focus on sexuality, public health and sexual violence.
"I want to learn what statistics cannot tell us," Helmreich said in her Watson proposal. "I will focus on engaging in conversations with educators, students and other community members about their experiences and what it means to have complete and accurate knowledge of one's body and sexuality. I want to explore how CSE, or a lack thereof, affects how people view their bodies."
Helmreich said she chose the four countries for their varied standards and approaches to CSE. In Denmark, which has had compulsory sexual education from age 6 since the 1970s, she will work with groups in Copenhagen such as the Centre for Victims of Sexual Assault and Normstormers, a group of volunteers that teaches school-age children about gender and sexuality.
In Thailand, Helmreich will examine a CSE approach that has been less accepted by the public, connecting with groups such as Thai Consent, which provides consent training and sexual education, and Together for Equality and Action, which focuses on gender equality and diversity issues.
In Peru, where the predominant religion is Roman Catholicism, Helmreich is interested in looking at how religion and traditional culture affect public views of CSE and body autonomy.  She wants to collaborate with organizations such as the International Women's Health Coalition and to volunteer with Planned Parenthood Peru—building off connections she made as a public affairs intern at Planned Parenthood of Northern New England the summer after her junior year at Wheaton.
Helmreich will finish her Watson travels in Uganda, where sexuality education became mandatory in 2018. She will connect with Planned Parenthood there as well, along with the Forum for African Women Educationalists and the EDJA Foundation, which combats child abuse, sexual assault and domestic violence.
"Since mandated sexuality education is new to Uganda, it presents a unique opportunity to speak to those who have recently received or are receiving it, and with those who did not have the opportunity to do so," she said.
Interested in pursuing a master's in education of human sexuality after her Watson year, Helmreich said she feels strongly about people having access to CSE around the world.
"All people should be allowed bodily autonomy. No one should spend even one day experiencing shame or guilt from sexual assault. We should all be emboldened with knowledge that allows us to assert our right to find comfort in our bodies, not shame or pain. I believe CSE is a stepping stone to be able to achieve these goals," she said.
Currently, Helmreich is interested in working in sex-positive education or education and prevention around sexual assault and domestic abuse, though she expects her future goals to be impacted by the Watson experience.
"The Watson Fellowship provides a unique opportunity for individuals to explore their passions and truly develop a better understanding of themselves in the process, which is exactly what I was looking for," she said. "I applied for the Watson Fellowship in order to hopefully gain a better understanding of myself and my own experiences in regards to sexuality education and bodily autonomy, as well as have a broader multicultural understanding."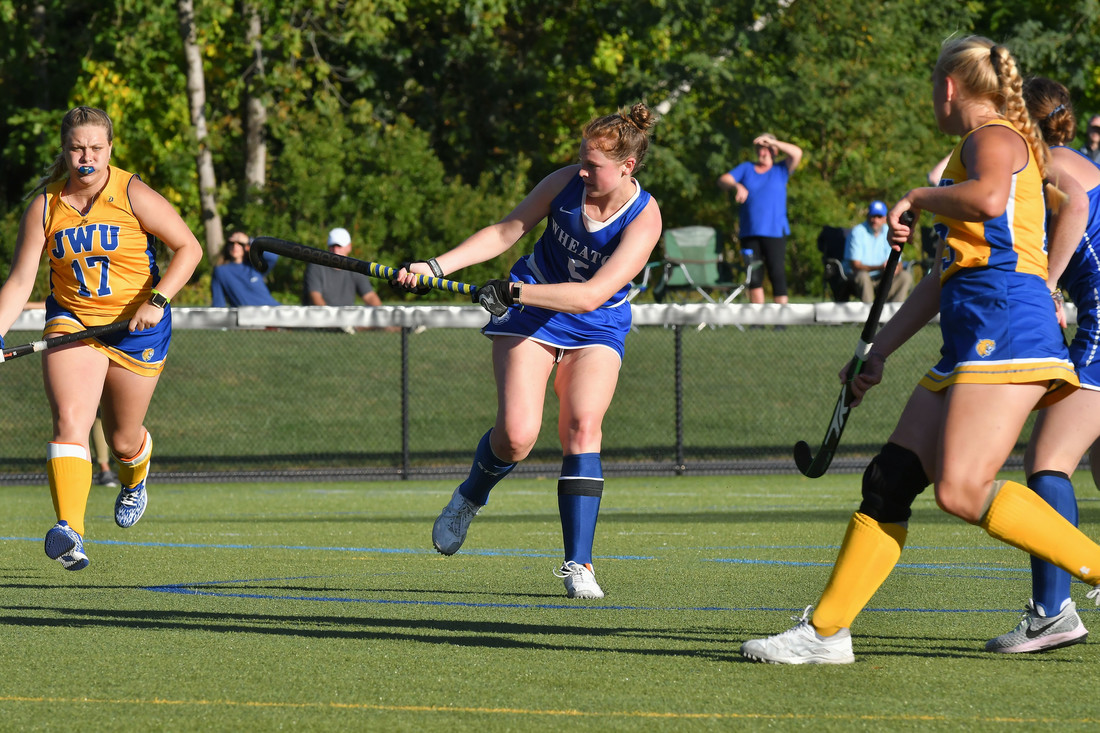 Applied learning
Both women said their Wheaton education has helped prepare them for their travels, through rigorous, intellectually engaging classwork, opportunities to take the lead on campus and impactful internship and study abroad programs. They're also both student-athletes; Hay is on the club rugby team and Helmreich is a member of the women's field hockey team.
"Wheaton has provided me with amazing opportunities and academic experiences that have prepared me to take on the Watson Fellowship," Helmreich said. "I have learned and grown my leadership, determination, drive and resilience through my time on Wheaton's field hockey team. I have also learned an immense amount about sexuality education and outreach from working in Wheaton's SMART [Sexual Misconduct and Assault Resource Team] office."
In addition to her summer with Planned Parenthood, Helmreich has interned with New Hope Inc. in Attleboro, Mass., a nonprofit focused on ending domestic abuse and sexual assault, and in the campaign office of Maine gubernatorial candidate Adam Cote, for two consecutive summers.
She also studied abroad in Morocco during the spring semester of her junior year, participating in the School for International Training's Multiculturalism and Human Rights program. Her work included researching institutional barriers that block women from reporting cases of rape.
Her areas of study have also prepared her well for a year of exploration abroad.
"My majors have provided me with a unique view of looking at structures, organizations and policies and their impact on issues of marginalization and privilege—something essential to my Watson," she said.
Hay credits two Wheaton courses with helping to set her on her current career path. Her first semester, she enrolled in "Spatial Dynamics," in which students carved, welded, created and cast molds and worked with clay and plaster. A year later, she signed up for an experimental course "Public Art."
"We studied how to sense and create within space and to engage the public and foster dialogue through our art. Then, when asked to design and install an on-campus sculpture, I applied what I learned, presenting my designs to a jury that chose several works to be displayed in the Franklin Sculpture Park [in Franklin, Mass.], which features artwork by and for visitors of all ages," Hay said.
Her colorful, multi-piece sculpture "Beyond The Rain" was so popular during its temporary stay on campus, that when the piece was moved to its new home in Franklin, Hay was commissioned to create a second version for Wheaton.
"Those who helped build '​Beyond The Rain'​ feel pride in seeing their efforts come to fruition, while others find themselves represented in ways I had not envisioned," she said. "Creating and reflecting upon ​Beyond the Rain a​s a form of public art has helped me recognize that this is what I want to pursue as my life's work: creating, studying and teaching about art and using it to empower others."
During the summer of her sophomore year, Hay participated in the faculty-led cultural immersion program "Arts in Ireland." The following spring, she studied abroad at the University of Edinburgh, in the parliamentary placement program.
She also serves as 2020 Class President with the Student Government Association and is arts editor of Rushlight, the student literary magazine, among other roles on campus.
"Going to Wheaton was one of the best decisions I've made," Hay said. "The community, staff and faculty have been supportive and encouraged me to reach for opportunities I never even knew about. When it comes to being prepared for the Watson, I think that Wheaton gave me the confidence and the experiences to be ready moving forward."
Understanding that the ongoing global situation involving COVID-19 may impact future travel plans, the Watson Foundation has extended its acceptance deadline and will be working with fellowship winners to develop possible scenarios, which might include delaying the start of their projects.