Two named Gilman Scholars
Students receive competitive award to support studies in Italy, Tanzania
Caitly Reynoso '19 is spending the spring semester overseas, immersed in Italian language and culture, while Nicole Lussier '20 will expand her studies in animal behavior among the wildlife of Tanzania—both with support from a Gilman Scholarship.
Offered through the U.S. Department of State, the Benjamin A. Gilman International Scholarship helps American students gain access to educational experiences abroad. Since its founding in 2001, the scholarship has supported the studies of about 25,000 U.S. students, in 145 locations around the world, according to the scholarship website.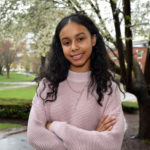 Reynoso, a double major in film and new media studies and business and management, is minoring in Italian studies and said she is looking forward to focusing further on the language, both in her courses at Università degli Studi di Firenze in Florence, Italy, and during her homestay with an Italian family.
"Through studying abroad, I can gain a deeper, more personal understanding of a culture that I have cultivated a relationship with for over two years," Reynoso said.
The Bronx, N.Y., resident is planning a career in broadcast journalism and hopes to pursue an internship in the Italian media industry as part of her study abroad experience.
"I aspire to be a broadcast journalist who uses her role in the media industry to support the youth of low-income communities," Reynoso said. "I want to use the media as a platform to expose young adults to resources that will support their growth as leaders and scholars."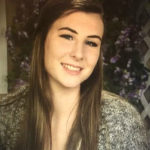 Lussier, from North Providence, R.I., is majoring in biology, with a minor in animal behavior. This spring, she will take courses in environmental research methods and ethics, wildlife conservation and political ecology, and Swahili, through the School for International Training in Tanzania. 
"I've dreamed of studying abroad since high school; I've always had a case of the travel bug," Lussier said. "One of the main reasons I chose Wheaton was because of its incredible study abroad opportunities."
Lussier also has had a strong interest in wildlife from a young age and said she is especially excited about conducting fieldwork.
"For a combined 30 days over the three months, we will be camping and completing different excursions, getting to study wildlife up close and personal," she said. "It's so different than any other abroad program I have seen. Instead of just taking classes at another college, I will be fully emerged in Tanzania's culture, living in their breathtaking national parks and studying the wildlife and their relationships to natives of the land."
Lussier is interested in a career working with endangered species and exotic animals, helping to promote wildlife protection and habitat conservation.