Students add podcasting to radio station offerings in response to pandemic
Podcasts have become a popular way to adapt radio programming to fit into busy lives. In a burst of creative problem solving, a group of Wheaton College students expanded the offerings of campus radio station WCCS 96.5FM this spring by launching the station's first two podcast shows, "A Moment in History" and "Cod Cabin," available on Spotify.
So far, the station has 61 podcast episodes available.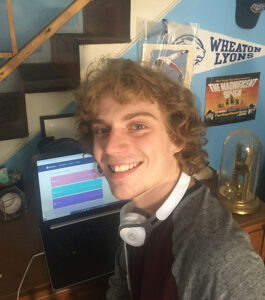 "We were doing shows on the air and presenting our live programming when everything suddenly shut down due to the pandemic," said Harrison Zeiberg, a Wheaton junior who serves as WCCS vice president and station manager. "After we settled into our new routines remotely, we tried to figure out how best to keep the radio station as a club alive and going, and we eventually realized after exploring options that podcasting represented an excellent solution."
Whether produced by NPR, entertainment companies or radio stations, podcasts usually are original audio programs consisting of individual episodes on a variety of topics and are available on-demand. According to Edison Research, there are now more than 62 million people listening to podcasts each week in the U.S., up from 19 million in 2013. With more people working and learning from home during the global pandemic, those numbers are likely to grow.
In May, Zeiberg, a history and political science major from Malden, Mass., debuted his new podcast called "A Moment in History." The show offers listeners the insights of interview guests reflecting on what it is like to live in one of the strangest and most eventful years in modern history.
The interview guests have included organizers of a Black Lives Matter rally, artists, a student opera singer and other students talking about how they are adjusting to life during a pandemic.
"We're seeking to build an oral history of 2020 that will be interesting to hear now," Zeiberg said. "But I also have the longer-term interest of history in mind so that people can use the podcasts as a reference decades from now to better understand, directly from primary sources, what it was like to live through the pandemic, the political environment and the protests."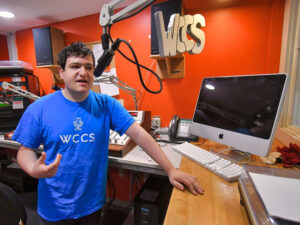 The other WCCS podcast show called "Cod Cabin" focuses on Massachusetts politics.
"The podcast's name is sort of a joke on the Massachusetts State House, as it has a giant cod residing in one of its chambers," says Adam Bass, a senior from Needham, Mass., and WCCS general manager.
Bass has hosted and produced other on-air political shows and has sought to carve out a niche as a political insider in Massachusetts.
"What makes Massachusetts so different this election year is that you have the challenging of incumbents," said Bass, who has interviewed candidates for political office all across Massachusetts, including U.S. Senator Ed Markey and Rep. Joe Kennedy.
"Doing these interviews also builds my resume and builds connections, helping me pursue my dream of broadcasting and reporting," said Bass, a history major with a double minor in political science and legal studies.
Harrison Zeiberg's "A Moment in History" podcast outreach has expanded well beyond the Bay State and New England. "I am currently working on the third series of interviews that will focus on conversations with students from schools across the country."
So far, he has interviewed students (mostly those affiliated with the radio stations on their campuses) from the University of Tampa, Landmark College in Vermont, University of Southern California, University of Kansas, Johnson and Wales University in Rhode Island and Kenyon College in Ohio.
Other than the pandemic, what is the most common theme? "Almost everyone is hopeful, in one way or another. Even if they offer up a pessimistic worldview, nearly everyone remains hopeful that the troubles of 2020 will eventually turn around and that it will get better," Zeiberg said.
He shares the optimism. "I am also hopeful that things will improve," Zeiberg said. "But I don't think it will just happen on its own. We learn this from history. Real change takes work and it takes effort, and we all need to keep that in mind moving forward."
—By Randell Kennedy