The lucky group 15 students enrolled in BIO 318: Tropical Biology finished their course with a two-week winter break trip to Costa Rica and Belize.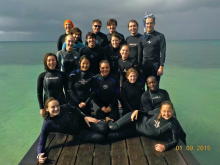 Biology professors Scott Shumway has been leading Wheaton students on the field research trip to South Water Caye, Belize, and the La Selva Biological Station in Costa Rica for roughly 15 years. This year, he team-taught the course with Susan Letcher, an assistant professor of environmental studies at Purchase College and an expert on tropical plant ecology.
The course serves as a primer on the procedures of field biology as well as an in-depth introduction to tropical ecosystems and the roles of the flora and fauna to be found there.
"For me, the field is the most effective learning environment," Professor Shumway said. "I can show hundreds of slides of mangrove trees and lecture about their role in the ecosystem, but you'll remember it a lot better if you're standing ankle-deep in a mangrove swamp as we talk about it."
Along with the experience and memories, the students brought back a treasure trove of photos. And in the midst of winter's frigid grip on Norton, the pictures of the class research trip to the tropics looks better than ever.
Photos courtesy of Elizabeth Bouchard, Anna Budrow, Ciara Sidell and Scott Shumway,