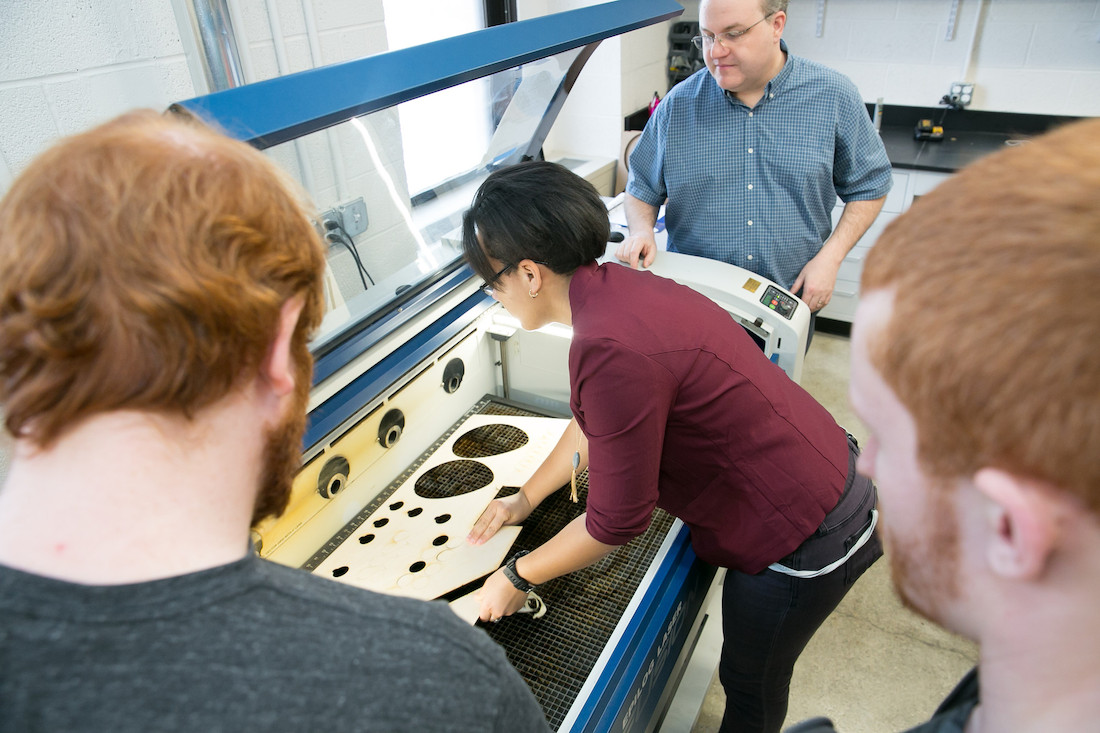 Wheaton named 11th in U.S. for innovative spaces
Wheaton College has been recognized as a great place to create, earning a spot on Great Value Colleges' list of U.S. institutions with the "50 Best Maker Spaces."
The list features college makerspaces that provide cutting-edge equipment and technology in a comfortable environment and show innovative approaches to learning, plans for growth and other signs of vibrant activity. Wheaton is ranked 11th on the list.
Other schools making the top 15, as reported by Yahoo! Finance and other news outlets, include Stanford University, Harvard University, Brandeis University and Georgia Institute of Technology.
"Any of the colleges in this list is a fine choice for a prospective student who wants to make products on their own, with other students and with faculty alike. The maker spaces in these colleges have things that all creative institutions should strive for," Great Value Colleges writes.
The list highlights colleges that cater to a variety of students, recognizing the different needs of students in different fields.
Through Wheaton's IMAGINE Network, students have access to a wide range of resources, including the HATCH virtual reality lab, FiberSpace (featuring a digital jacquard loom) and Lab 213, which houses a laser cutter and engraver, four 3D printers, a 3D scanner, CAD design software and hardware and a machine shop with a 5-axis milling machine, along with many other tools and tech.
"What makes the primary makerspace of Wheaton College, Lab 213, really incredible is the Wheaton Makers' Coalition," Great Value College writes. "This is a student organization that integrates closely with the college faculty to use the makerspace for incredible projects. This coalition has created 3D-printed microscopes, wave pendulums and much more."
To determine the best makerspaces, Great College Values reviewed a number of articles on the topic, including a piece from EdTech that highlights Wheaton's first makerspace—the Wheaton Autonomous Learning Lab (commonly known as WHALE Lab), which started in the research lab of then-Associate Professor of Computer Science Tom Armstrong.
From the beginning, makerspaces at Wheaton have had strong investment from faculty, who act as advisors and collaborate with students on a range of projects, sometimes sparking the ideas themselves and other times providing enthusiastic support when students come to them with big ideas.
These days, Wheaton's makerspaces have a strong connection with programs in the arts, sciences and more, including the business and management program. Many student entrepreneurs working through the Wheaton Innovates Hub create their first prototypes in the college's makerspace labs.