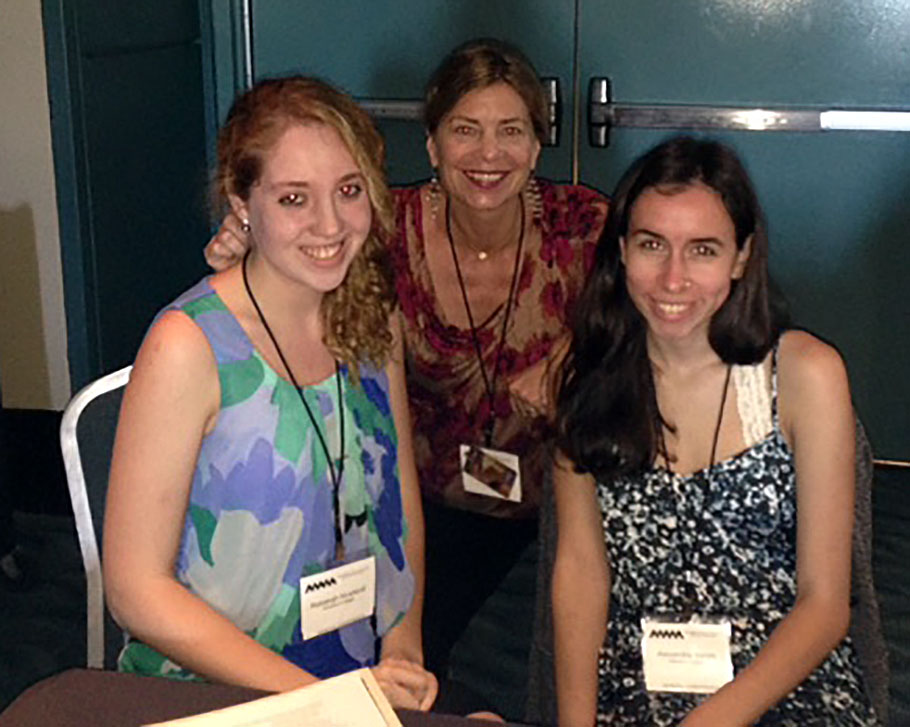 Professor Kim Miller and students Alex Natale '16 and Rebekah Howland '15 recently traveled to San Juan, Puerto Rico to present their work at the National Women's Studies Association Conference. It was an honor made even more special by the record number of projects submitted to the conference this year, and by the fact that less than a dozen undergraduates were among the nearly 2,000 conference attendees.
Their presentation focused on a new digital initiative Miller has built into her Introduction to Women's Studies course, in which students created digital timelines made up of photographs, letters, poems, legislation, videos, articles, artwork and other primary materials using Timeline JS, an open source tool.
Natale, a double major in women's and gender studies and film and new media studies, created a timeline of feminist art for her class project, drawing from online image databases and videos.
She and Howland presented their work at the November conference in a roundtable, titled "Doing Feminist Research and Activism Digitally," along with two students from The College of New Jersey.
"I was thrilled with how our session went," Natale said. "Women's and Gender Studies professors, as well as professors from different fields, want to adopt the project we did. We had a great turnout to our session, and our audience was active and engaged. They were very impressed with the work we did, and we got to represent the amazing resources Wheaton has provided us."
Wheaton Digital Learning Strategist Pete Coco provided Miller's students with in-class training on using the Timeline program.
"The tech and library staff who support faculty and student work at Wheaton are critical to this kind of innovation," Miller said. "The audience at the conference—about 30 people—were all envious of this support. The project could not have happened without Pete."
For her class timeline, Howland looked at what countries around the world have been doing to combat sex trafficking.
"[At the conference] I chose to focus on the process of creating the timeline more than the content, because I felt like one of the biggest strengths of the project was the collaborative nature of the process," said Howland, a double major in women's and gender studies and sociology. "I also spoke about how the timelines serve as a way to introduce someone to a topic they may otherwise have no experience with and to make feminist issues and history easily accessible to people who don't have a background in feminist theory."
The trip was supported with funds from the offices of the President, Provost and Dean of Students. Along with presenting, Miller and her students enjoyed panel discussions, talks, plenary sessions and networking opportunities at the conference.
"I had the opportunity to hear scholars I had studied in class—such as bell hooks and Angela Davis—speak, which was incredible," Natale said.
Howland's favorite session was a panel that focused on the gender politics of post-apocalyptic television shows and movies.
"I was able to talk with established feminist scholars from graduate students to professors to high school teachers and hear their perspectives on a wide variety of topics," she said.
The experience also provided Howland with a chance to practice presenting her research—a skill she'll draw on when she defends her senior thesis in a few weeks.
Miller's digital timeline project was also highlighted in a January 2014 article in The Chronicle of Higher Education that looked at how professors use technology to teach the humanities.