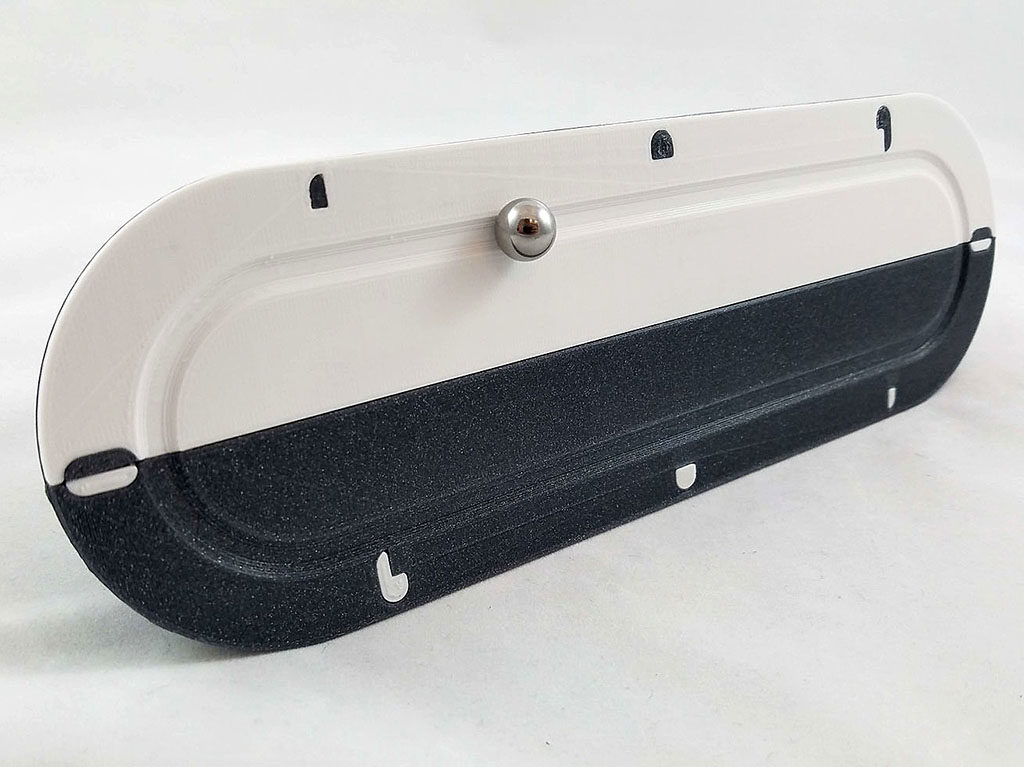 Junior maker crafts award-winning clock to help manage productivity
Trying to fit all of college life—classes, studying, socializing, sleeping—into 24 hours can be tricky, as Wheaton junior Eammon Littler '20 discovered.
"I would work late into the night and wake up at 10, 11 and even 2 the next day," he said. "Waking up to half the day already spent feels awful."
So over the summer Littler designed and built a clock that would better illustrate how much time he has each day to get things done. The device, which he calls a TLID (Time Left In Day) Clock, won second place in a design contest on the maker website instructables.com.
The elongated clock is split into halves, with the top representing daytime and the bottom representing night. Instead of numbers marking the hours, the clock features notches that represent fractions of time. He can program the clock according to his ideal schedule—waking up at 7 a.m. and going to sleep at 11 p.m., giving him 16 hours of awake time and eight hours of sleep. A small ball bearing moves along a track on the clock—slowly during his waking hours and then faster at night, when he should be asleep.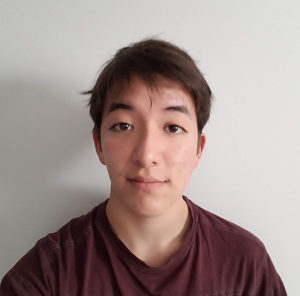 "If I sleep in and wake up at 12 p.m., I have a good chunk of my morning already gone. I wanted to represent that as a fraction and see how much time I've wasted than if I'd woken up at 8," said Littler, a double major in computer science and physics.
He still wears a watch to tell time but can also tell the hour by the time parameters he set on the clock (7 a.m. to 11 p.m.).
"The clock gives me an instinctual feeling of how much time is left in the day," he said.
The design plans and assembly instructions, including the code Littler used to program the clock, are available on instructables.com, for anyone to recreate. The clock's main structure was crafted on a 3D printer, and a stepper motor runs the device.
Littler, who works as an assistant two days a week in the Lab 213 makerspace, said he was first introduced to instructables.com in high school, when he went searching for 3D printer files. He later discovered the website was managed by Autodesk, the company behind the 3D modeling software he uses.
"It's really a positive community. Everybody is so supportive," Littler said of instructables.com. "Because everyone knows what I'm talking about, it's really easy to engage at a higher level."
The website runs three or four design contests every couple of months, and Littler has entered others, but this is the first one he placed in. It's also the first contest for which he explicitly designed a project—others he entered with ideas already in mind.
Along with that "sinking feeling" of waking up to a half-wasted day, Littler found inspiration for his clock while on a faculty-led research trip to Iceland this past summer.
"We were coming back from a volcano and it was a long car drive, and I was just looking at the sun setting and it was really interesting, because in Iceland in the summer the sun doesn't really set," he said. "Before that, I was thinking of time as infinite, but then I started changing the way I was thinking about time—what if you just cut it off as a linear thing instead of something that just keeps going over and over, because there is a cut-and-dry start and end to a day."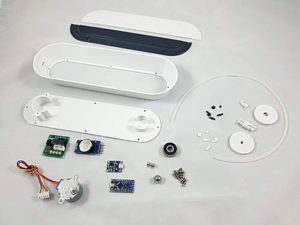 Winners of the instructables.com contests are selected through community vote on the website and by judges from Autodesk, Littler said. For second place, he received a multi-tool, T-shirt and card from the company thanking him for being part of the online maker community.
Littler is also an active member of Wheaton's maker community. Last year, he helped lead the new Makers Coalition, a student club for makers, and this year he hopes to continue the momentum started by the group, though many of its members are studying abroad this semester. This year, the group is hoping to create an online community, using the social media app Slack, where students can share ideas and promote demos and workshops and faculty can seek student help for their projects.
He's also already tackling his next maker projects, which include exploring how 3D modeling can be used with origami.
"I'm really interested in engineering folds—for packing, some shapes, some tessellations, are really good at collapsing, and new ones are found every day. This origami pattern, the first time I tried folding it, it took me three hours," Littler said, holding up a piece made with the complex Miura fold. "When I 3D printed it, it took me less than 10 minutes."