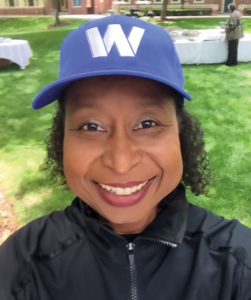 And just like that, summer is over. How is it possible? Weren't we just at Commencement Reunion Weekend? It seems to go by faster every year.
Maybe that's because each summer at Wheaton seems to get busier with programs that are broadening the college's reach across a wide range of students—starting from elementary school youths participating in Exploration Summer Programs to high school students from around the world taking part in the Global Leaders Program. (And our own Wheaton students were engaged in research with professors and other projects on campus, including mentoring future global leaders.)
The numbers from Becky Ebeling, director of conference and event services, provide a glimpse of how busy we were: nine programs brought 1,563 people to campus over eight weeks; 34,819 meals were served in Chase Dining Hall; every residence hall was occupied at some point during the eight-week summer program period, which featured everything from bioengineering to triathlons.
I had the pleasure of sitting in on a session of the Global Leaders Program to hear students pitch solutions to pressing social problems. They were poised, confident and imaginative in their presentations and the perfect embodiment of the spirit of social innovation that is being encouraged and supported at Wheaton, with the help of a historic grant from the Diana Davis Spencer Foundation.
This issue of the magazine offers a glimpse into this program and the many other initiatives providing students with opportunities to think about big challenges and to devise big solutions. We also have feature profiles on two alums who are engaged in innovative approaches in their careers.
Hold onto any remnant of summer that you can. I'm already wearing a sweater and getting ready for a full-speed-ahead fall. Enjoy yours.