Karl Rivera '16 embarks on photography project in India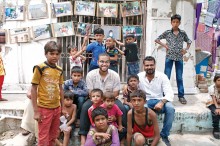 After spending time in Ahmedabad, India, as a participant of the International Honors Program in 2014, Karl Rivera '16 knew he had to go back.
"I was profoundly affected by the time I spent in India. I saw firsthand the transformative power of grassroots initiatives in communities experiencing unprecedented social and economic inequality," he said.
Rivera, a visual sociology major, found an opportunity to return to India when he was awarded a Davis International Fellowship last summer.
During his first trip to India in 2014, he visited "slum" communities and found people yearned for the acknowledgement that comes from being in front of a camera.
With that in mind, as a Davis fellow, Rivera's visual ethnography project utilized photography to better understand how marginalized people construct their identities and make sense of their location among majority communities.
Rivera spent a month and a half in the Ramji Ni Chaaloi community of Jamalpur, which is in the old city of Ahmedabad. "It's a special place in Jamalpur that has retained its cultural diversity in spite of the communal violence that has plagued the city for decades," he said.
Rivera equipped locals with digital cameras so they could express how they see the world, and their place in it. Over the course of his fellowship, Rivera and seven local participants took more than 4,500 photographs.
These photographs, which Rivera is studying as part of his senior honors thesis, will be displayed at his final arts exhibition in the Beard and Weil Galleries in April 2016.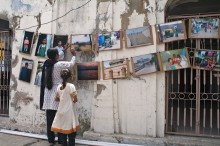 "We captured the vibrant, always moving community while marveling at its heritage structures," he said. "Through the images, I was introduced to people and their everyday tasks: dinner, prayers, rituals, cleaning and relaxing. In my own expeditions, I met people who were so happy to share what a privilege it was to live in this community."
Rivera also learned about some harsh realities of life in Jamalpur, including the poor conditions of the mills; flooding issues that caused a water treatment plant to turn into a rat-infested pool of garbage; accidents caused by the rapid development by the riverfront; and displacement of people due to a faulty sewage pipe.
But despite these negatives, children often flashed their smiles for Rivera and the other photographers. "The youth showed me all the places they play and spend time with their friends. I've learned about their strong love for climbing, marbles and cricket," he said.
The fellowship provided Rivera with clarity about his future career aspirations. "I intend on continuing to use art as a tool to better understand and work with communities," he said.
Professor of Sociology John Grady—who had Rivera in his "Visual Sociology" course—praised him as a student. "He stood out for his enthusiasm, the quality of his thoughts and his engagement with the issues of the visual representation of social action," he said.
Grady has partnered with Rivera in organizing and analyzing photos Rivera took in India—and in a separate trip to Senegal—to develop a protocol for non-exploitative image making.
"Karl not only takes terrific photographs but is drawn to those that are rich in information. Karl has a natural talent for fieldwork, and his sensitivity to people and their situations is quite developed for an undergraduate," Grady said.
Rivera said he looks forward to working with organizations to use photography to bring about change and empowerment to marginalized groups.
In the meantime, Rivera is eager to go back to India. "I have already started planning how I could return," he said
Photos from  Karl Rivera '16