The student becomes the teacher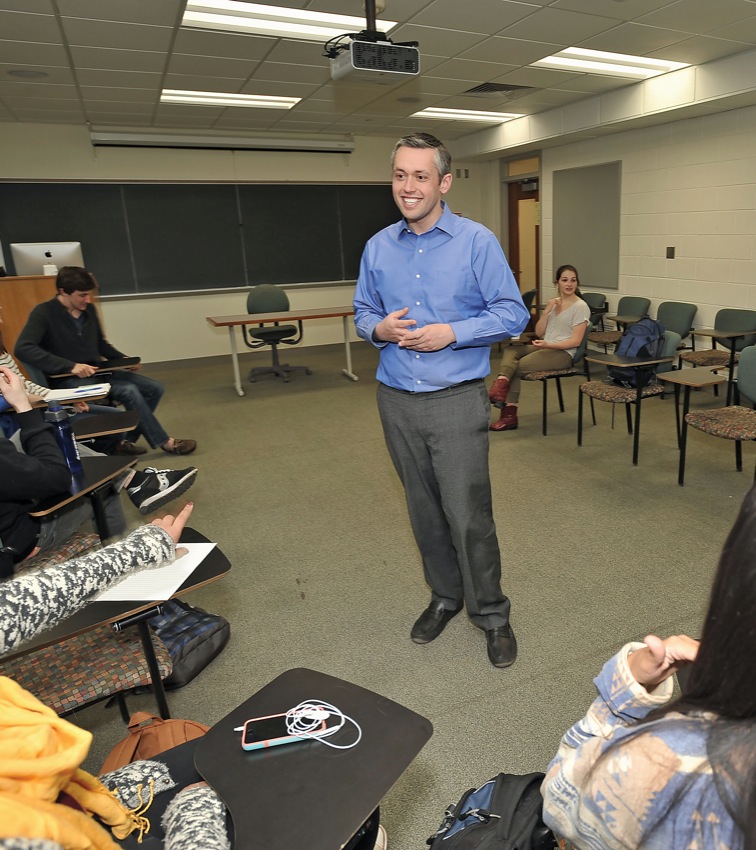 I was blessed during my time at Wheaton to be taught by a long list of wonderful professors. Darlene Boroviak, Anni Baker, Jay Goodman, Jerry Murphy, Gerry Huiskamp—the list goes on. They were smart and commanding teachers, but generous with their time and knowledge. I idolized them.
So it was a bit surreal—not to mention delightfully flattering—when Wheaton asked me to join their ranks and become a part-time journalism instructor this past spring semester. The English Department's leaders said they hoped my experiences in my day job, as a political reporter for Rhode Island's CBS-TV affiliate, would yield some useful insights for the 10 students in my class.
I'll never forget the moment I was given the keys to my (shared) faculty office in Meneely Hall. As a student I'd visited similar offices many times in search of guidance; now it would be my job to try and provide it. I was excited but apprehensive.
The first thing I learned after accepting the job was that, much as I'd greatly admired my own professors, I'd never appreciated just how much work it must have been for them to plan a class. Writing a syllabus turned out to be one of the toughest, most time-consuming tasks I've ever undertaken.
It also turned out to be one of the most rewarding. It forced me to deconstruct and re-examine my unspoken professional assumptions and to articulate why I believe passionately in the value of professional news-gathering. And I could never have done it without the guidance and support of a number of my new colleagues, especially English professor Lisa Lebduska, who gave me a crash course in the art of teaching through countless conversations and emails. (Thank you, thank you, thank you, Lisa!)
I was extremely nervous the night of our first class session, more so than I expected, considering my day job is in the public eye. I felt the weight of inexperience, but also responsibility. Would I connect with my students? Would I be able to teach them anything? Would they be engaged by the material I'd chosen? Could I manage a class discussion? How would their perspectives on journalism differ from my own?
It turned out I shouldn't have been so worried—not due to my own skills so much as the aptitude of my 10 sophomores and seniors. Over and over I was surprised and impressed by how engaged, thoughtful and sincere they were. That was especially true during our discussions of topics in the headlines, such as NBC anchor Brian Williams's suspension or the infamously flawed Rolling Stone article on campus rape. (Don't believe anyone who says young people have low standards: if it were up to my students, Williams and the Rolling Stone editors would be looking for new jobs today.) I learned from them, too, and not just about journalism: they had to explain to me what the new social-messaging service Yik Yak is. I'm only 31, but I felt pretty old after that discussion.
The entire experience reinforced to me the power of the Wheaton model. Over the course of the semester I got to know all 10 of my students as individuals—their academic strengths and weaknesses, their writing styles and abilities, their interests, their personalities. That allowed me to try to come up with a strategy to help each of them learn and grow despite their different starting points, and to make sure everyone's voice was heard in discussions. That just wouldn't have been possible with the much bigger class sizes typical at a larger institution.
Wheaton is a special place, and teaching here has only made me prouder to call it my alma mater.
Ted Nesi '07 is an award-winning journalist, who covers politics and the economy at WPRI-TV in Providence, R.I. The Washington Post included him on its 2015 list of the best state political reporters. Read more about him online at wheatoncollege.edu.