Sally Bedell Smith '70 queen of best-sellers on British monarchy
By Andrew Faught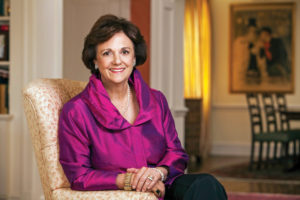 From her family's white stucco colonial in suburban Philadelphia, a young Sally Bedell Smith '70 gazed at the black-and-white television and absorbed the pageantry unfolding more than 3,500 miles away. The coronation of Queen Elizabeth II, in the Gothic splendor of Westminster Abbey, cast a hypnotic spell on her.
"I remember that tiny screen and the person in the middle of all that incredible panoply," Smith recalls. "For a 5-year-old mind, I had no idea what was going on, really, but it was such an event in 1953."
She didn't know it at the time, but the spectacle would fire in her a passion for all things English. She went on to become a bestselling author, and one of the world's foremost interpreters of the royal family, a famously private clan.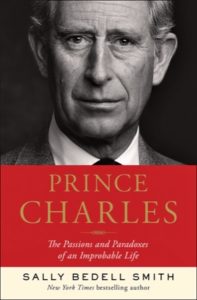 Of her latest, Prince Charles: The Passions and Paradoxes of an Improbable Life (Random House, 2017), The New York Times calls the work a "diligent and exemplary" exploration of the heir apparent to Queen Elizabeth II.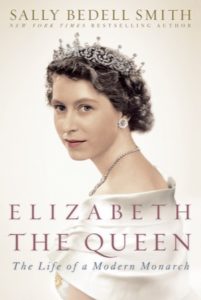 Two other best-sellers, Elizabeth the Queen: The Life of a Modern Monarch (Random House, 2012), and Diana in Search of Herself: Portrait of a Troubled Princess (Signet, 1999), lend both gravitas and delectable insider nuggets to a monarchy that has captivated Anglophiles the world over for going on seven decades.
Royalty or otherwise, " with Sally, you're getting a fair view of someone, not a tacky or cheesy view, not a tabloid-level discussion of someone," says Random House Associate Publisher Kate Medina. "She makes you care about the person on a human level."
Smith's work has gained heightened resonance with the Netflix release last year of "The Crown," a 10-part biographical series on the reign of Queen Elizabeth II. (For the record, she gives the show a thumbs up.) The allure of the royals, she notes, isn't difficult to comprehend.
"Somewhat atavistically, England is our country of origin, and it certainly shaped our early years as a country," Smith says. "There's a kind of kinship, and shared cultural and political values."
But the writing life (she has penned five other books on non-royal subjects), or her role as a royal fly on the wall, wasn't a sure thing when Smith graduated from Wheaton with a history degree. It wasn't even a consideration.
Top-level professional job options weren't plentiful for female college graduates in 1970, leading Smith to apply for secretarial work at the Carnegie Corp. in New York. She got the job and, as she hoped, the work had a kind of osmotic effect. ("It was like being back in college, because it was very academic and the issues were policy oriented," she says.) Smith worked for Avery Russell, the organization's head of public relations, who saw something in her young charge.
"She said, 'You know, you really should write,'" Smith recalls. "And she gave me more and more writing assignments, writing for their quarterly and annual reports, writing press releases. She saw some little spark of talent and encouraged me to take writing classes at night, which I did."
Smith took courses at New York University and, with Russell's encouragement, enrolled at Columbia Journalism School, where she earned her master's degree. From there, "I decided to see what I could make with my luck."
And she did, to great effect. Smith would write for Time, TV Guide and The New York Times, where she covered television. In 1981, she wrote her first book, Up The Tube: Prime-time TV and the Silverman Years, about influential television executive and producer Fred Silverman. Smith now is a contributing editor for Vanity Fair.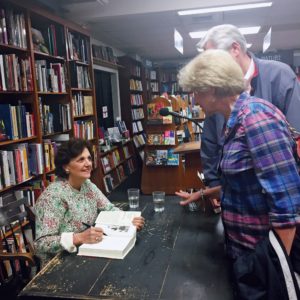 Former Time colleague and fellow author Evan Thomas calls Smith "the most relentless and skillful reporter I've ever met."
"She will go back and back and back to a subject until she gets what she's looking for, and what she's looking for is the whole picture," he adds. "She's very empathetic, so people trust her and open up to her in ways that produce great books."
It's a sentiment shared by Random House editor Anna Pitoniak.
"And she has a wonderful eye for detail," she says. "Sally can put you into a room or into a situation with one of her subjects so that you can picture either the room that they're in, or what they're wearing, or the food that they are eating. There's a lovely tactile quality to her writing."
Smith's journey was formed in no small part by her experience at Wheaton. In Norton she drew inspiration from history professor emeritus Paul Helmreich, after whom the college's annual Helmreich Symposium is named. The event is designed to engage students with questions of history and historiography, the study of historical writing.
Helmreich, particularly as writing went, stressed in his students the importance of sound thinking and organization, traits Smith has assiduously nurtured in her long journalism career.
"When I would do papers, his comments were very perceptive," she says. "He provoked his students to take the next step, to think a little more deeply and connect the dots in different ways."
She has been connecting dots ever since.
Wheaton alumna Amanda Urban '68, an English major and now Smith's literary agent, says she met her friend through a roommate, who also was from Philadelphia. The pair clicked immediately.
"Sally always had enormous energy and curiosity, and even then she was digging deep into finding out about things," Urban says. "She was a dogged researcher and a natural storyteller, and a really interesting and fun person to be around."
Urban also notes that the friends talked about the Vietnam War and the then-roiling women's rights movement. Today they continue to talk, but mainly about determining the best book for the market.
"And then Sally goes off and does all the hard work," Urban says.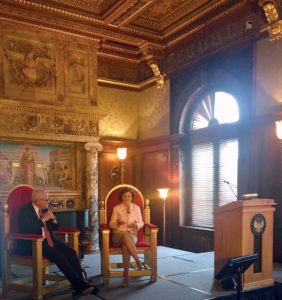 It wasn't until the early 1980s that Smith's passion for the British Isles bloomed like May gardens in Stratford-upon-Avon. With her husband, Stephen G. Smith, former editor of U.S. News & World Report and currently editor-in-chief of the National Journal, "we found ourselves only wanting to go back there, and over the years managed to make a lot of friends" in journalistic circles, and through her husband's passion for golf and court tennis. For work or pleasure, Smith has made an estimated 50 trips to Great Britain.
In Windsor in 1991, she first observed Prince Charles at a polo match at the Royal Ascot and Guards Polo Club. Charles, a fanatic of the game, wasn't playing because of a back ailment. Recognizing a friend of the Queen Mother, Charles, dressed informally in a blue blazer and khakis, approached the friend with solicitude that ran counter to the public face.
"He seemed so different from his public persona," Smith says. "He was just very charming and warm, and this was at a time when the tabloids were filled with stories about how awful he was to Diana. There was this caricature of him as this stick-in-the-mud type, and he just seemed so different. I tucked it away as a perception."
Three years later, Smith encountered Princess Diana on Martha's Vineyard, where both were beach picnic guests of the late Washington Post publisher Katharine Graham.
"I didn't have a lengthy conversation with [Diana], but I did see something that didn't click into focus until I started working on her biography after her death three years later," Smith says. "Her mood was so variable. She was initially very affable, but moments later she had kind of completely shut down and the rest of the afternoon she was sort of withdrawn. She was in some respects different from what the public saw."
Two days after Diana's death in a Paris car crash, Random House asked Smith if she could write a book on the princess. She agreed and traveled to England for Diana's funeral, "which was nothing short of astonishing: people streaming into parks putting flowers everywhere and weeping." The book evolved into a psychological study of the woman an adoring British public anointed the English Rose.
A decade after Diana's death, in 2007, Smith had another royal encounter, meeting Queen Elizabeth II at the British ambassador's residence in Washington, D.C. The queen, normally impassive and unemotional, showed a decidedly different side as she discussed horse racing—specifically, the Kentucky Derby—with Smith's husband.
"Before we were introduced to her, we'd obviously been instructed not to ask her a question—and not ask if she'd placed a bet," Smith recalls. "[Stephen] went ahead and said, 'Well, your majesty, did you put a wager on Street Sense?' She reacted with almost glee.
"She could suss out that he knew something about horse racing, and they proceeded to relive the entire experience of the Kentucky Derby."
Nine months later, Smith embarked on a three-year exploration of the queen's life. The book garnered roundly positive reviews, but there's been no peep from the queen: "She was familiar with it, certainly," Smith says, "but she's so ego-free that she doesn't read anything about herself, really."
While there are no authorized biographies of any member of the royal family (neither has the queen ever granted an interview), Smith based her story on voluminous research and the reminisces and accounts of royal associates, who spoke to her because they appreciated her "fair" treatment of Diana.
Smith chafes at the notion that she's an "unauthorized biographer," an appellation that connotes a kind of reckless aggressiveness in writing about a subject. Instead, she prefers the more genteel "independent biographer."
One of her biggest fans and longtime friends is Wall Street Journal columnist Peggy Noonan, winner of the 2017 Pulitzer Prize for commentary.
"Sally picks subjects who she rightly considers to be fascinating human beings, or people who have wound up in fascinating circumstances," Noonan says. "She thinks of the acute and interesting and real questions about their lives, and then she goes to them in the politest way possible for reflection. She's simply looking for truth. She's like a fabulous detective, with a literary sensibility."
Smith is a self-described extrovert who loves the process of investigating and interviewing sources—and embarking on the obligatory book tour. In mid-May, she was resting at her Washington, D.C., home after being on the road for five weeks promoting her Prince Charles book.
She lives in the city's tony Kalorama neighborhood, counting among her neighbors Barack and Michelle Obama, Jared Kushner and Ivanka Trump, and Jeffrey Bezos, founder of Amazon and owner of The Washington Post.
A guest room doubles as an office and is crowded with boxes of files: interview notes, notes on books and notes on television documentaries and travels. There are biographical files divided chronologically and by character traits, along with sundry files on everything from religion and architecture to water color painting (a pastime Prince Charles enjoys).
The walls are hung with reviews of her books, caricatures that were given to her, and a "lovely" photograph of President Kennedy by Alfred Eisenstaedt. (Smith's book Grace and Power: The Private World of the Kennedy White House was published in 2004.)
She maintains a daily writing schedule, starting in the late morning (after 1 1/2 cups of coffee "to get me started," and Chamomile tea during the writing process), with the goal of completing 1,000 words. She's even taken up writing at a standing desk because "it enables me to walk around, and I think that sometimes can shake loose clogged thoughts in your brain." Then, most days, she ends her day by taking an hourlong walk at nearby Rock Creek Park.
"That's something Prince Charles has preached, the virtues of being out in greenery and how it can sort of calm down your brain and let things flow," says Smith, who doesn't saunter without pen and paper or her iPhone, into which she'll record thoughts for her writing.
When she's not writing, the mother of three is an avid moviegoer; her son David Branson Smith is a screenwriter.
Smith, who also is on the advisory board of 826DC, a nonprofit tutoring center that teaches writing to students, says that she's "keen" to get started on another book, but that she hasn't yet settled on the topic.
Whatever the subject, Smith will likely be hard-pressed to rest once she starts a new project.
"I have a lovely daybed in my office that I have used probably twice since we moved into this apartment in 2000," she says. "It's covered with boxes of files."