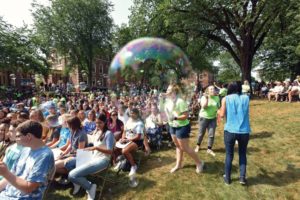 Here's how a current student describes the Wheaton experience:
"I have made extremely close ties to many professors here at Wheaton. My art history professors have helped me get internships over the summer, given me research opportunities and helped me with my transition to college. I honestly couldn't ask for a better support system."
That quote comes from the recently published The Princeton Review Best 382 Colleges 2018, which features current students describing Wheaton. The description of the college is drawn from a survey that the guidebook conducted on campus last winter. The views expressed by students—praising the expertise of our faculty and their dedication to teaching, as well as our emphasis on active learning—will sound familiar to people who know Wheaton.
The book also describes campus life and student culture. "Undergrads also applaud the fact that their college 'is home to a wide array of culturally-diverse and open-minded individuals.' Indeed, 'everybody is very welcoming and very willing to learn about new cultures and experiences.' That's probably due in large part to the fact that Wheaton has 'students from all over the country as well as the world …'"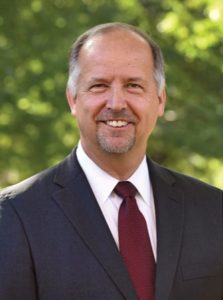 This is great affirmation for the learning environment we strive to create and maintain. Not coincidentally, these also are the attributes that attract the incredible students who come to Wheaton. And the college's reputation is clearly growing. Again this fall, the college welcomed an historically large group of first-year students, second in size only to last year's Class of 2020, which was the largest in Wheaton's 183-year history. At the same time, the diversity and intellectual vitality the students bring continually amazes.
This college has incredible momentum. As a community, Wheaton has achieved remarkable success in recent years, in a challenging economic climate that has intensified the competition among colleges and universities. The college's recent enrollment success is one indicator of that accomplishment, but there are many others, such as the dedication and expertise of the faculty as well as the college's leadership on critical issues.
For example, Wheaton organized and hosted the Summit for Women in STEM, which brought scientists from private corporations and colleges together with young women from across New England who are studying science, mathematics and engineering. This inaugural event was the brainchild of professors Rachelle DeCoste (math) and Laura Ekstrom (biology), who recognized that their female students needed role models and encouragement and built a program that will have an enormous impact on our campus and beyond.
The STEM summit exemplifies one of our greatest advantages, which is clarity of purpose. Wheaton offers an amazing array of programs and opportunities for students, but it is all focused on one thing: helping each student discover their passion and develop the skills needed to pursue that interest on campus and beyond. And the entire Wheaton community is committed to this idea. That is another incredible advantage we possess as a learning community.
Wheaton's alumnae/i are exceptionally dedicated to the school. The number of graduates who come back to campus each year for Reunion, to bring a child or family member for a campus tour as part of the college search process, or to visit classes and mentor current students is growing each year. This makes a difference, as does alumnae/i philanthropy. Overall, the college received $13 million in gifts and the Wheaton Fund hit a record high of $4.8 million in the 2016–2017 academic year, due in no small part to the increasing participation of alumnae/i.
On the strength of that kind of loyalty, Forbes magazine recently included Wheaton on its list of "Best Loved Colleges." That sounds right to me. I regularly experience the enthusiasm our community has for this institution and its mission. It is shared broadly and deeply by students, faculty and staff, parents and alumnae/i. And it's driving us forward toward our shared goals to ensure that Wheaton continues to build on its strengths and make a difference in the world.