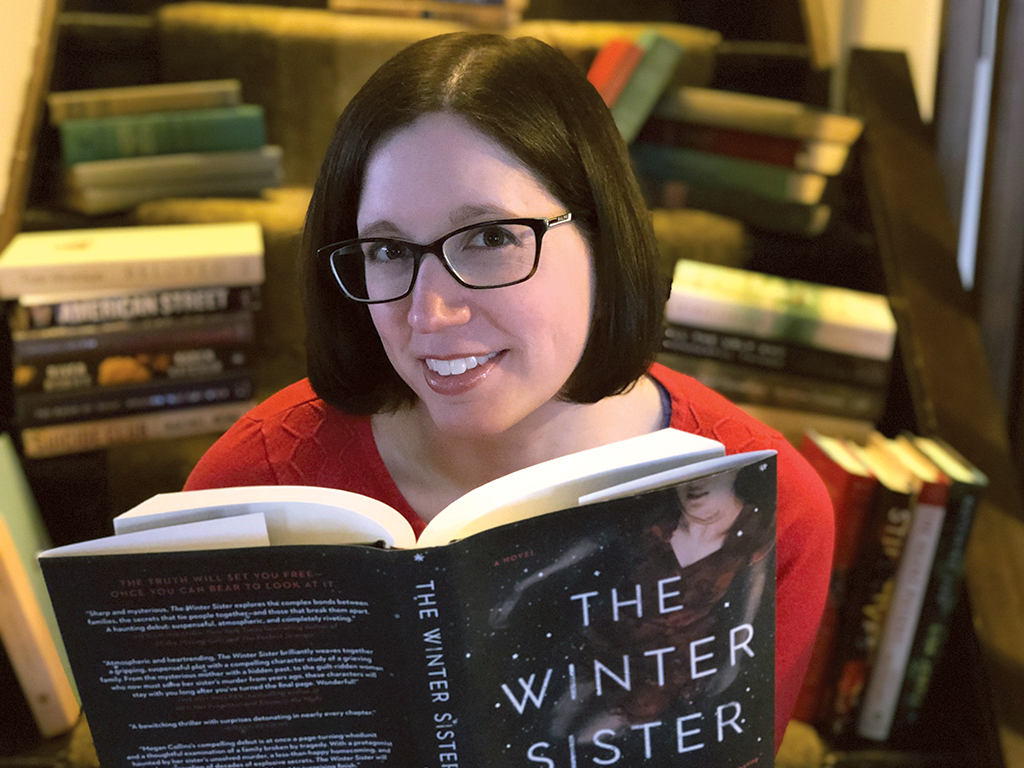 Megan Collins '06 fulfills lifelong dream with debut novel
The first sentence of Megan Collins's debut novel The Winter Sister is only 19 words long. Yet, the murder mystery manages to immediately spark surprise, sadness and a captivating curiosity that hooks the reader in seconds—including the publishing house editor who read the author's original manuscript submission.
Collins, a 2006 graduate who majored in English with a creative writing concentration, says she owes the ability to craft such a compelling opening—as well as the realization of a lifelong dream to publish a novel—to her studies at Wheaton, particularly in courses with English professors Sue Standing and Deyonne Bryant.
"I know that I would not be where I am today, either as a writer or a teacher, without the guidance of my wonderful mentors at Wheaton," said Collins, who teaches creative writing at a magnet high school in Connecticut.
"Every time I write—whether it's a poem, a piece of flash fiction or a novel—I'm using techniques I learned in my poetry and fiction classes at Wheaton," she said. "I often think about an Amos Oz book that Professor Bryant had us read, in which the author said that the opening to any story is a contract between reader and writer. This was certainly on my mind as I drafted the first sentence of my book, helping me make sure I established the correct mood for the story as a whole."
Collins said she has dreamed of being an author since she was 6 years old after writing her first short story, "The Bad Cats," and discovering the magic of creating worlds with words. Failed attempts to get two prior novels published as an adult hurt but didn't deter her.
The Winter Sister, which was published by Atria/Simon & Schuster in February, delves into the complexity of mother-daughter relationships, loss, grief, secrecy and the search to find out who killed Persephone, the sister of Sylvie—the narrator of the story.
Since the release of her book, Collins has been busy promoting it through talks and signings, including at the Manchester Public Library, Barnes & Noble and Mohegan Sun Connecticut. She also had an appearance at the Harvard Coop in Cambridge, Mass., which professors Bryant and Standing attended.
Last April, the Wheaton community got a sneak peek of the novel when Collins visited Bryant's  "Advanced Fiction" course and did an evening reading as part of the "Readings by Writers" series in Beard and Weil Galleries.
Collins's love of Greek mythology played a role in developing The Winter Sister. Her favorite myth, because of the many ways it can be interpreted, she said, is that of Persephone and Demeter. According to the myth, one day while gathering flowers, Persephone, the maiden of spring and the daughter of Zeus and Demeter (goddess of agriculture), was abducted by Hades, the god of the underworld. Demeter, in her grief, withheld her gifts and the earth turned into a frozen wasteland.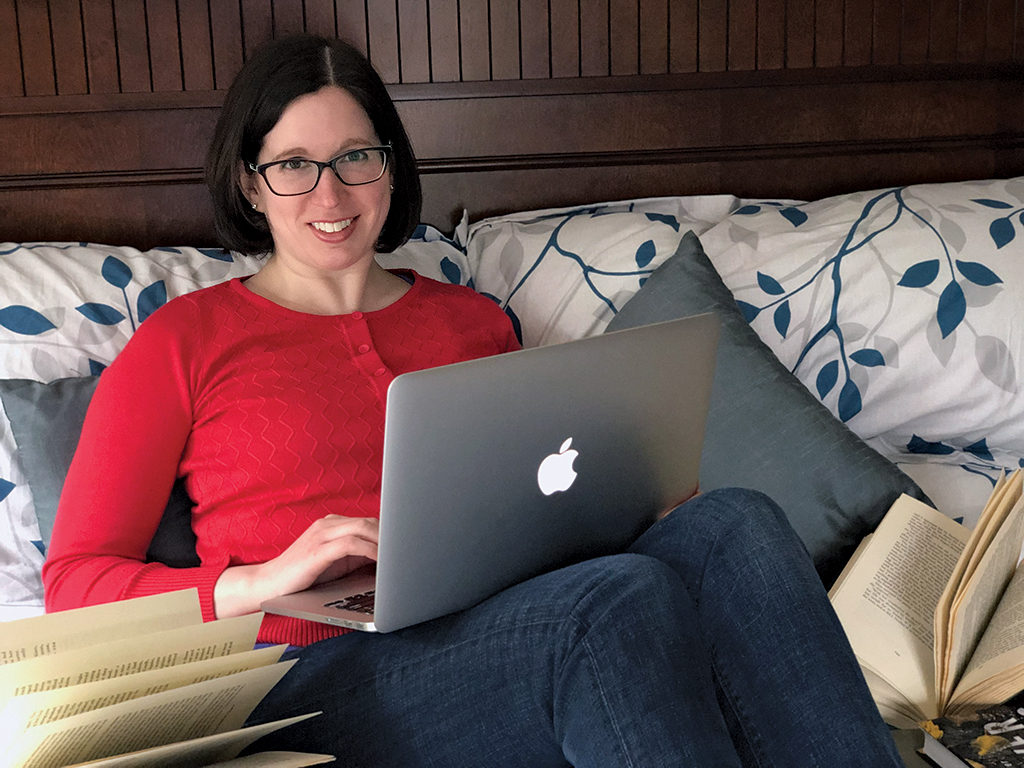 "The idea for this particular novel came to me when I thought about the myth and wondered, 'What would have happened if Demeter had had another child, who was left to navigate the loss of Persephone in the wake of her mother's intense grief and neglect? What kind of adolescence would she have had, and what kind of adult would she become?' Sylvie, the narrator of my novel, is my answer to that question," Collins said.
The research that Collins did for her honors thesis at Wheaton—a collection of poems that was, in part, conversations between characters in Greek myths—also helped bring forth the idea for the book. "I like to think that The Winter Sister, which is also a re-envisioning of a Greek myth, is an extension of the kind of work I did for my thesis, even though it's in a completely different genre of writing."
Standing, who is now retired, was Collins's honors thesis advisor. She recalled her as an extraordinary writer. "In her work, she showed a remarkable depth of knowledge and imaginative insight," said Standing. "She is also one of the wittiest people I have ever met."
Bryant said what she remembers most about the author is that she was curious, had a mastery of language and was dedicated to her writing: "Megan was disciplined and self-motivated; she was always reading or writing something beyond the assignments required of her in class. Her work ethic is amazing, and I am thrilled by her success."
After graduating from Wheaton, Collins earned an M.F.A. in creative writing from Boston University. She has taught at Central Connecticut State University; she is currently in her 11th year as a creative writing teacher at the Greater Hartford Academy of the Arts and is the managing editor of 3Elements Literary Review.
In 2017, she won second place in concis: a journal of brevity's Pith of Poetry & Prose Contest for her flash fiction piece "Errands," which is about a woman who sees a bride in line at the grocery store and believes she has a connection through a shared emotional experience. Collins, whose work has been published in many online and print journals, also received Best of the Net and Pushcart Prize nominations for several of her poems.
Her next novel, Behind the Red Door, is scheduled to be published by Atria/Simon & Schuster in 2020.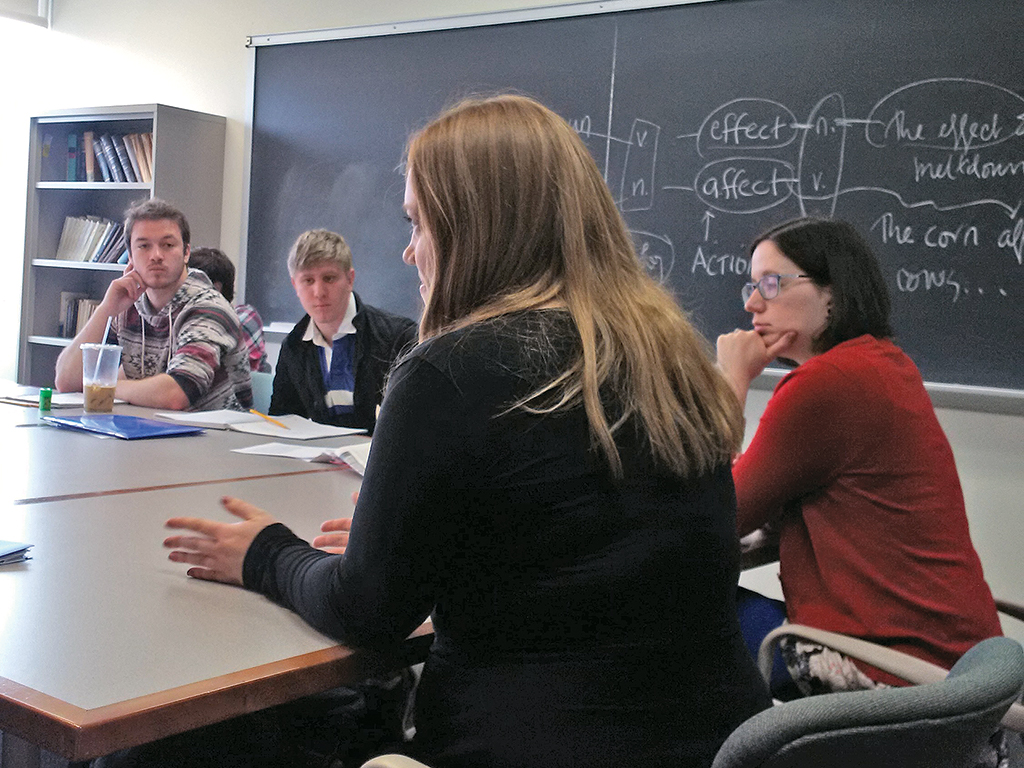 In the meantime, she continues to pay forward her Wheaton experiences by inspiring young writers in a variety of classes and workshops, including those focusing on poetry, mythology and film.
"I love working with young people who are as passionate about writing as I was when I was their age," she said. "I love guiding them to see their potential and celebrating with them when their hard work pays off—whether that's through winning contests, sharing their work in front of an audience, getting pieces published or getting accepted to college. I also love feeling like I'm just one artist working among many. I am their teacher, yes, and I have more years of experience than they do, but at the end of the day, we are all just writers working together, continuing to develop our craft.
"I love the magic of playing with language, of finding a new way to describe something we've all seen a thousand times. I love that all stories, no matter what they're about, are essentially a metaphor for a truth that the writer has experienced within the world, or just wants to understand better."