The cultural side of Acadia National Park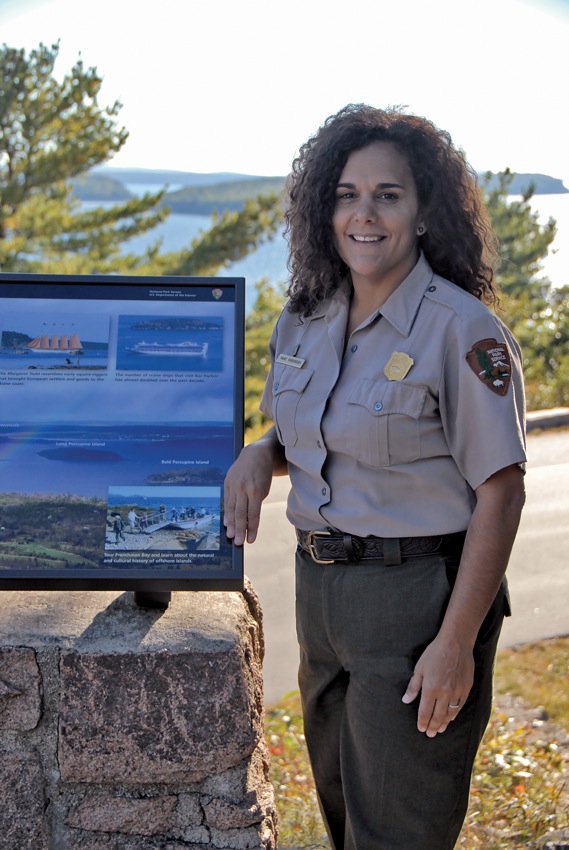 Last summer, amid much fanfare, Acadia National Park in Maine unveiled more than 100 wayside (outdoor) exhibits to help better educate visitors on the park's ecological and cultural history. And Marie Curcio Yarborough '93 was integral to this achievement.
Yarborough, an anthropology major at Wheaton, became an interpretive ranger at the national park, situated on Mount Desert Island, in 2009.
"My favorite thing about Acadia is the fact that it is the only park created almost entirely from land donated to the federal government. In other words, this park is truly a gift from the American people to the American people," she said.
However, the outdoor exhibits needed upgrades as they lacked information about the park's cultural history. "There was nothing about native people, nothing about the park founders, nothing about the historic trails and the people and processes that built them, and nothing about the historic buildings that the park maintains and cherishes," she said.
Hence an opportunity to give the wayside exhibits a makeover.
As interpretive ranger, Yarborough had to determine the best places to tell cultural stories about Acadia, and collect information that would enhance visitor experience of particular spots. She conducted graphic research to locate contemporary and historic imagery, and worked with photographers, volunteers and a writer to craft each exhibit.
"Once the final concepts for each exhibit were approved, I supervised the installation of the exhibits outdoors during October, November and December. And yes, it was very cold and very miserable," she said.
Yarborough credits her Wheaton education for molding her dream to become an anthropologist. In particular, she found inspiration in Professor of Anthropology Donna Kerner, for whom she served as a teaching assistant for "Introduction to Cultural Anthropology."
"One thing that Professor Kerner taught me is to always speak truth to power. For a young female college student to watch an independent, brilliant professor challenge the status quo, and stand up for the rights of women and minorities, that leaves a mark on you—in a good way," she said.
Also, at Wheaton, Yarborough developed strong writing skills that prepared her for professional life and graduate school. (She received her master's degree in American and New England studies at University of Southern Maine.)
"I easily landed jobs in museum work in education, programming, writing and teaching, and nonprofit work," she said. Her past positions include stints as the first full-time museum educator of the Abbe Museum in Bar Harbor and as program manager at South Carolina-based Science South, an education center geared toward children.
For now, Yarborough is enjoying the success of the wayside exhibits, which comes just in time for a major milestone at the park. "They will look great for our centennial celebration this year," she said.