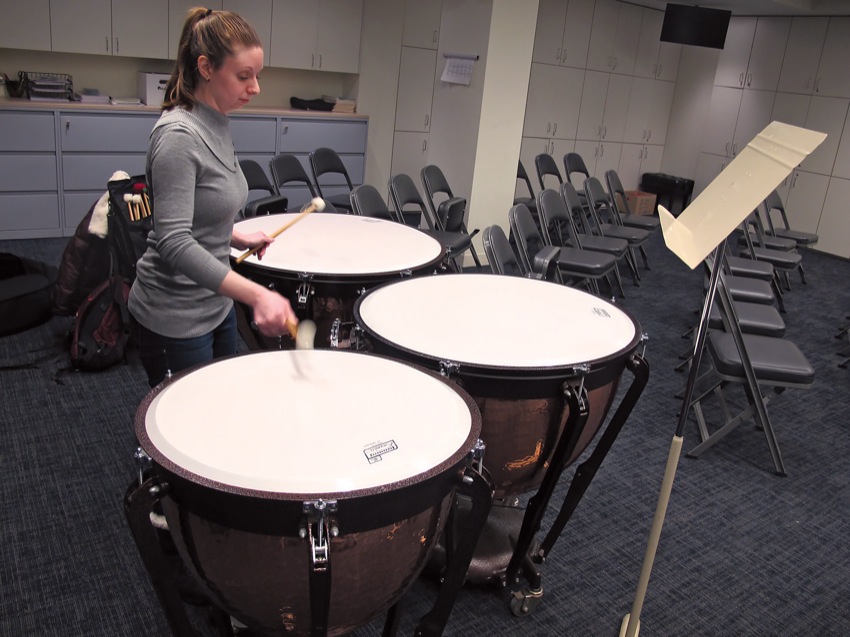 It's not every day that one gets to perform on stage at Boston's Symphony Hall, especially if you are not a professional musician.
But that day recently came for Natalie Shelton '05. She got to play the timpani, a giant classical drum, during a performance at Boston's Symphony Hall. Her performance was part of a new Boston Symphony Orchestra program in which amateur musicians from various professions are selected through an application process, brought together, provided brief rehearsal time, and then given a chance to play in front of a live audience.
Shelton, a psychobiology major, works for Helping Hands, a national nonprofit organization based in Boston, training monkeys to become service animals for people with limited mobility. For years, she has had a love for the drum that dates back to her eighth grade music class.
She made her stage debut as a drummer in eighth grade, dressed as the Energizer Bunny in a play, she said in a story about the symphony's program that was broadcast on 90.9 WBUR, Boston's NPR news station.
Shelton discovered the timpani in high school when she was in the band, but never pursued it as a professional musician. Yet, she was lucky enough to end up on stage at Symphony Hall on Saturday, January 31.
"To play at Symphony Hall, I mean, that's kind of a dream for any Boston-area musician I would say," she told the interviewer. "I've attended concerts there, but I never imagined I'd be setting foot on the stage. And it was a lottery system, so I feel like I won the lottery!"
More online on WBUR.org:
Listen, read the story and view a video of Shelton rehearsing on WBUR