Tennis skills, coursework serve student well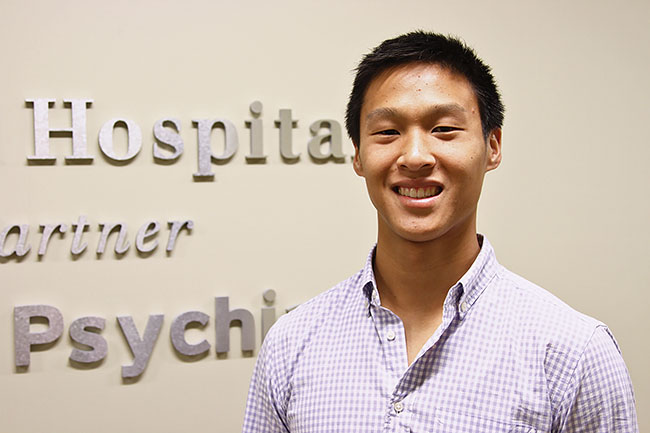 Ever since Lawrence Chan '15 could hold a racquet on his own, he has used tennis as a means to achieve personal development and success in all the areas of his life.
"Tennis has taught me sacrifice, teamwork, communication, time management, honesty, diligence, work ethic and how to overcome adversity," he said. "These traits have subconsciously shaped how I function in society."
A psychology major, Chan drew upon these qualities this summer during his internship at the Rhode Island Hospital Department of Psychiatry and Human Behavior. He worked as a research assistant, helping with a study on the effectiveness of a drinking intervention program in decreasing the risk of sexual assault. His daily duties included scheduling participants for the study, transcribing the sessions and conducting exit interviews with the participants.
"The internship went well and I learned a lot of useful skills that will help me pursue my future career as a clinical psychologist," said Chan, a Wheaton Fellow. "The research experience will be valuable."
Chan's coursework prepared him well for the internship. "All my psychology classes contributed to how I approached my work in the lab. For instance, I knew how to quickly find relevant scholarly articles. I attribute this to my 'Quantitative Research Methods' course. My 'Practicum in Psychological Research' course was also helpful. For the final project in that class, we were required to use a minimum of 20 research articles regarding our chosen topic to write an in-depth literature review. This assignment forced me to become comfortable with the general format of psychology-related journal articles."
Chan noted that he has really appreciated the availability of professors outside of class, which has been one of his favorite aspects of the college. "They genuinely want to help you learn and succeed," he said.
Chan found his internship through Visiting Assistant Professor of Psychology Lindsay Orchowski, who works at Rhode Island Hospital, and she advised him throughout the experience.
His tennis teammates also have had a major impact on his life here. "The bond we have formed is something truly special and will always be a fond memory," he said. "We're a bunch of fun-loving guys who can buckle down when things get serious, both on and off the court."
The Wheaton men's tennis team finished the 2013–14 season with a 9–9 record and a berth in the New England Women's and Men's Athletic Conference (NEWMAC) tournament quarterfinals under coach Lynn Miller.
Chan's challenging serve/volley and chip, combined with a charge style of play, has allowed him to shine and contest for a starting spot in both singles and doubles.
"He was a good high school player and captain for the Wheeler School tennis team [in Providence, R.I.], but he has improved immensely over the past few years at Wheaton and has developed into a starter," said Miller. "Larry is a very conscientious student-athlete. He is a team player and treats both his academics and his sport of tennis with due respect and commitment."
In addition to playing tennis, Chan is the vice president of the 2015 class council of the Student Government Association, president of the Psychology Club, and a senior preceptor who supervises other preceptors and mentors first-year students.
His choice of psychology as a major derives from the satisfaction and sense of accomplishment he gets from seeing others overcome their problems, he said. Whether on the tennis court, in the classroom or in the research lab, Chan is motivated to help others.
"I always feel like I have a clearer head afterward, and I am naturally very empathetic. One of my strongest traits is the ability to care for others and understand how they are feeling. I believe this innate feature will be perfect for counseling."
—Kevin Gil