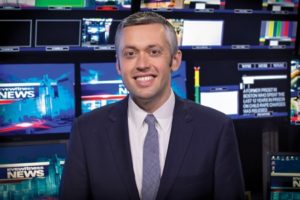 Ted Nesi '07—a Providence-based political journalist and visiting instructor of English at Wheaton—has another accomplishment to add to his growing list: an Emmy Award.
The alumnus, who back in 2011 was named to Politico's list of 50 industry leaders to watch, received a regional Emmy for WPRI-TV's "Hidden House Rep" investigative series.
The reports captured then-state Rep. John Carnevale apparently living at a home outside of his district, triggering a formal investigation that forced Carnevale off the voter rolls and out of his re-election race. He was eventually charged with perjury. Nesi co-wrote the story and continued to cover the fallout after the initial report.
"My job is to cover politics and the economy in Rhode Island, and when we're working on an investigation in my wheelhouse, I'll often play a role in putting it together," said Nesi, a digital reporter at WPRI who shared the award with four other colleagues. "In this case, I worked closely with our chief investigative reporter, Tim White, on sorting through documents and pulling together the evidence, as well as writing the stories themselves."
Nesi said he is thrilled to receive his first Emmy. "I was more excited than I expected to be. I had been preparing myself for us to lose, knowing we were competing with all the investigative teams across New England—including in Boston—so it was a happy surprise to be chosen."
Uncovering the truth was the greatest accomplishment, however.
"It's nice recognition, but even more important than winning the award is knowing our work had an impact and brought to light something voters needed to know," he said.