Tech job provides steady stream of experience for bioinformatics major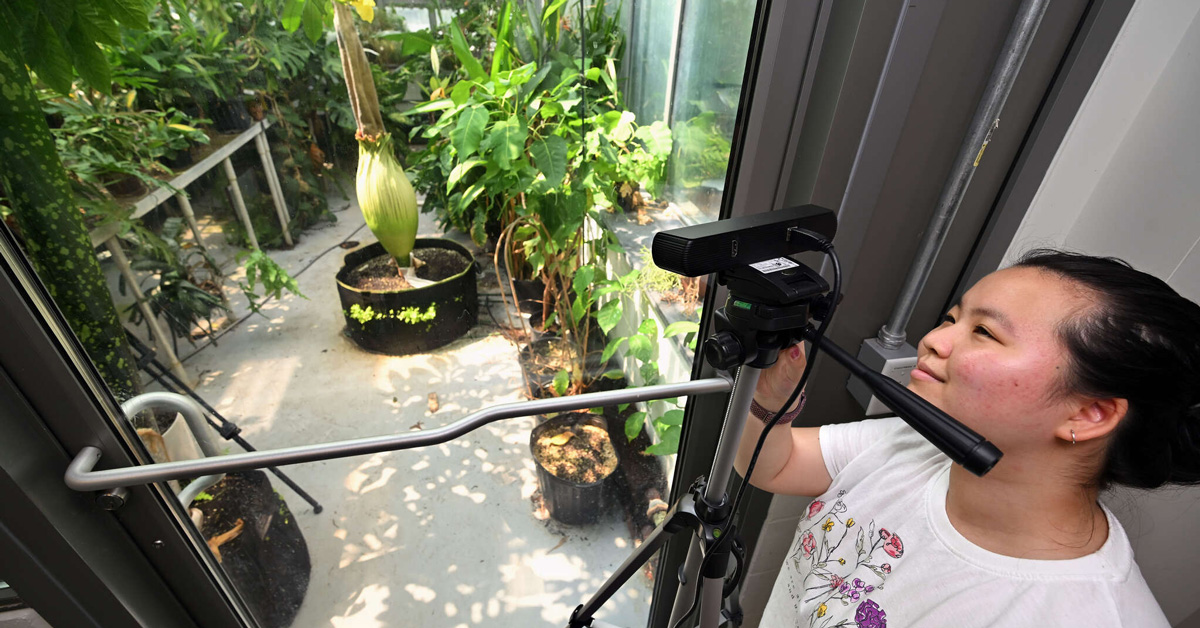 Sarah Joyce '25 supports Wheaton Media Services all year long
In July, when the rare corpse flower began blooming at Wheaton, Media Services was called upon to quickly set up a livestream feed for YouTube in the greenhouse to capture the unfolding event.
Sarah Joyce '25, a bioinformatics major, was part of the team that researched and set up for the high-profile livestream. The experiential learning opportunity was unusual and fun as well as educational, she noted.
Media Services Director Ellen Kane hired Joyce for a work-study position her first semester at Wheaton and Joyce has since continued in the job during the academic year. This summer, she also was hired to work from May through August.
"Ellen had asked me to look into different streaming platforms and recommend what I thought might be the best to use. I then helped Ellen and Lukas Noreau [the Media Services technician] bring the camera and equipment up to the greenhouse to stream."
Noreau was the main person in charge of setting up the livestream. However, Joyce was on campus for many of the days the livestream was running. She also was Kane's on-call person should someone need to go check on the livestream.
The livestream and the rare nature of the plant drew media attention and more than 300 visitors to the greenhouse to see the plant. Corpse flowers often take seven to eight years to bloom, only last a few days and are known to smell like rotting flesh.
"I thought that this event was a really cool experience," Joyce said. "I also enjoyed watching the flower bloom and was happy to find that it didn't smell as bad as I feared it might."
Joyce's other key responsibilities over the summer included responding to time-sensitive calls involving technology issues, supporting events and maintaining the event database.
"What was different this summer was that Sarah assisted Events and Conferences with check-in for many of the sport camps. So, she was able to get a closer understanding of the events side, supporting the client's needs as well as the technology needs," Kane pointed out. "She also supported Senior Week events, Commencement and Reunion events, the International Herbalist Symposium, which had more than 600 attendees and 20 requests for assistance all at the same time expanding across campus, student orientation, as well as the Point Guard Academy awards ceremony with 400 campers and parents attending in the chapel. Sarah ran that event solo."
Joyce continues to work for Media Services setting up equipment as needed and providing technical support and guidance for presentations.
"My major is bioinformatics and a big part of that is computer science and technology, so I thought that this job would fit in with that as I would be exposed to new and different technologies," she said. "I have stayed because I have loved working with Ellen, and I have loved getting to learn all sorts of different things about the technology on campus."
Because technology breaks down or isn't as fast as sometimes desired, learning to manage stressful situations has been helpful in carrying out this work and laying the good foundation for future professional work, she said.
"The biggest lesson I have learned is patience, both with people and technology," Joyce said. "I have also learned to be calm under lots of pressure and stress. Sometimes, with big events where we are being pulled in every direction and we just need to get everything done at once, it can be really difficult. So, I have learned to take a deep breath and do one task at a time until all are done."
Although she is still deciding on career goals, she recognizes the value of learning outside of the classroom.
"I'm not sure what I want to do yet, but I know that this job has really helped me build a lot of skills I will need in my future workplace," she said. "I have learned how to effectively work with and sometimes lead a group of my peers. I have done training for many of my peers and will continue to do so as I am now an upperclassman and will be taking more of an active role in helping to train and guide other students on shift with me when our supervisors are unavailable."